Bream Bay girls win football final
Bream Bay College's girls' First XI triumphed over Otamatea High School last week to win the Northland Secondary Schools girls football competition.
Bream Bay had a rocky road to the final, finishing their division in second place and playing a semifinal against top-ranked Kamo High from the northern division, in a Kamo home game.
But Bream Bay won that match 2-1, to then face Otamatea who they had previously scored one win and one loss against.
"We knew we were evenly matched," said coach Ann-Marie Lambly.
"It was quite an entertaining game for spectators."
Otamatea scored 10 minutes into the game with Bream Bay's Tayla Babbington equalising in the second half.
With the final score at 1-all, the result was determined by a nailbiting best-of-five penalty shootout.
"It came down to our last shooter, Abby Wright. And she got it.
"I'm pretty proud of the girls – they've really, really improved."
The girls qualified to compete at a national tournament but were forced to pull out because of a lack of numbers.
"Now they know they have done so well, we can plan for next year," Lambly said.
Marsden Playcentre Matariki celebrations
Marsden Playcentre families spent last weekend celebrating Matariki.
"We had such a wonderful fun weekend," said Playcentre parent Kelly Morunga.
They started early, meeting at Playcentre to dig a hole and prepare a fire for the hangi.
"The dads got this sorted while we watched and did other cool Matariki activities which included arts, crafts, planting garlic and fruit trees, and icing and decorating star cookies," said Morunga.
"Once the sun went down we enjoyed the delicious hangi with lots of our whanau."
After dinner families took turns stargazing and hunting stars through a telescope, followed by a sleepover at the Playcentre.
Men in kilts, tarts in tartan
This Friday is an annual Waipu calendar highlight – Waipu Men in Kilts rugby team take on Mid-Western Golden Oldies at 7.30pm at Waipu Rugby Club and Waipu Tarts in Tartan netballers take on the Mid-Western Golden Girls at 6pm in the Celtic Barn.
This year's Men in Kilts team reunites the 2004 Waipu senior reserves team.
Organiser Steve Jones says most of the team are now over 35 and therefore eligible to play.
Jones, along with Chris McKay, coached the team to success in their heyday. He has had them on a strict training regime.
"Even if at the first training they didn't make it out of the bar. The fields were way too wet of course."
The bar will be open and food available, so wrap up warmly and enjoy Waipu Rugby Club hospitality. The match will be refereed by Whangarei lawyer and television personality Rob Harte.
Parkinson's support goes tartan
Waipu Parkinson's Support Group is going Scottish this month to tie in with Winter in Waipu celebrations.
Bring or wear something tartan along to their July 20 meeting where a Scottish morning tea will be provided.
Community educator Barbara Leslie will discuss safety with medications and Hayley Zibawai from Stada will talk about apomorphine, another option to consider for those with medication challenges.
All are welcome from 10am at Waipu's Presbyterian Church hall. At the August 17 meeting Leslie will report to the group on the annual Parkinson's conference.
Big Band dance successful
A crowd of nearly 200 people helped to raise a new roof for Waipu's Coronation Hall at last month's Waipu Big Band Dance.
Organiser Louise Wickham says the event raised more than $4000 which will help towards the $30,000 cost of replacing the hall roof. She says the Basin City Big Band was a huge hit with the sell-out crowd.
Waipu Golf Classic Tournament
Golfers at Waipu Golf Club's 33rd anniversary Northpine Bream Bay Classic teed off to a spectacular sunrise last Saturday.
Waipu ladies president Julie Gordon says the field was strong in each division with winners too close to call in the final round for both the Open and Masters, while local Kylie Jacoby romped ahead to a six-shot lead to win the ladies division for the third time.
Gordon says the help from major sponsor Northpine is invaluable to the success of this weekend, along with support from Pak'nSave Whangarei, Kauri Cliffs Golf Course, Kauri Creations, Infracom and Ruakaka Beach Front Motel.
Results - Open: Tyler Woods 215, Jared Edwards 216, Jake Meenhorst 218; Masters: Leslie Eckard 234, Martin Phillips 235, Scott Wilson 236; Ladies: Kylie Jacoby 231, Anna An 237, Subin Wui 242.
The club held a junior tournament today and their next event is a Golf in Tartan nine-hole competition on July 22. Find some tartan, gather a team and take part.
Surf Life Saving Awards
Four Bream Bay lifeguards are finalists in this weekend's Surf Life Saving Northern Region Awards of Excellence.
Waipu Cove's Emily Stolwerk is one of three finalists for Rookie Lifeguard of the Year, and Jack McClure is up for under-19 Lifeguard of the Year.
Emily's parents are both nominated - Angela Stolwerk for a service award and Rick Stolwerk a distinguished service award. Ruakaka lifeguards Connor Mackereth and Kyran Gillespie were both involved in a Far North rescue, a finalist for Rescue of the Year.
Mackereth and Gillespie helped lifeguards from various clubs rescue a young diver last September near Cape Reinga. The awards dinner is this Saturday night at Auckland's Cordis hotel.
Into the Woods opens on Saturday
This Saturday is opening night for Otamatea Repertory Theatre's production of Broadway musical Into the Woods - perfect school-holiday family entertainment.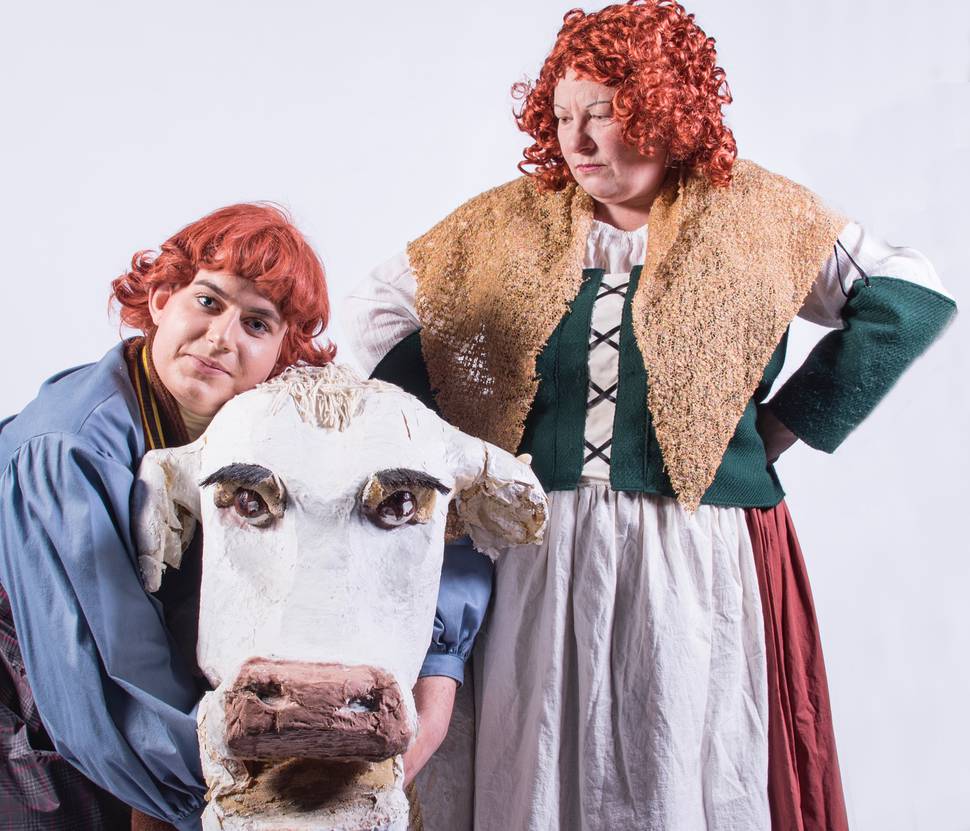 Opening weekend theatregoers will enjoy a 20 per cent discount if they buy four or more tickets, including one adult, from Tony's Lotto Shop Maungaturoto or phone Maura Flower 022 354 2670.
The show intertwines plots from several fairy tales, exploring the consequences of the characters' wishes and quests, and is tied together by a story of a childless baker and his wife, their quest to begin a family and interaction with a witch who has placed a curse on them.
The musical premiered on Broadway in 1987, winning several Tony Awards, including Outstanding Musical.
Tickets available online at www.ort.org.nz or at Tony's Lotto Shop, adults $28 and school students $15.
■ Email Julie Paton at moojoy@xtra.co.nz if you've got Bream Bay news to share with Northern Advocate readers.