Northland's largest lake has been afflicted by a potentially toxic algal bloom threatening aquatic life and the health of people using the water.
Tests have yet to be completed but landowners around the 1200ha Lake Omapere are being warned not to use the water. The bloom is caused by cyanobacteria which thrive in warm conditions.
It has been building up since late last year but hit a tipping point on Friday evening.
Locals say the water turned a lurid green almost while they watched and the normally picturesque Utakura River, which drains the lake, was covered with a thick layer of vile-smelling white foam.
Neville and Linda Lewis, who own a farm by the river, were alerted by a neighbour on Friday evening who said ''something serious'' was happening to the lake.
Mrs Lewis checked the river, which supplied their drinking and stockwater, and saw it had turned an intense blue, ''like Lake Tekapo'', and was covered in foam. There was an unpleasant smell which left a burning sensation in her mouth.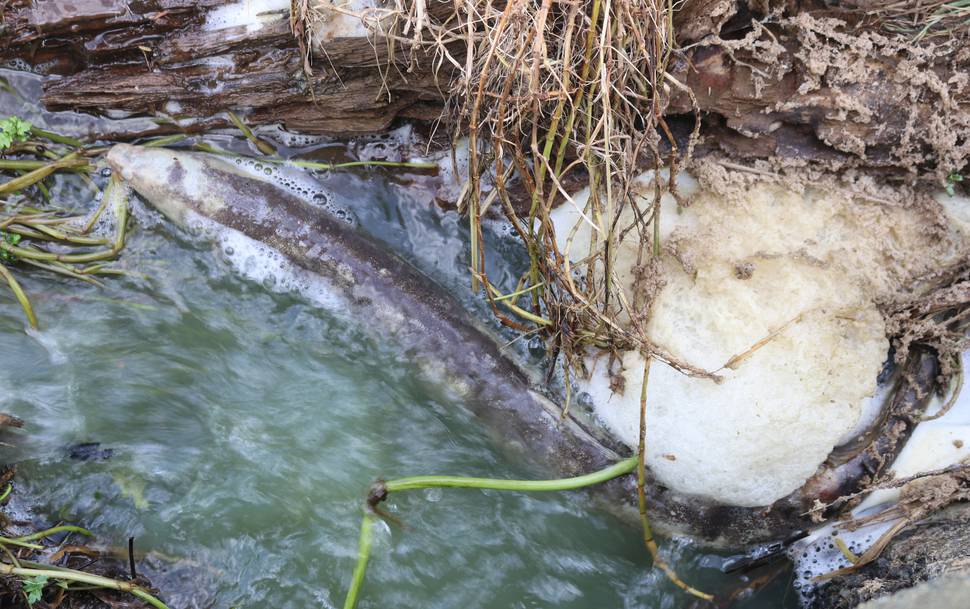 Later the colour changed to a bright blue-green and then dark green, like when the lake ''flipped'' 30 years ago. By Saturday afternoon eels started dying.
Mrs Lewis said the Northland Regional Council knew the lake was turning in January but didn't notify residents who depended on it for water.
''They knew cyanobacteria levels were getting high but they failed to let people know. This is toxic stuff,'' she said.
Mr Lewis said the foam had gone but the smell remained: ''You don't feel that flash if you stand by the river for too long.''
If they had been warned earlier they could have organised an alternative water source ahead of time, instead of in a panic on Friday evening.
They were also concerned about people using the district council's Twin Coast Cycle Trail, which passed Lake Omapere then followed the Utakura Valley to the Hokianga Harbour.
They had put up their own signs warning cyclists not to swim in the water.
Regional council environmental monitoring manager Jean-Charles Perquin said algal levels in the lake were monitored from November to April. The council became aware of increasing algal levels in November and notified the district council and district health board, though levels were not high enough to trigger concerns for human health.
Monitoring had been increased in January but no toxins associated with cyanobacteria had been detected so far.
On Saturday concerned members of the public called the council's 24-hour hotline.
Samples were taken to check for toxins but the outcome would not be known until later this week or early next week. Further samples were taken yesterday, Mr Perquin said.
Regional council staff visited landowners on Saturday to reiterate earlier advice not to use water from the lake or river. That advice would remain in place until the bloom receded, which could take a long time in current warm conditions.
Conditions contributing to blooms included warm weather and increased nutrient levels, especially after run-off from heavy rain.
Bryce Smith, of Lake Omapere Trust, said it was ''devastating'' to see what had happened to the lake. He called for more research into the causes rather than finger pointing, and full disclosure about the amount of water being taken from and discharged into the lake.
Lake Omapere is Northland's largest lake and was known as the foodbasket of the North but its lack of depth — 1.8m at its deepest point — makes it susceptible to blooms, in which algae multiply extremely quickly. The algae can produce toxins and consume all oxygen in the water, killing other aquatic life.
A restoration project under way since 2006 has included planting of lake edges and monitoring of acquatic life. The last bloom was in 2003-04.