Dan Hitching's early morning photoshoot of huge surf at Ocean Beach soon turned into a breathtaking session snapping an aerobatic display by a pod of energetic dolphins.
The Ocean Beach, Whangarei, resident said he had been on the beach for about 90 minutes before a pod of dolphins showed up in the huge surf about 7.30am on Saturday.
"There was some really big clean swells and the best pictures are when the sun rises or sets. Then the dolphins popped up.''
After riding the waves they headed further along the beach and then came back into view.
"They were surfing the waves and every now and then I saw one fire out the back of the wave."
With his camera poised he waited in anticipation, along with a small crowd that had gathered on the beach to watch the dolphins.
"I locked the focus, had a high shutter speed and fired off loads of shots and hoped for the best."
Sifting through about 150 photos of the ocean acrobats there were plenty with just the tail or just the head.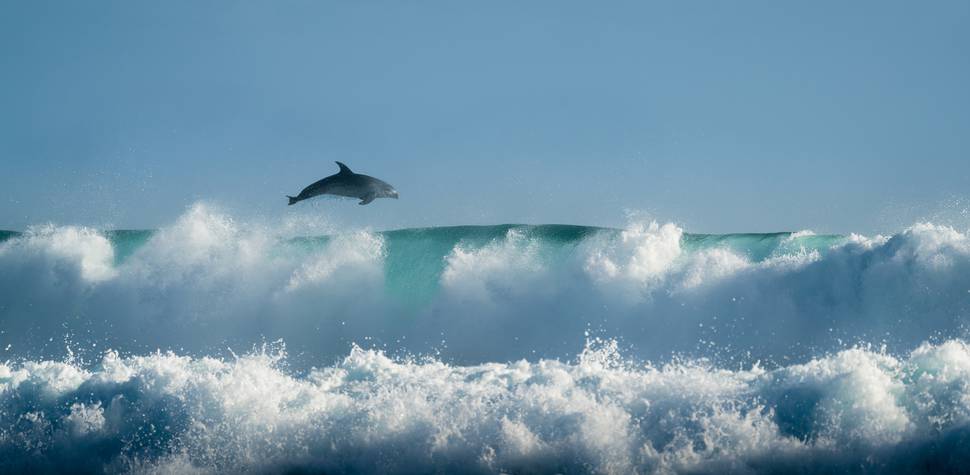 But then there was the money shot - a perfect photo of a dolphin appearing to fly high above the white plumes of crashing surf.
His partner Becky Patu was delighted with the photo and said it should be sent to the Northern Advocate.
Mr Hitching has lived at the beach for five years and said, while he had surfed with dolphins on a few occasions, this was the first opportunity he had to photograph them.
"They usually turn up and surf in smaller waves but this was pretty special. No matter how many times you have watched dolphins you never get tired of seeing them ... it was pretty lucky to have been able to capture this."
The photo of the flying dolphin may become a feature on the wall in the home the couple plan to build at Whangarei Heads.