Three cruise ships carrying more than 6000 passengers have called in to the Bay of Islands in one day, setting a new record for Northland's booming tourist industry.
The influx is part of a record cruise ship season set to bring 150,000 people and up to $30 million, according to Cruise NZ estimates, to Northland.
The first to drop anchor off Russell's Tapeka Pt yesterday was the Maasdam with more than 1200 passengers on board. It was followed by the five-star Caledonian Sky with 140 passengers, and finally the 4180-passenger Ovation of the Seas which, at 348m, is the biggest cruise ship to ever visit New Zealand.
The record-breaking day didn't get off to an entirely smooth start with Caledonian Sky late offloading its passengers by Zodiac to Waitangi jetty, which then delayed Ovation of the Seas.
Then the weather gods apparently forgot to read the memo because the first passengers off were greeted by rain and gusty winds. By late morning, however, the sun was out.
Passengers from the Maasdam were tendered to Paihia wharf to reduce congestion at Waitangi and remove any confusion for passengers returning to their ships.
Far North Holdings cruise ship co-ordinator Irwin Wilson said it was the Bay's biggest day so far in both ship and passenger numbers.
To create more space in town Williams Rd was turned into a pedestrian mall with tables, food stalls, sunshades and entertainers. At least 4000 of Ovation's passengers were expected to disembark.
''They've had two days at sea and this is their first port of call so they'll be eager to come ashore,'' he said.
With 63 ships due in 2017-18 — including four visits by Ovation of the Seas — the current season would easily surpass the previous record of 56 in 2015-16.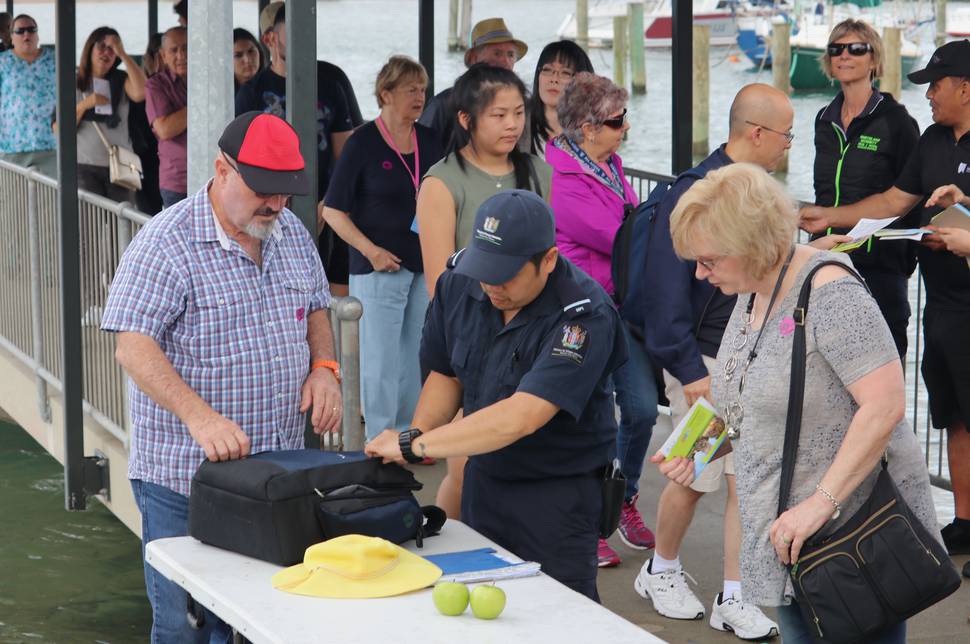 Passengers coming ashore were greeted by Paihia's Cruise Ship Ambassadors and sniffer dogs from the Ministry of Primary Industries' biosecurity team, which were kept busy intercepting fruit potentially carrying pests or plant diseases.
Ambassador co-ordinator Anika West said about a third of passengers had booked excursions via the cruise ship and another third had arranged their own outings, with 28 coach tours heading everywhere from Kawiti caves to the Hokianga. The remaining third were shuttled to Paihia on a fleet of free buses.
Among them were Shan Jackson and his family from Brisbane, who were content to ''cruise around town, spend some cash and look after the locals''.
While exploring the Paihia waterfront Mr Jackson was roped into performing a haka with Kaikohe cultural group Nga Moko a Rahiri; he also visited the "really interesting" Treaty Grounds, where he was fascinated by the contrast between Maori, who had a treaty, and indigenous Australians, who did not.
The Jackson family was also planning to visit the craft market on Paihia's Village Green.
Mrs West said the Ambassadors' role was to welcome passengers and offer directions. Initially volunteers they were now employed by Business Paihia due to new health and safety laws.
Since the Ambassadors were introduced about eight years ago the Bay of Islands' rating as a cruise ship port, as voted by passengers, had gone from ninth out of 10 in New Zealand to second.
The next time Williams Rd will be closed to traffic will be on January 1 when Ovation of the Seas is due to return.