Lynn Paterson's dream of paddling 5500 kilometres around New Zealand's coast is almost a reality
The 54-year-old Auckland kayaker was savouring the final days of her epic voyage off Northland's coast this week.
She celebrated passing Cape Reinga with a glass of bubbles and said it was one of the highlights of her journey that started more than 430 days ago. She has been on the water paddling for 123 days to achieve her circumnavigation.
Ms Paterson, who also goes by the nickname Red, said as she paddled to the base of the cliffs at Cape Reinga, she could hear a cheer from tourists gathered at the top.
The cape was shrouded in mist with the tip of the lighthouse appearing above.
"It was pretty emotional sitting there in the calm of the slack tide."
She celebrated with bubbles at Spirits Bay but battled against clouds of mosquitoes.
Sitting on the beach at Taiharuru, north of Whangarei Harbour entrance on Wednesday, after paddling for nine hours from Bland Bay, she had a smile on her face.
"It's the first time I think I can smile. I'm on the east coast and I can dare to smile and accept people saying I'm going to finish. But that's only been in the last few days."
Her determination has got her through some sticky times on the ocean and hours of paddling.
"You have to respect the ocean. She gives you a lesson, then she chews you up and spits you out."
It was in Northland she completed her longest day paddling - 85.2km from Houhora Heads to Matauri Bay. On average she paddled 12 hours a day.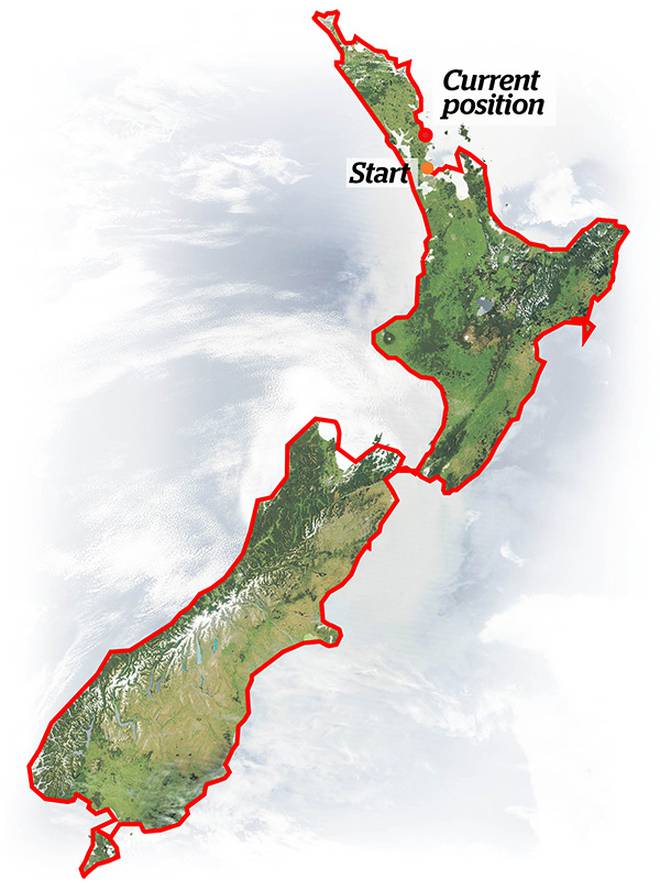 One of the toughest days was passing through the Bay of Islands this week when boaties filled the waters.
"I got to the Bay of Islands and looked to try and cross from Purerua Peninsula to Urupukapuka but, holy heck, I now know what a possum must feel like when trying to cross the motorway. There were boats going in every direction, each at a very rapid pace."
Gannets, fish jumping and cute blue penguins, shags and also the dainty little birds that seemed to walk on water, kept her entertained along Northland's coast.
Ms Paterson decided to make her dream happen and in October 2015 she took to the ocean in a kayak to circumnavigate New Zealand's 5500km coastline, planning to finish 180 days later.
It was a dream she had harboured for some 15 years but a family member with depression that was the catalyst.
"What I experienced and witnessed was the bigger picture of the damage depression can cause. It's not just the individuals who suffer, but also the family members who support, love and care so much."
She also wants to inspire and encourage people to set themselves goals. She has been supported on the land by her crew of partner Jason Marshall and head of logistics German Bianca Hoefer.
Ms Paterson hopes to land on Takapuna Beach on Auckland's North Shore - her final destination - tomorrow. And watch out, her story might make a book. To read more about her amazing trip go to www.redznzjourney.com.