Northland's canine crimefighters have been given an extra layer of protection against being stabbed or slashed while on the frontline.
The last of the five-strong Northland team was fitted with a stab-resistant harness this week - part of a nationwide roll-out that saw 130 working police dogs issued with the high-tech black vests.
The "Mako" vests featuring two panels of layered polymer are comparable to the protection that body armour provides officers.
The vest weighs just under 1kg, is designed to not impair agility and speed, dries quickly and can be worn throughout a shift.
Police dog Gus and handler Senior Constable Pete Kinane were one of the first combinations in New Zealand to get a vest and have been using it for four months.
Mr Kinane gives it the thumbs up and said it made moving dogs around and lifting them over obstacles such as fences easier and safer.
"The handles on top mean you can pick the dogs up without them struggling. It means you can drop them over a fence and they have a good chance of landing on their feet without injuring themselves."
Police dog Gus was stabbed in the lung during a chase through Northland bush in 2013 but recovered from the life-threatening puncture.
Mr Kinane said the vests gave the dogs the best chance of surviving in the worst-case scenario. And in Gus' case may have even prevented the injury.
The harnesses were designed by Hamilton-based specialist Sabre Tactical NZ and manufactured in New Zealand.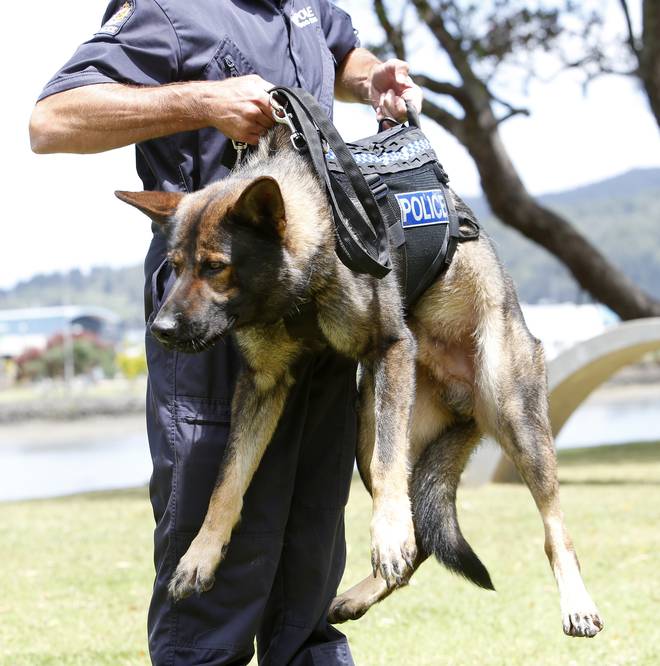 Head of the Northland police dog section Sergeant Bruce McLeod said the vests could be put on the dogs at the start of a shift and left on. A test would come this summer to see how the dogs coped in the heat. Mr McLeod said gel cooler pads could be put in the pockets of the vests if needed.
The dog teams cover the whole of Northland and catch hundreds of offenders in their tracks every year.
One of those catches was early on Tuesday when police dog Pari was barking up the right tree. The incident started just north of Kamo on Great North Rd when police tried to pull over a speeding driver about 1.10am.
Officers pursued the vehicle and eventually discovered it near Hukerenui. The driver allegedly fled and a police dog unit was called.
After tracking through farm land Pari discovered a 38-year-old Whangarei man a long way up a tree. He eventually came down and was charged with dangerous driving, driving while disqualified, failing to stop and was wanted on a warrant.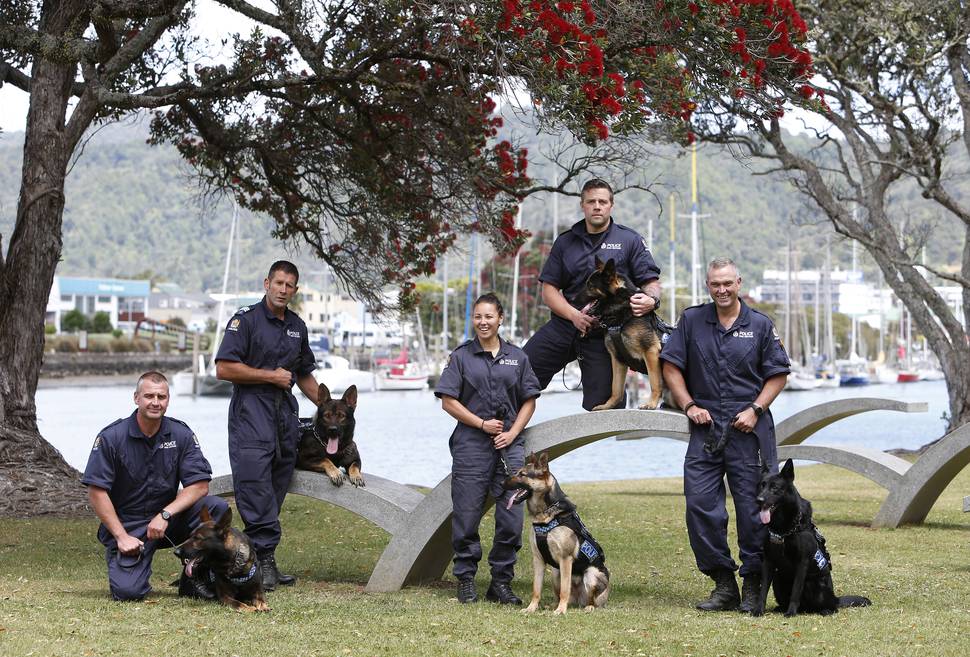 The team has Northland's first female dog handler Constable Elyse Lewis and Mist. She is one of only two female dog handlers on the beat in New Zealand at the moment.