Four-metre high "living walls" shouting WHANGAREI will soon urge tourists off State Highway One, in an attempt to address the city's unattractive entrances.
Two intersections - SH1/Central Ave and SH1/Tarewa Rd - are set to receive makeovers this financial year, with the city's drab welcome under scrutiny from the district council's new senior landscape architect, Jed Whitaker.
"The current perception of Whangarei's entrances is that they're run-down, they do not excite people about entering the district and they're hard to locate," Mr Whitaker said.
"Why should we care? Because it's a missed opportunity ... Traffic heading north from Auckland is using SH1, bypassing Whangarei and taking their hard-earned cash elsewhere."
The council will spend $80,000 sprucing up the intersections, both of which would feature a 4m high, 1.5m wide irrigated living plant wall with a bold and illuminated "WHANGAREI" pointing people into town.
Other design features include stone walls reflecting those in the district's rural areas, sitting alongside more of the city's trademark banner flagpoles. Central Ave and Tarewa Rd were described as "secondary gateways", the main gateway being the southern approach on SH1 at Otaika, currently flanked by two sail sculptures installed in 2002.
Mr Whitaker said this too needed work, and would likely be looked at next year. The secondary gateways were being started this financial year because they were within council's budget.
An August 2015 report to the council on the entrance ways issue said work by the New Zealand Transport Agency to improve and widen SH1 simply increased the inclination for drivers to just stay on the highway, rather than exploring Whangarei City.
The report identified five key SH1 intersections - Rewa Rewa, Tarewa and Maunu roads; Central Ave; and Kamo Rd - as potentially needing work.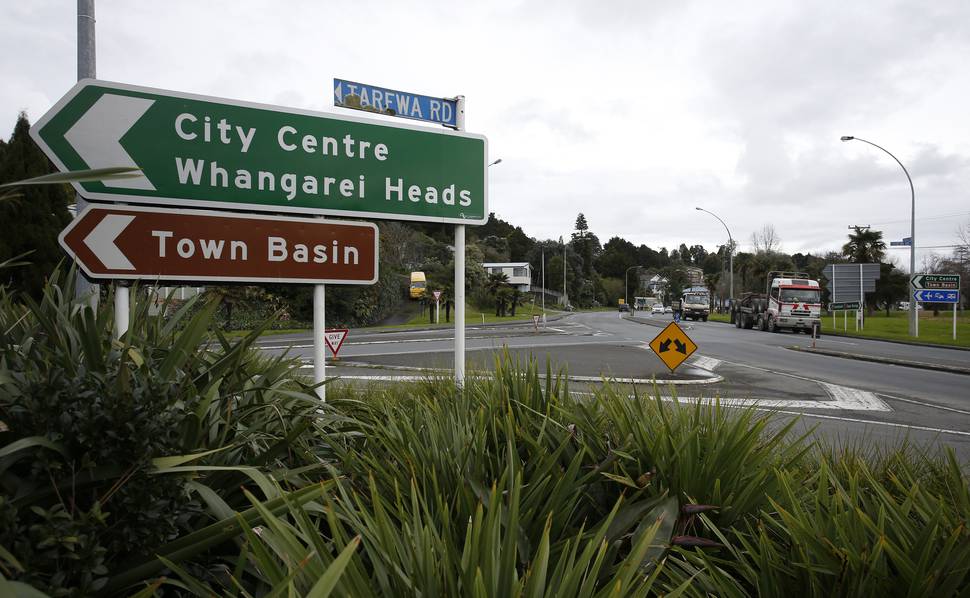 Mr Whitaker said Central Ave's appeal lay in the fact that it already had a "beautiful park" (Mander Park) on the corner, while Tarewa Rd was close to the i-SITE Visitor Information Centre and was the route Google Maps directed drivers along.
Mr Whitaker presented his design to Tuesday's WDC Inner City Revitalisation Committee meeting.
The design still needed to be approved by NZTA and the project would then go to tender.
Mr Whitaker said people would likely see work starting early next year.
Mayor Sheryl Mai said she would like to see the SH1/Rewa Rewa Rd entrance get some attention too. Staff advised this was presently too difficult due to ongoing work in the area by NZTA.