It's an institution, a survivor. For over five decades, even as supermarkets took over the landscape, Whangarei folk have continued to be served by the Young brothers in their family dairy. Lindy Laird and photographer John Stone caught up with John and Alan Young before they rang off the till for the last time.
-
AT 6.15am on any week day there's a line of trucks and wagons parked outside Youngs' dairy in Whangarei's Mill Rd.
It's pitch black outside but a steady stream of truckies and tradies tramp in for pies, morning teas, lunches, smokes, drinks. Beanies, gumboots and steelcaps, hi-viz stripes, fleecy jackets and builders' crack trou indicate the customers are mainly contractors and outdoors workers heading to the job in the suburbs or out of town.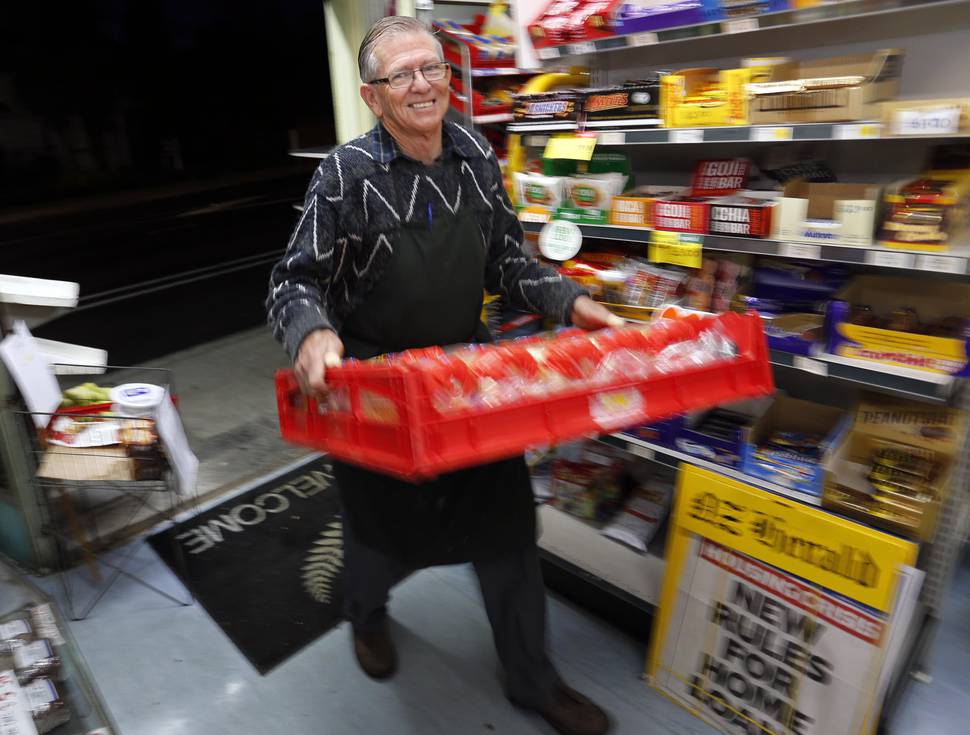 During the next hour the picture shifts.
Here are the skirts and shirts, overalls and office calls, high heels and lippy, shop wear and school uniforms, ugg boots and pyjamas under overcoats.
Loaves of bread and litres of milk fly off the shelves, sandwich spreads, packets of tea and coffee, cereal, the stuff a household needs before school.
It's a routine pattern, just another start to the day for John and Alan Young in the shop formerly known as Youngs Four Square.
Gone are the days you got four lollies for a penny, milk had to be used within 24 hours of delivery and any unsold daily bread got returned to the bakery.
Gone also are pounds, shilling and pence, and any kind of cash is nearly obsolete in this day of the card - although kids and a few longer-time customers still carefully make up their dollars by counting out 10 and 20 cent pieces.
It's what you expect at a store where the owners and many of their regular customers have grown old during 55 years on their respective sides of the counter.
But the Young brothers are hanging up their aprons after all those years working together for up to 80 hours a week. John's at that age - nearly 82 - when he doesn't fancy the prospect of working forever and then dropping dead, so he's looking forward to retirement.
"I think it's about time," he says.
"I've got so much to do, learning to live."
Alan, who's still only 75, thinks it might be a bit early for him yet so he might look for a part-time job after he's had a bit of a holiday.
He's got a piano, some hobbies, he'll see what else comes up.
Yes, it's the end of an era, although customers need not fear - the Youngs and their staff say the famous cakes (hands up all those people who've whipped down to Youngs at some time or other for their cake stall or catering contribution), the dawn to dusk hours, the packed-to-collapse shelves of everything but the kitchen sink will remain pretty much unchanged. Bread and essentials will still be sent via rural delivery every week to the same lady at Pataua the Youngs have supplied since 1961, John says.
Even the shop name will be the same (apart from the Four Square label as the new owner isn't staying with the franchise).
That owner, Chris Clothier, has worked for the brothers part-time for the past 18 months. He knows what he's getting into. He makes a quip about how rather than him taking over the shop, it's taking him over.
BUT WHILE much will stay the same, the Youngs will be gone. Also retiring after years on the team is bookkeeper Ngaire Guy whose job it has been to transcribe the brothers' carefully handwritten lists, memos, till counts and ledgers onto a computer system.
The two 'boys' went in with their parents "to buy a family business" in 1961, and all this time it's remained a family business.
John's three children and four of his six grandkids have worked there to earn a bit of bread when they were at high school or university. A bit of work never hurt anyone, he says, and laughs about one grandson's sign in the bedroom at his Christchurch flat saying: "7am is not early. Granddad's done an hour's work already".
The Youngs' business has grown, even with supermarkets getting bigger.
"We're more of a convenience store than a grocery store, these days," Alan says.
But not so convenient they ever went into Lotto tickets, or alcohol, or accepted credit cards.
"We decided it just wouldn't be worth the hassle."
They're both masters of the shopkeeper patter.
"Keep it simple, don't talk politics or religion," Alan says.
They're kind, well respected and a tiny bit stubborn, a quiet and steady part of the city's life, and canny enough to have ridden recessions, road works, the encroachment of supermarkets, the card carrying customers.
They've been vandalised, burgled, knocked around, robbed at knife point. Only four or five times; not bad, in 55 years, John thinks.
"Most of the time it's been really pleasant," Alan adds. "Neither of us have ever woken up and not wanted to come to work."