Evacuated residents living near a large forest fire in Kaipara will return home today and firefighters expect to contain the blaze by Wednesday this week.
The large, suspicious fire in Kellys Bay Rd started on Monday last week and has so far burnt 205ha of forest, forcing families living along that road to voluntarily move out on Friday and Saturday.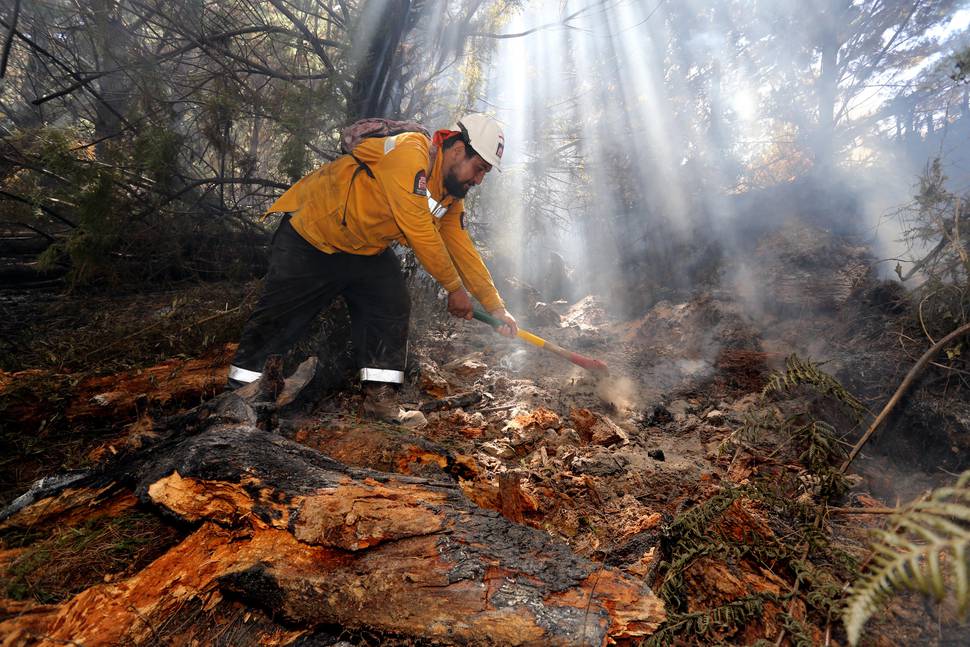 Luke Archbold, conservation services manager at Kauri Coast for the Department of Conservation, said yesterday the weather had settled and wind had dropped from gusts of up to 65km/h on Saturday to 20km/h. The number of firefighters on the ground had been scaled down from about 100 to 85, he said.
Read more here: Residents ready to flee fire
Residents near forest fire ready to evacuate
Mr Archbold said about 20 families from Kellys Bay that left their homes on Friday and others from Kellys Bay Rd that moved on Saturday had been advised to go back home. "Weather conditions look good for the next few days and the fire is predicted to be contained by Wednesday and our focus now is containment and dampening the hotspots," he said.
A fire, which is being treated as suspicious, was reported at 11.30pm on Monday by residents along Kellys Bay Road in the Kaipara area. Steep terrain had made it difficult for the 70 staff on scene to tackle the blaze from the ground and it has covered an area of 205 hectares. Kristin Edge goes bush and takes a look at how firefighters are dealing with the blaze.
Cyril Ranginui and wife Juliet were advised by DoC to move on Saturday and took shelter at a friend's bach 2km down the road from their house. Both had packed essential household items, including family photos, food and some furniture, and have been on standby since Thursday last week.
Mr Ranginui came back home briefly yesterday to block all spoutings and fill them with water in case ash fell on his house.
"My main concern was the security of our house because vehicles still go up and down this road (Kellys Bay Rd), but the forest manager said a water tanker would be parked at the entrance to our house which is good. We took enough food to last us four to five days and there was a message from DoC on my landline (yesterday) advising us to return home but we'll have some rest and come back home (today)," he said.
Mr Ranginui said having to move household items had been strenuous for him and his wife.
Additional crews arrived from Thames, Whitianga, Tongariro, Whakatane, and a rural fire team from Auckland on Friday to help teams from the DoC, forestry companies and Whangarei-based Forest Protection Services.