Seven wineries, eight hours, two adults. Could we meet the challenge of visiting each cellar during the fourth annual Bridge Pa Wine Festival in Hawke's Bay? DAWN PICKEN and her husband Pete give it a swirl.
We set out on a balmy January morning, boarding a bus that provided hop on, hop off access to each winery.
Already, we were an hour behind schedule. Still, the vibe was relaxed and air-conditioned as we rode the half-full bus to our first destination, Ngatarawa Wines (pronounced Naa Taa Raa Waa).
We found shade under trees fronting a lily pond where we sipped half-glasses (we were pacing ourselves) of crisp, fruity 2016 Sauvignon Blanc with notes of guava, according to the young woman pouring.
We took her word for it and enjoyed the mild sweetness while noshing on spicy pork buns and listening to band Jam Jar play acoustic cover songs. With 150 years of heritage, Ngatarawa is one of the region's earliest boutique wineries, and tasting wine inside historical racing stables reinforces the feeling of visiting a living museum.
We were basking in the bus' air con and missed the stop at Oak Estate, which is the Bridge Pa Triangle's newest addition, with cellar door and kitchen. Next time.
Ash Ridge was teeming with wine-lovers and featured soulful sounds of singer Elish Rose. Hot and thirsty, we quaffed water before sampling several of Ash Ridge's offerings (its 2016 Premium Chardonnay and 2015 Reserve Syrah were my favourites; the former was smooth; the latter, bold and jammy). Forgive us for buying a couple Tuatara Pilsners, but with the temperature at 33C, we needed something to swig.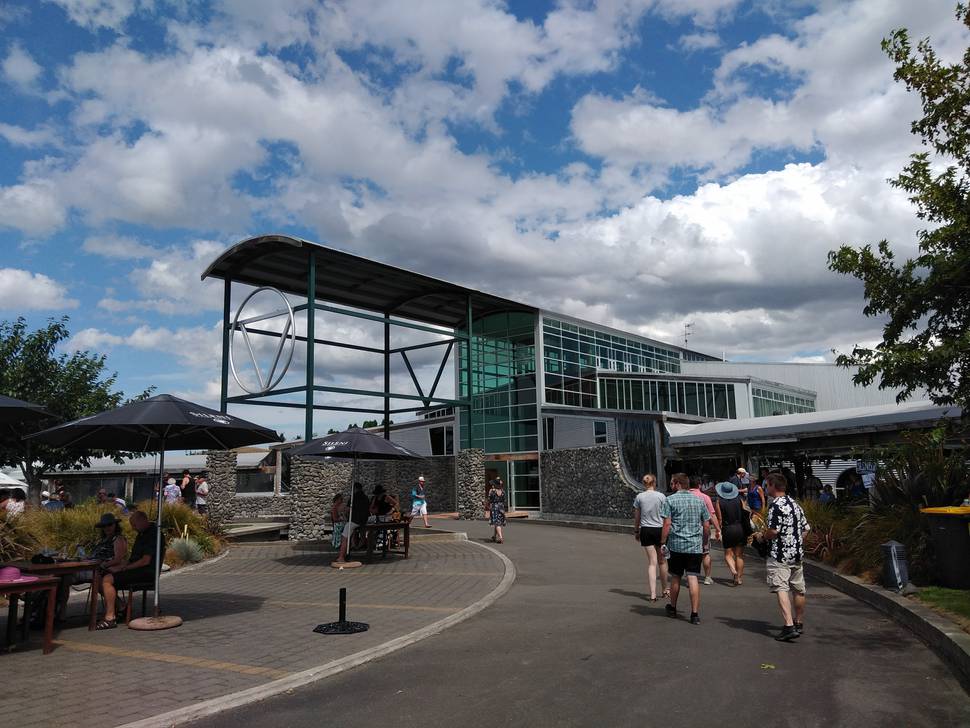 Future festival-goers should know the $38 ticket covered only entry into the wineries and bus between them. It did not include the cost of wine (including most tastings) or food.
Paritua Vineyards' architecturally designed building cuts an impressive figure among the grape vines of the Bridge Pa Triangle.
Pete and I opted for a rose/Sauvignon Blanc sangria, which went down far too easily in the heat and paired nicely with Paella a Go Go's meat paella. Paritua produces self-titled wines made from grapes yielded only in outstanding vintages, while its Stone Paddock wines are made using estate and regional vineyard grapes.
R&B band Boutique played soul covers I could've stayed all day for; sadly, we had to depart for another winery.
There's nothing regretful about entering Sileni Estates' impressive grounds. Its large, modern lodge is partly clad in river stone and overlooks a vineyard with views of the Kawekas and Te Mata Peak.
After trying the Hedonist Viognier, an intense stone fruit and spiced pear affair perfect for hot weather, we got a personal tour with Sileni market analyst Craig Smith. He took us inside the cool tank farm, where 55,000-litre vats hold wine, 87 per cent of which is exported.
Today, the winery produces about 760,000 cases and sells in more than 80 global markets. Another standout sip during the festival was Sileni's Sparkling Cuvee Pinot Gris. I'm not sure if oenophiles recommend this, but I followed our tasting with a real fruit blueberry icecream in a waffle cone at the Bay Blueberries truck. We then joined some of Pete's workmates for petanque.
Time was running short, so we made our fifth and final stop at Alpha Domus. The family-owned winery creates aviation-themed wines we tried during a tutored tasting with assistant and raconteur Michael. We started with a 2016 AD Cumulus, a Methode Traditionelle (bubbles made through secondary fermentation in the bottle); then the 2014 Wingwalker Viognier (another pleasantly sweet, crisp wine that became a favourite varietal during the festival) and graduated to AD The Aviator 2015, a Cabernet Merlot blend with hints of mocha and blackberry priced at $98 per bottle.
We ended our evening around 6pm with a half glass of AD 2017 The Pilot Sauvignon Blanc at a mammoth wooden picnic table overlooking vineyards. Sounds of Wellington band The Ryegrass Staggers emanated from a marquee.
The seventh winery, Abbey Estate, is another family-owned and operated business we'll visit next time we're in the area. The winery runs its Summer Sessions with live music each Saturday afternoon through March.
While the festival provided a catalyst for 2000 of us to visit up to seven wineries in a single day, independent travellers could arrange a sober driver or guided tour any time of year.
More information: www.bridgepatriangle.nz