Katrina Collazo was stopped at a red light when she heard what sounded like small rocks falling on her car.
As she turned around, the Miami Herald reported, the back of her car was crushed, and the car next to her was buried.
A newly installed pedestrian bridge had just collapsed on one of Miami's busiest motorways, crushing eight vehicles, killing up to 10 people and injuring eight others.
A driver on motorway, Megan M Fernandez, tweeted an image from her car moments after the bridge collapsed.
She posted the imge on Twitter with the comment: "The FIU bridge collapsing... I'm still in shock." One person commented: "Wow that red light saved you."
A search and rescue operation continued into Friday afternoon (NZT) to try to find more casualties in the rubble.
Collazo escaped death by centimetres.
"Thank God my daughter is alive," Collazo's mother Ada Collazo told the Miami Herald in Spanish. "I thought my granddaughter was in the car, but she wasn't. She's in school."
The pedestrian bridge spanned several lanes of traffic at Florida International University.
Witnesses say cars were waiting for the lights to change when the 950-ton "instant bridge", which was installed in just six hours on Saturday, crumbled and fell on the waiting traffic on the busy, seven-lane 8th Street, which runs from downtown Miami all the way to the Everglades. It was still under construction and not open to pedestrians.
Eight vehicles were crushed, leaving rescue workers racing to free victims from chunks of smashed concrete and snapped metal.
The 53m bridge was designed to connect the sprawling campus of Florida International University with the nearby city of Sweetwater, and to make it safer for students to cross a frenetic roadway.
Authorities would not confirm whether anyone had died in the collapse, but at least eight people were taken to hospitals, authorities said. US Senator Bill Nelson of Florida told local TV station CBS Miami that at least four people died.
"Just last week we were celebrating the expanse being completed and now we are here dealing with a tragedy," Sweetwater Mayor Orlando Lopez said at a news conference.
Alexander Concha, 36, and FIU student Ivy Polanco, 23, were about to have lunch at Panther's Boulevard Cafe, about a block away from the bridge. Suddenly, they heard wailing sirens and helicopters buzzing overhead. "Our first reaction was, we hope it's not the bridge," Concha said. "On the side where it collapsed, it didn't seem very secure. It seemed very unsafe."
The bridge collapsed during Florida International's spring break.
"It's very lucky that we are on spring break and that this didn't happen during rush hour," said Polanco. "It could have been so much worse."
The sudden collapse trapped people in the rubble, and emergency workers cut through debris to rescue at least two victims. Eight injured people were taken to hospitals, fire officials said, and teams of rescue workers and search dogs scrambled to find victims.
"I have no idea what lies underneath, in the rubble," said Lieutenant Alex Camacho of the Florida Highway Safety and Motor Vehicles.
Juan Perez, director of the Miami-Dade Police Department declined to talk about whether stress tests had been conducted on the bridge. "It will be days before we have answers," he said. "This will be an intensive investigation. Right now, we are still in search-and-rescue mode."
The National Transportation Safety Board said it was sending a team to Miami to investigate.
A spokeswoman for the university did not immediately return messages seeking comment.
But later the university's president, Mark Rosenberg said the university was working with emergency services to help rescue efforts.
"I am heartbroken at the news of the collapse of the pedestrian bridge on 8th Street and the resulting devastation. We send our deepest condolences to the victims and their families.
"As soon as we have further information, we will share it with you. Please keep the victims and their families in your thoughts and prayers."
A news release from the university on Saturday touted the bridge's "first-of-its kind" construction method, and hailed the installation of the bridge's main span. It stretched 53m and weighed 960 tons, according to the release and was built using "accelerated bridge construction" (ABC) methods being worked on at the university.
"This method of construction reduces potential risks to workers, commuters and pedestrians and minimises traffic interruptions," the release said.
When it was installed, crews lifted the span from its supports, turned it 90 degrees across eight lanes and lowered it in place, the release said. The university said it was the largest pedestrian bridge moved by that method, known as self-propelled modular transportation, in US history.
"This project is an outstanding example of the ABC method," said Atorod Azizinamini, chairman of FIU's Civil and Environmental Engineering Department, in the release. "Building the major element of the bridge — its main span superstructure — outside of the travelled way and away from busy 8th Street is a milestone."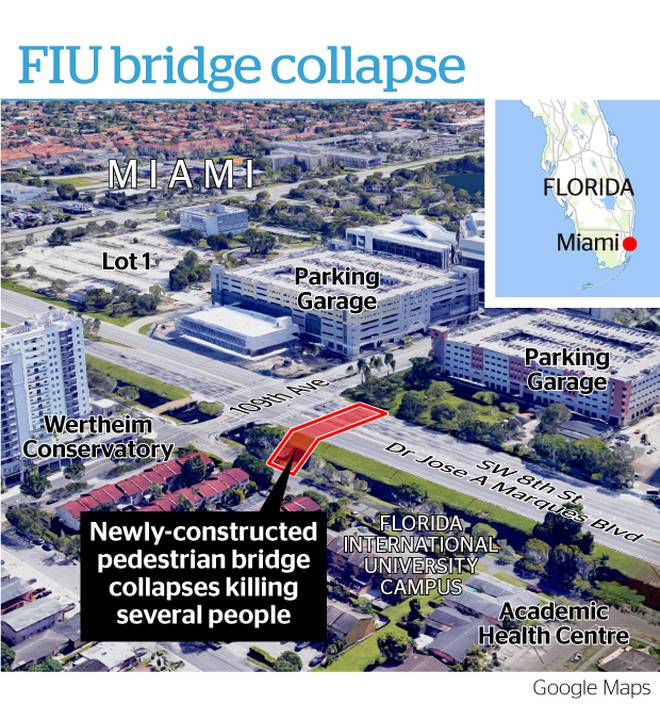 Last year, the Miami Herald reported that a FIU student was killed while crossing Southwest 8th Street.
Experts say the Accelerated Bridge Construction method involves an integrated system of pieces designed to stand as a complete structure, but that have to be supported during construction.
Amjad Aref, a researcher at the University at Buffalo's Institute of Bridge Engineering, said failures can be catastrophic.
"The loss of stability is a sudden thing, it doesn't give a warning," said Aref, whose work involves designing Accelerated Bridge Construction projects.
Aref said the construction method has become popular over the past decade. He would not speculate about the cause of the collapse. In general he said, the process works this way:
"You bring three pieces, three blocks, each block is really strong and [does] their job but if they are not connected properly, they might not stand," he said. "The idea is in every design you want to take the load from the superstructure, the bridge surface, all the way to the ground safely.
A collapse, he said, would indicate "the system was not completely connected or supported".
The bridge was designed by FIGG and built by Munilla Construction - two companies that have been accused in years past of shoddy building practices.
A Colorado-based engineering firm, BDI, deleted a tweet from Monday that said it was "thrilled to have provided structural monitoring during a spectacular bridge move".
The bridge, which was built at a cost of US$14 million and was funded by the federal government, was touted by the school as an achievement when it was completed last Saturday.
Planners had envisioned the bridge as a new complex that would provide new footpaths, a plaza, benches, tables, shade, and Wi-Fi.
The bridge was touted as part of overall efforts to revitalise Sweetwater, a city in Dade County.
- with Daily Mail