It was early morning and the swells were huge when solo sailor Phil van der Mespel knew he would have to abandon his sinking yacht and take his chances in the South Pacific Ocean.
The 56-year-old experienced ocean yachtsman from Algies Bay north of Auckland was about 650km northwest of New Zealand, making his way home from Vanuatu, when his boat's mast fell about 4am on Saturday. One of the mast's stay-wires ripped up a hole in the deck.
The disaster altered a trip for which he had planned and prepared for five years.
The wind was roaring at 40 knots and the swell was between 6 and 7m. Water gushed into the hole, 400mm by 100mm, and began filling the 9.6m-long, single-masted Waimanu.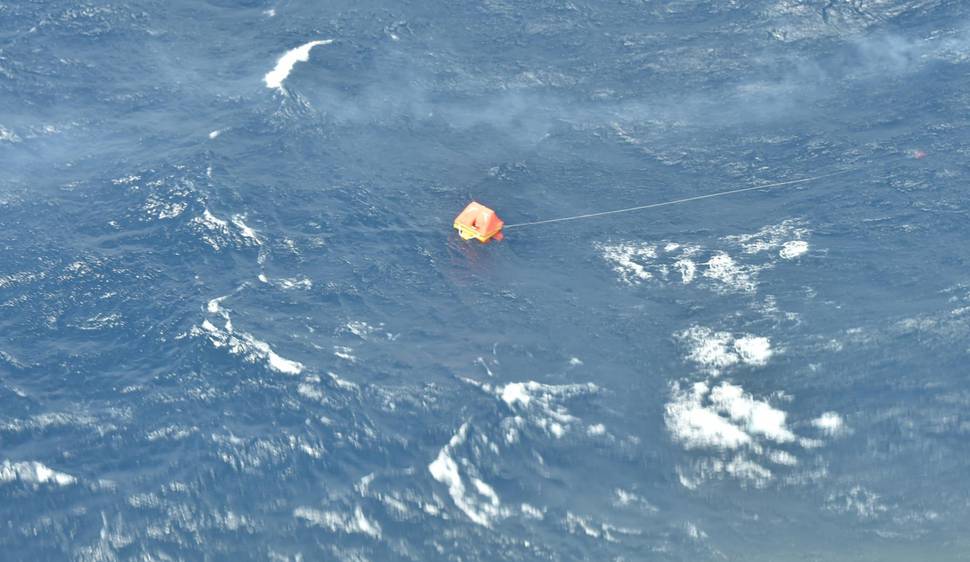 "I said, 'This is not good'," van der Mespel said, recounting his brush with death yesterday to the Herald from his rescue ship, the Norfolk Guardian.
He had sailed solo to Vanuatu, arriving in early July. Wife Jenny flew to the island and they sailed together for four months before Phil headed home alone.
He set his alarm to make him get up and check the boat every 20 minutes, day and night.
On Saturday morning at just after 4am the boat "dropped off a big wave".
"That woke me up, I looked through my port [left] window and saw a ship less than a mile away.
"I jumped on the VHF radio, just to confirm that they knew where I was, but the VHF was showing low power."
The yacht "fell off a big wave again and that's when I heard the crash". He put on wet weather gear and his harness and went on deck.
"As soon as my head came out of the cockpit I noticed the mast was gone and the boom was lying across the cockpit.
"My first response was to save the mast. I went back and grabbed some bolt-cutters, to cut the mast free.
"When I got to where the mast should be there was a massive hole in the starboard deck. I thought there's no way I can hold the mast. Now I've got to look to just saving the boat."
"I raced back down and turned on the VHF again and put out three mayday calls to the ship just ahead of me, which is now starting to move way off to the south. No response from the mayday.
"I opened the grab-bag and grabbed my hand-held VHF, turned it on, totally flat, blank screen. I check this every month to make sure that the batteries are fully charged. I think it has switched itself on and ruined the battery and I hadn't seen it."
"I let off two red parachute flares; the third one didn't deploy, but the first two went."
Water was already filling up the boat. At first he thought he could pump it out, but it was flowing in too fast.
"There was no way I was going to save her; I would have to save myself."
On seeing the mast down, Van der Mespel was running on adrenalin, but now the lessons from a liferaft training course kicked in: he coolly began organising his departure from Waimanu.
"Once I realised I couldn't save the boat, I tried consciously to settle myself down and just think logically and rationally - otherwise it could go to bits really fast."
"I put the liferaft and my grab bag into the cockpit ... I decided that even though the water was coming in fairly rapidly I had time to gather some things - food, drink and then comfort.
"So I deployed the liferaft and happily it inflated immediately. I winched the raft, using the cockpit winch, in close to the boat and gathered pillows, bedding, cans of food, bottles of water, first aid pack, ... lifejacket, harness with its tether."
He also took two books and a satchel of papers including his passport.
"I was thinking I was likely to be in the raft for three to five days. I didn't realise rescue was so imminent."
"I just literally threw things into the mouth of the liferaft. The water had come up so much that the deck of the Waimanu was only a foot or so above the sea. I literally stepped over the stern rail, stepped off the Waimanu and into the liferaft ... wearing nothing but my wet weather leggings but did throw my jacket in as well, in case the liferaft did get wet."
He tried to take photos as he drifted away from the boat, but the wind put the liferaft's opening in the wrong place and the Waimanu sank without his seeing it.
"As soon as I got the liferaft in the water I got my Epirb [distress beacon]."
The Rescue Coordination Centre said it started the search at 6.15am on Saturday after the beacon was activated.
Van der Mespel heard a Royal New Zealand Air Force Hercules fly overhead about 9.50am . It felt good.
"When you're alone, hundreds of miles from anywhere, you're floating around in something that's literally 5 foot square and it's just plastic sitting on the water, to see an aircraft come over and just keep going over you hour after hour - in fact I put in earplugs - it's the most reassuring thing in the world."
Without a working radio, he was confined to manual signals.
"I stuck my head out, gave them a wave of my arms and the thumbs up sign."
At 11.50am on Saturday he was picked up by commercial ship the Norfolk Guardian, 166km east of Norfolk Island.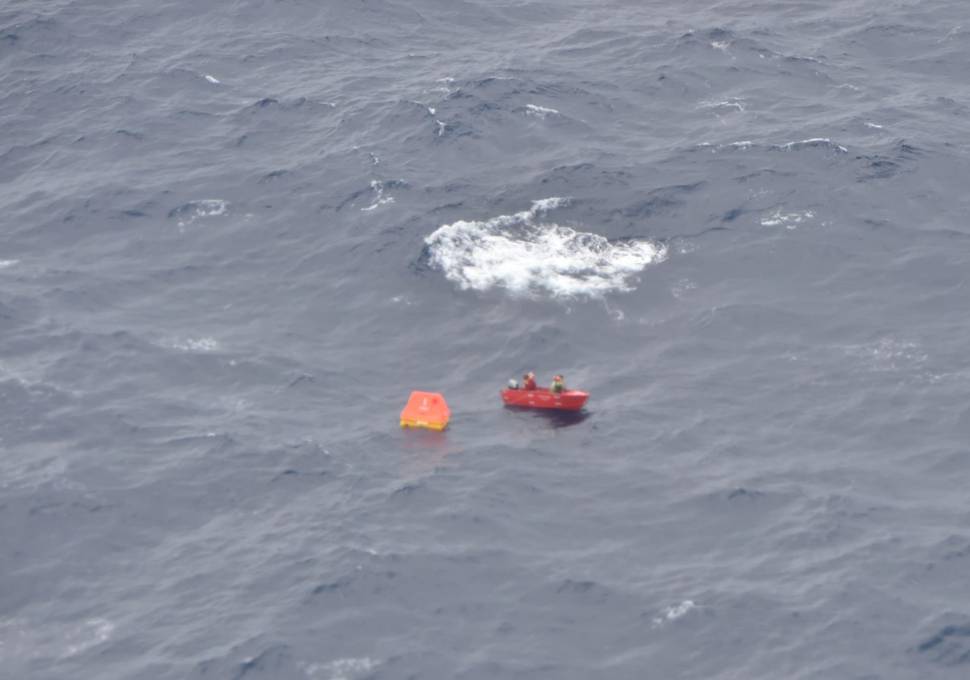 "My most anxious moments were when the ship seemed to be coming straight for me," said van der Mespel.
The ship was rolling "20 degrees from side to side" in heavy seas and he doubted he would be able to get up the rope ladder that the crew had lowered.
"When they got close enough I yelled out to the crew to use a rescue boat and I spotted a small tender on the back of the ship."
They agreed, and two crew came over to him in the red, 3m-long aluminium dinghy with an outboard motor.
"In fairness it was at risk of their own lives - even getting down into the rescue boat, it was fraught with danger."
The crew had looked after him extremely well, feeding him "ridiculous amounts" of food. He said the Norfolk Guardian was not the ship he saw heading south.
The Norfolk Guardian anchored off the north of Norfolk Island to wait for heavy seas to subside before people and freight could be taken ashore on smaller boats.
Greg Syman, a manager at the company which owns the Norfolk Guardian, said it could be three or four days before this happened.
"We've spoken to the police and Customs and there doesn't seem to be any rush to get him off."
Van der Mespel and his wife have two adult children. He has a business designing and renovating bathrooms with his son.
"I'm very keen to see my wife and family."
Asked if he had feared for his life, he said: "I had 10 years in the volunteer fire service. I've faced all sorts of emergencies. I wasn't fazed by it."
He said his sailing experience included racing, cruising and a number of delivery trips between Fiji and New Zealand. This disaster won't stop him going back on the water: he's got a delivery trip to Sydney planned next month.
The Waimanu was not insured. Van der Mespel doesn't know what it was worth but in the last year it has spent $70,000 on it for things including a new mast and rigging.
He said it had been emotional losing the kauri-planked boat.
"It's been in the same family for 43 years. It was passed down from my father-in-law. He had it built in 1973 and my wife was raised on that yacht."
The dramatic rescue was one of two over the weekend, after a stricken Norwegian sailor was plucked to safety yesterday by another container ship, the Southern Lily, about 140 nautical miles northeast of Cape Brett.
Rescue Coordination Centre New Zealand (RCCNZ) search and rescue mission coordinator Dave Wilson said both solo yachtsmen were well equipped and had been rescued successfully thanks to distress beacons.
"Waterproof communications saves lives. Without maritime radios and distress beacons they would not have been able to tell us they were in trouble."