Bruce Springsteen electrified a crowd of almost 40,000 with a hits-packed set at Auckland's Mt Smart Stadium tonight.
The man they call "The Boss" was calling all the shots as he and his E Street Band romped through a marathon set of classics.
Springsteen had a smile as wide as Auckland Harbour when he strolled on stage on a balmy evening at Mt Smart.
Springsteen hit the stage at 7.30pm, decked out in his trademark checked shirt and launched straight into the opening guitar riff for Darlington County.
He immediately engaged with the crowd by strolling along a runway into the centre of the audience yelling: "Auckland, how are ya? This is our last night ... and welcome."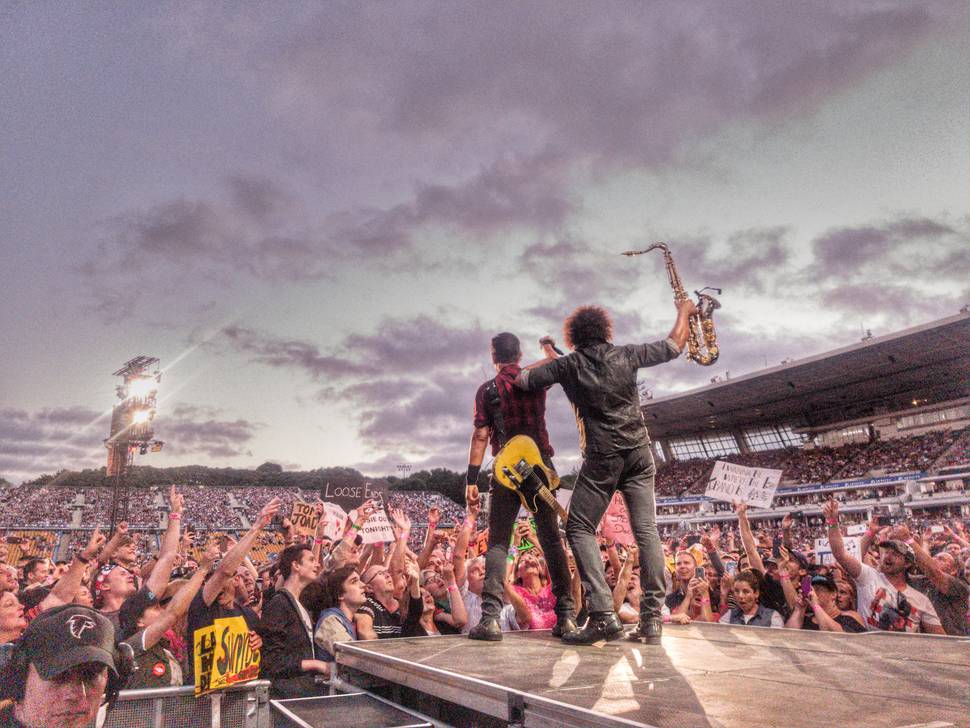 He then wasted little time in taking his fans down a musical memory lane of his greatest hits.
When Springsteen blasted out song number three, his anthem Glory Days, he had the crowd eating from his hand.
Mt Smart was transformed into a forest of raised hands as Springsteen belted out the memorable chorus to one of his most enduring hits.
And the giant crowd lapped it up when Springsteen turned to guitarist Steve van Zandt and yelled: "Steve, it's ass-shakin' time."
The pair then turned their back to the audience and wiggled their bums in unison, to roars of approval.
Hungry Heart was another big crowd favourite. As the memorable opening bars of the song started, it was the cue for fans to get on their feet as Springsteen whipped them into a party mood, and they sang along with every word.
About an hour into his marathon set, Springsteen eased into his classic The River and the crowd on the pitch swayed in unison.
Evergreen crowdpleasers had punters singing along with every word.
Kids sitting on their parents' shoulders enjoyed it just as much as the oldies and hardcore fans in the crowd.
The epic My City Of Ruins and the brooding 41 Shots also went down a storm.
And if Mt Smart had a roof, the crowd would have raised it right off when Springsteen and the band delivered a blistering version of Because The Night.
Earlier in the evening, fans were treated to sets by support acts Marlon Williams and Jet.