It was the viral smartphone game that led hordes of computer gamers out into the real world with phones held aloft as they competed with each other.
Now, the firm behind Pokemon Go has revealed its magical followup.
Called Harry Potter: Wizards Unite, it will see players take to the streets to cast spells and fight magical beasts, the Daily Mail reports.
"Almost five years ago Niantic launched Ingress, our first augmented reality mobile game, turning real-world streets, neighborhoods and cities into a global game board, and bringing people together in a shared digital reality," the firm said.
"We're incredibly excited to announce this next step in the evolution of AR mobile entertainment
"With Harry Potter: Wizards Unite, players that have been dreaming of becoming real life Wizards will finally get the chance to experience J.K. Rowling's Wizarding World."
The firm is working with Warner Bros. Interactive Entertainment, and WB Games San Francisco on the game, which is expected to use the same "engine" as Pokemon Go and Ingress, the first's first game.
Although details of the game have not been revealed, Niantic says "Players will learn spells, explore their real world neighborhoods and cities to discover & fight legendary beasts and team up with others to take down powerful enemies".
However, some research suggests Pokemon Go - which its designers created to make gaming more sociable - may actually be putting players at risk of "pavement rage" as they take part.
The study, which monitored the emotional responses of people as they took part in the augmented reality game, has revealed a surprisingly anti-social aspect of Pokemon Go.
Analysis showed players experience unconscious spikes in anger and frustration when they encounter other members of the public while hunting down the fictional characters in the game.
The research also revealed just how immersive the game could be - with one participant in the study almost walking into the path of an oncoming truck.
Biometric sensors showed the player was totally absorbed in the game until another member of the public who alerted them to the danger, which caused their heart rate to rise rapidly.
Adam Simpson, a neuroscience analyst at Sensum, the company that developed the emotion sensing technology, said their results suggested that Pokemon Go was not as social and interactive as it has been claimed to be.
He said: "The game has been praised for getting people out into the street and interacting with each other.
"When the participants in our study filled in a questionnaire, they all thought they were being very social and interacting with others when playing the game.
"Our findings show, however, on an unconscious level, they were so engrossed in the game they missed out on stuff that was going on in the real world around them."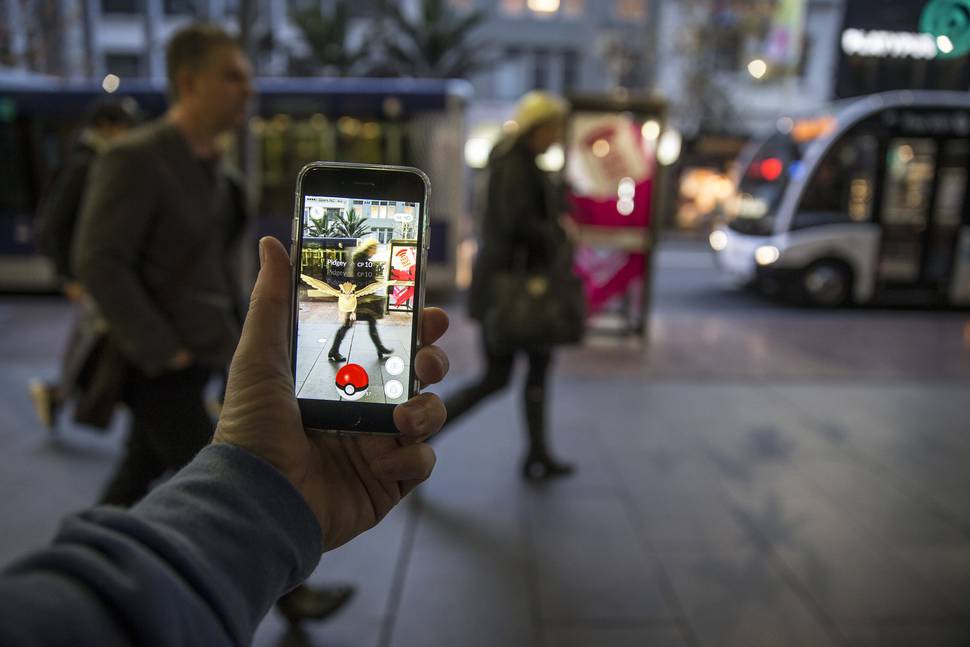 In the test by Sensum, which works with TV, film and advertising industries to measure emotional engagement, the researchers found that participants became glued to their screens and blocked out things happening around them.
They attached galvanic skin response sensors to seven participants to measure changes in the conductivity of their skin.
They also used heart monitors to measure their heart beat and glasses with cameras mounted in them to record what the players were seeing.