Boy next door Zac Efron becomes the neighbour from hell in an outlandish comedy that has uncomfortable parallels with his private life troubles. He talks to Michele Manelis.
With his now six-pack almost as recognisable as his face, Zac Efron is stretching his acting muscles in the comedy, Bad Neighbours.
The boy next door is playing a different kind of boy next door - a party animal head of a frathouse living next door to Seth Rogen and Rose Byrne. That's not the kid from High School Musical.
"I loved the opportunity to play against type and do something completely different," Efron says, flashing his blinding white smile.
"I think I'm finally discovering my comedic side."
Efron jumped at the chance to join the world of gross-out comedy. Especially one with Rogen, a master of the genre.
"Seth is my hero. I couldn't believe he was willing to work with me. It was literally a dream come true because I grew up watching his movies; I see a lot of myself and my friends in his characters. Seth says things that I think but am too afraid to say," he says. "And working with these guys was incredible. It wasn't about ego; it was just about bringing your A-game."
The film is directed by Nicholas Stoller (Forgetting Sarah Marshall, The Five-Year Engagement). Australian star Rose Byrne shows impressive comedic chops as Rogen's wife and the harried new mother of their infant.
Outrageous gags and silly pranks are unleashed on this suburban couple who find themselves under siege from Efron, his frat-buddy partner-in-crime played by Dave Franco (Warm Bodies) and many willing student helpers.
That put Efron in a cast of experienced comedy improvisers.
"The pressure would hit the night before but once you'd get to set, if you're truly in the moment you're not thinking about it because you have to listen and react. Guys like Seth are great for a reason, and they make you better."
Rogen smiles when the compliment is relayed to him later.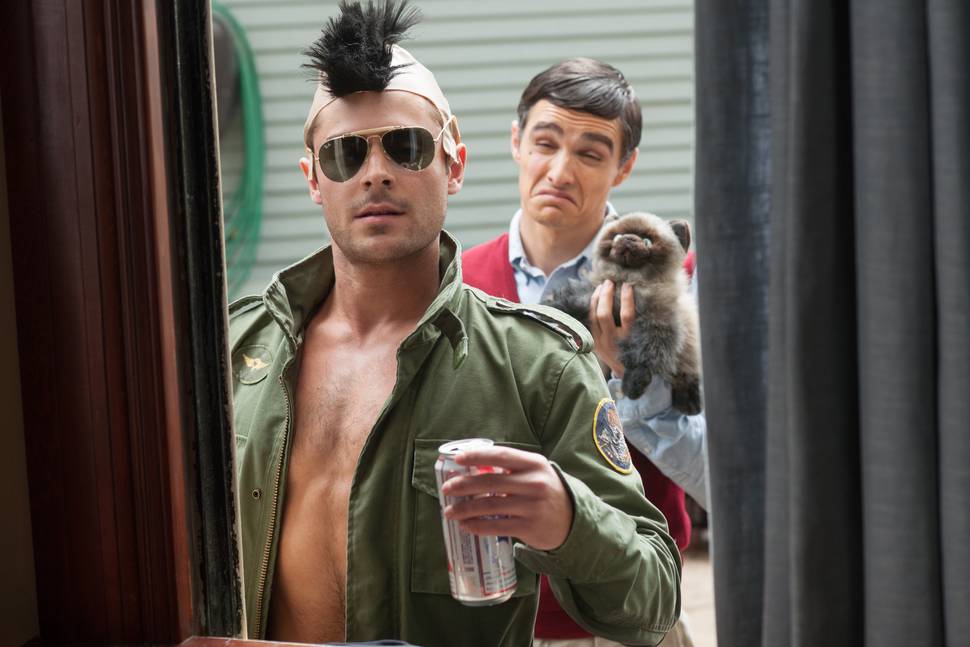 "I was surprised at how funny Zac could be but I was more surprised at how much people were willing to accept him in the role. Although the part was developed for him, I was a little worried I have to admit; because I know that there is a direct conflict between my fans and his fans. My intuition would suggest that people who like me might specifically not like him," he says. "But I was thrilled when we started showing people the movie and everyone just thought he was funny; they were fully willing to buy into him as this villainous and arrogant guy. They were excited to see him like this, which was nice."
Efron knows well not all his fans may take the leap with him. "I'm sorry if they don't like it," he shrugs. "I hope they'll get it, but if not, I'll catch them on the next one." And on the flip side, he'll be introduced to a new audience, or at least in a different way. He says, tellingly, "Hopefully people that didn't know me or did know about me and hated me will hate me less after this movie."
The role required Efron to convincingly portray a hard-partying lifestyle. This could have proven difficult for the former teen heartthrob whose well-documented struggle with alcohol and drug addiction led him along that much-trodden young celebrity path to rehab.
'It wasn't one incident. I was in a funk and I couldn't get out of it. I was feeling down. I'd always thought that I was unhappy because I was working too much, but then I stopped working for a while and I wasn't feeling any better." He pauses. "I've realised that an important part of growing up is learning and making mistakes and growing from those mistakes which I've hopefully done."
A member of Alcoholics Anonymous, he has been clean and sober since December 2013. He confides, "It was a bit of a nightmare at times filming those scenes, but then again I was able to draw on those experiences of being in that 'party dude' mode. I have to say, as soon as we were done with the big party scene, it was a weight lifted from my shoulders."
Says director Stoller, "I had a similar experience directing Russell Brand on Get Him to the Greek. He's a recovering alcoholic and narcotics anonymous guy in real life and I could tell that sometimes it might have been difficult for Russell and Zac in certain scenes, but in both cases, they kept it very, very professional. I'm sure it's hard to drink fake beer and smoke fake joints but I made them do it. Maybe I'm just heartless."
Efron's rise to fame began with High School Musical on the Disney channel in 2006, followed by the sequel in 2007. The third instalment, High School Musical: Senior Year, was released as a feature film due to the international phenomenon that it had become (it grossed an enormous US$252.9 million worldwide). He also starred in Hairspray (2007), 17 Again, (2009), The Lucky One (2012), and The Paperboy (2012).
Unlike many Disney stars, Efron grew up in a stable home environment near San Luis Obispo in California with his younger brother Dylan, 22, with whom he currently lives in Los Angeles.
His father is an electrical engineer and his mother a former secretary who shuttled him around to auditions that led to appearances on ER and CSI: Miami.
"My parents were always unconditionally supportive, although they didn't know anything about this industry. I still go to them for advice and guidance, even though I might not agree with them. My dad still reads my scripts," he smiles. "We're a close family."
These days Efron is excited about taking on new challenges behind the camera as a producer. His first outing, That Awkward Moment, was released this year, and he recently bought the rights to John Grisham's The Associate.
He and his producing partner Michael Simkin will next produce spy thriller, Fire, partnering with heavyweight producer, Neal Moritz (from the Fast and the Furious franchise).
"I learned a lot from watching Seth who was a co-producer on the film; just from seeing how he kept pushing the production forward. He'd corral the actors and keep them motivated.
"It was fascinating. That's where I see myself."
Lowdown
Who: Zac Efron
What: Bad Neighbours
When: Screening now