It could be said that Mel Gibson has been in the wars. He's fought the Japanese, Turks, English, and Vietnamese in his acting career. Not only did he sprint around Gallipoli as a youngster, he's directed battlefield mayhem in Braveheart and set the bar for on-screen bloodied suffering in a mainstream movie in his The Passion of the Christ.
So, it's no surprise that although Hacksaw Ridge is the true-life story of conscientious objector, that due to Gibson's past campaigns, it's also a hell of a war movie. It opens in a storm of flamethrowers and flying bodies upon the ridge of the title during the bloodbath US invasion of the Japanese territory of Okinawa in 1945. It's a foretaste of much more grislier carnage to come.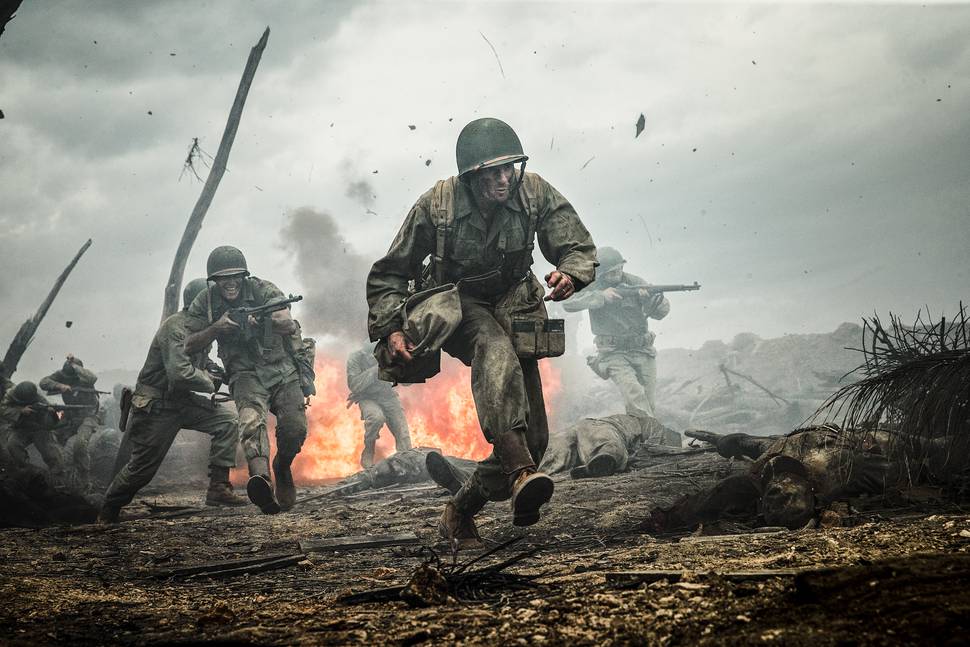 Seeing how army medic and conscientious objector Desmond Doss managed to be both hero and pacifist under such fire makes for a powerful movie, especially in its second half. But the film is hampered by Gibson's sledgehammer storytelling.
Its battlefield horrors might recall Saving Private Ryan and its setting the two films Clint Eastwood made about the earlier WWII campaigns on Iwo Jima.
But this feels closer to Angelina Jolie's Japanese prisoner of war tale Broken - proof that stories of great men don't always make great movies, no matter how loud you turn up the soundtrack. And that stories of medal winners don't always make great war movies, no matter how much courage under fire they display or how much fire there is.
That said, Andrew Garfield's portrayal of Doss is sure to be an award contender, even if some of this wants to make him a God-fearing Forrest Gump in combat fatigues.
Garfield rises above the cornball scenes of his pre-war life at home in Virginia. He also rises above the boot camp cliches, when, Doss having enlisted in the US Army, is bullied in basic training, then court-martialled for his refusal to take up arms due to his firm thou-shalt-not-kill Christian beliefs.
He wants to serve his country as a medic and, after what won't be the last of the story's miracles, he gets his wish.
He is sent to Okinawa where his company are reinforcements for a long bloody assault on Hacksaw Ridge, a plateau hundreds of metres up a cliff which makes Gallipoli look like a sensible idea by comparison.
Day after day they ascend to hell with the unarmed Doss dragging back the wounded to the cliff edge. Even after his comrades retreat he returns to bring back 75 wounded, lowering them down by rope as he prays: "Lord, help me get just one more".
Doss' efforts made him the first conscientious objector to win the Medal of Honor.
It's the sort of film where you just know there is going to be a modern-day postscript, such is the old-fashioned blow-by-blow storytelling. And there is. It's taken from the 2004 documentary about Doss, The Conscientious Objector by Terry Benedict who is a producer on Hacksaw Ridge.
Some might have conscientious objections to seeing a movie by Gibson, even as he works his way back into Hollywood's good books after ugly incidents brought on by a combo of alcoholism and staunch Catholicism got him blacklisted.
And God is certainly in the details here. Like Passion, Hacksaw Ridge is also a gory faith-based film, one that pours on the religious imagery and implies Doss' piety made him a guardian angel to his comrades.
But it's hard not to be impressed by Gibson's efforts at recreating the Okinawa battlefield, or by Garfield's endearing, committed portrayal of a man who stuck to his code.
True, despite his convictions Doss did pick up a rifle on the battlefield. But only to use its stock as a splint - on himself.
Likewise, Gibson will be hoping that Hacksaw Ridge can reset the bones of a broken career.

Cast: Andrew Garfield, Sam Worthington Teresa Palmer, Hugo Weaving, Vince Vaughn
Director: Mel Gibson
Rating: R15 Depicts graphic and realistic war sense
Running Time: 131 mins
Verdict: Yes, war is still hell in Mel Gibson's comeback movie about hero medic that's a mixed blessing.