New bespoke division breathes life into Aston
''I had a maths teacher when I was at school, and was continually getting told off for drawing cars," said Aston Martin design chief Marek Reichman. Then, with a touch of mischief, he talked about returning to the school to speak to its students - where the maths chief was now headmaster.
"I told the kids about 'that teacher' and how he had said drawing cars wouldn't get me a job - I didn't name him, but he knew what I was talking about - the look on his face was hilarious."
It's easy to imagine that Reichman couldn't stop himself from drawing cars, even if he wanted to. Speaking over dinner during an Aston Martin launch in Scotland last week, his focus on design was utterly infectious.
Many automotive designers can talk you into a coma. To keep a couple of journalists enthusiastic for over an hour, without mention of power outputs, 0-100km/h times and other such feats of engineering, is impressive to say the least.
Reichman's addiction to drawing cars might not be something rehab can fix, but it has helped breathe new life into Aston. On the success of production models, notably the Vantage V8, investment to the tune of £500,000 ($995,400) has helped set up a new bespoke division, the very Bondy "Q".
It's responsible for the very expensive, very limited machines, concept cars for auto shows, and helping guide customers through a pure design process. Given the mega-wealthy haven't always got the taste to match, VIP sales manager Matthew Bennett admits a bit of "subtle steering and refining" of ideas is often necessary.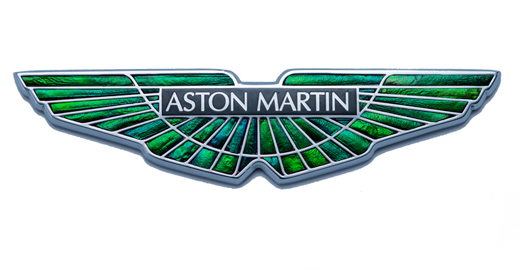 This Aston Martin badge was crafted using the shells of Scarab beetles
One of the few aspects of the James Bond association that Aston can't legally embrace is requests for things like bonnet-mounted machine guns, oil slick makers and surface to air missiles, for obvious reasons.
It is also loath to fiddle too much with the lines of the Aston Martin. "Not only will we start to run into problems with regulations around pedestrian impact and crash protection - it won't be a beautifully enhanced Aston Martin anymore. We don't make hot rods."
The ability of Q is to create very, very limited edition vehicles - which will undoubtedly soon be fetching the same sort of multimillion-dollar prices from collectors as the venerable DB5.
It was responsible for the stunning One-77, of which only 77 were built (including one that lives in Christchurch and is insured for just under $3 million).
There was the CC100 racer concept that was created as part of Aston's centenary celebrations. Two were built, and both sold to well-heeled collectors for top-secret amounts.
It has also just announced the resurrection of the heritage Lagonda nameplate.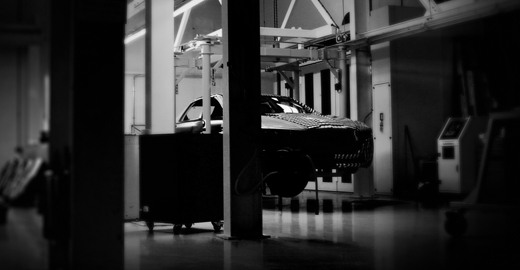 Aston Martin Lagonda
The new Lagonda pays tribute to the original 1974 Townes Lagonda - an exercise in bold design and hyperluxury. It's going be invitation-only for purchasers - and it'll cost a mint. With its utter opulence, the new vehicle is going to be sold only in the Middle East.
Concept cars are a big thing for the super-arty design department - they're the drawcard that brings in those buyers prepared to spend up to half again to have an Aston Martin like no other. And while some customer suggestions are sympathetic to the very British brand, others forgo the stiff upper lip, and order things that require a stiff drink and a good pair of sunglasses.
Customers have done some amazing things with Q - one superyacht owner on the US West Coast had his Vanquish Volante matched to the boat - same colours, same woods.
Everything can be utterly tailor-made - like the absolute one-off badge on this page that was created from the wings of a scarab beetle. It is apparently not permitted to be jet-washed.
One customer created something that would probably have horrified the company's founder, David Martin - black and gold, high-gloss metallic leather, which might have been visible from space. And that's the calmed-down version.
"Customers sometimes come with their own ideas," said Bennett, "others just want something that nobody else has got. Quite often their ideas change once we start on the consultation process - purely because they're not completely aware of just how far we can go to make a true one-off."
It is, to be fair, quite far indeed - one customer had his car's hood lining stitched in 24-carat-gold thread.
Around 4000 Aston Martins are built every year and Q maintains its exclusivity by building only about 200 customer cars. One thing's certain - if your kid has a tendency to doodle cars on maths books, it may not be in his best interests to stop it.

The cars explained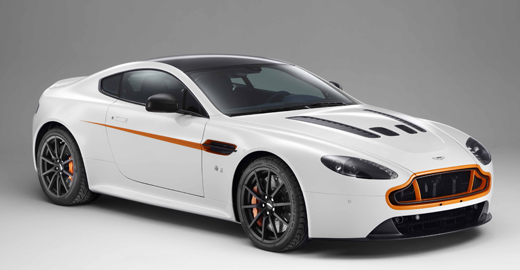 V12 Vantage S (Geneva 2014) - Orange stripe on rear lid, orange side strake, orange lipstick with match-to-lipstick grille inserts, "California poppy" orange stripe detailing on interior, orange brake calipers and satin carbon fibre throughout the exterior of the car.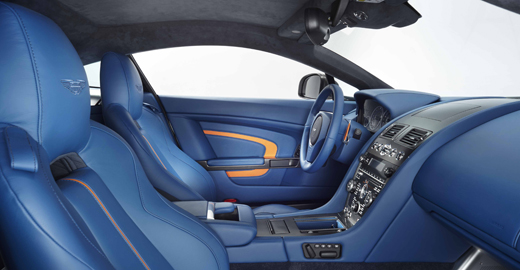 Vanquish - California poppy and pale blue leather are combined to create the bespoke interior. The bodywork is given a Centenary-style gradiated finish, combining mako blue and silver fox on bonnet and deck-lid. Cobalt blue carbon fibre is carried through to the fascia, where the gradation runs from opaque to a clear weave at the base.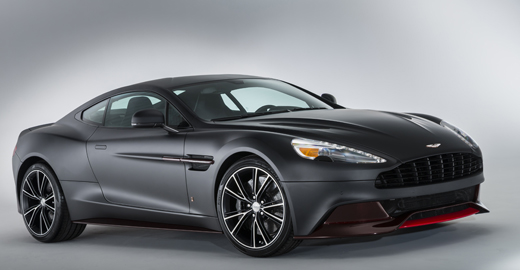 Vanquish (Pebble Beach 2013) - Jet black satin exterior is contrasted with gloss red tinted carbon-fibre trim and finish with rose gold exterior detailing. The interior continues the theme, matching pure black leather and Alcantara trim with details picked out in red - the paddleshifts - and red accented perforated leather seat and door inserts.


Vanquish Volante (Geneva 2014) - Polished brake calipers are used with an exposed carbon-fibre tonneau cover which is finished in a deep gloss. Inside, the seats are fitted in white essence leather with classic cream truffle stitching. This is contrasted with aurora blue leather detailing and a satin finish walnut veneer centre stack.
Vanquish Volante (Le Mans commissioned car) - The car was specced to take design cues from both Le Mans winning DBR9 and DBR1. The yellow splitter, diffuser, brake calipers and paddles are all bespoke, along with the yellow stitching in the headrest. The quilting in the seat is bespoke to this car and is finished off with yellow carpet binding and a Circuit de la Sarthe stitching detail in the boot.