Tiger Woods made a beeline for his girlfriend after his historic comeback win.
As the crowd cheered the former world No 1 for his Tour Championship victory, he rushed over to the side of 18th green and found his restaurant manager flame Erica Herman, 33, the Daily Mail reported.
The 42-year-old kissed her, hugged her and then whispered "I love you" before he walked off into the mass of spectators.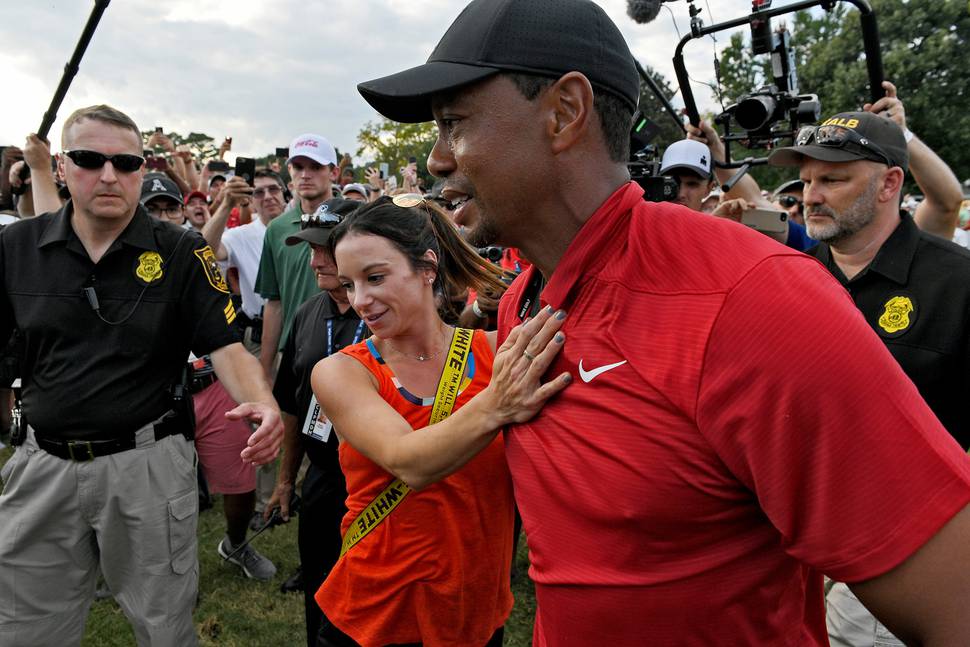 It was his first victory in five years after a number of setbacks through injury and a controversy surrounding his DUI arrest in 2017.
There's not doubt that Herman - who he has remained guarded abut their relationship since it was made public in September 2017 - has had a positive impact on the sportsman's return to glory.
He wasn't shy about being affectionate with her in front of the cameras and cheering crowd at East Lake, Georgia.
Burying his head in her neck he can be heard saying as microphones followed them closely: "How about that? Mmmm... love you."
Herman returned the sentiment before going in for a peck on the lips as the world watched.
His latest love was made evident a year a ago when she appeared at the Presidents Cup in New Jersey October 1, 2017 wearing a shirt given to wives and girlfriends.
Just two days later she was right beside him at court in Palm Beach Gardens, Florida as he pleaded guilty to a reckless driving charge resulting from police finding him falling asleep in an idling car.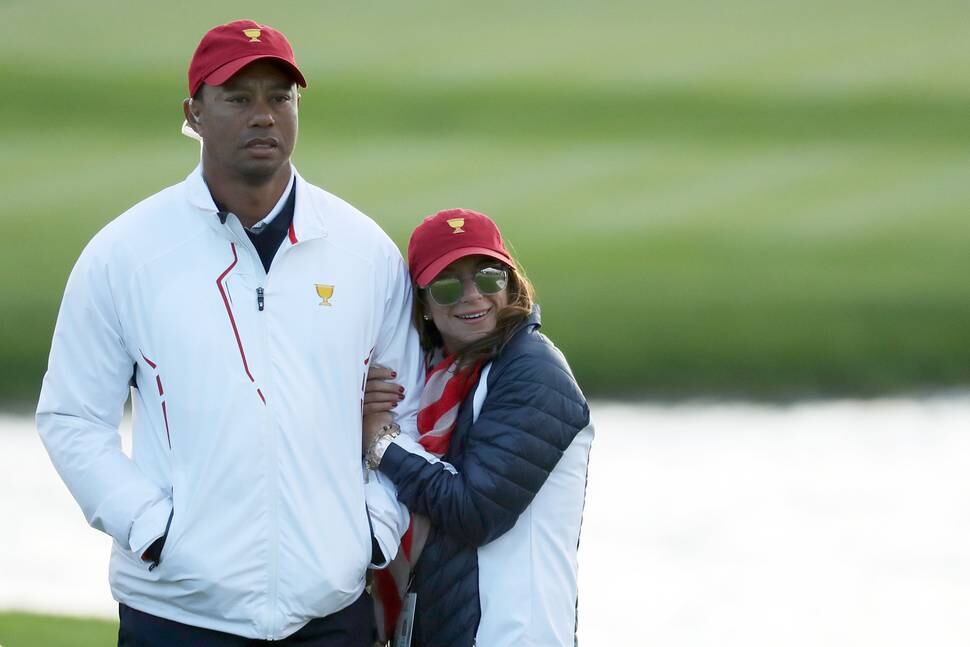 The state is where Herman worked as general manager at his restaurant, The Woods Jupiter until February this year.
Later that month they donned matching Dodgers jerseys at the second game of the World Series in Los Angeles.
Although spectators may not have noticed it at the time, Herman had actually been with Woods and his children as they watched the New York US Open Men's Singles Semi-Finals and Final in September last year.
In December it was clear she was becoming close to Woods' kids with ex-wife Elin Nordegren as she spent time with daughter Sam, 11, and son Charlie, nine, on a beach in the Bahamas.
In July this year, the pair showed they were still going strong as they appeared at Wimbledon to watch the tennis.
Woods was publicly shamed when stories emerged of him cheating on his spouse of six years with numerous women.
They split in 2010 and he dated Olympic medalist Lindsey Vonn from 2012 to 2015.
He has also dated stylist Kristin Smith from November 2016 - who used to be married to Dallas Cowboys NFL star Gerald Sensabaugh - but they split in 2017 after The Sun reports the mum of little boy Isiah was understood to have believed he was unfaithful to her.
The former world No 1 roared to victory at the FedEx Tour Championships on Sunday and a huge crowd ran up the fairway and swamped the 18th green in frantic scenes in a bid to watch Woods sink the last putt of his round, and end his title drought.
Woods, who has battled back from a crippling back injury, had four back surgeries, and dealt with the backlash from his DUI arrest, tapped his ball in from a few feet to secure the long-awaited victory and US$10 million prize.
He started out with a three-shot lead, and it took only four holes for him to stretch the lead to five over Justin Rose.
"It was a grind out there," Woods said during the trophy presentation. "I loved every bit of it."
Woods was popular as ever despite struggling to get back to usual form after taking a year off in 2009 and tumbling to as low as 876th in the world rankings at one point.
"I didn't want to get run over," Woods said with a laugh.
Only when he was on the green, the last one to putt after Rory McIlroy tapped in for birdie, did it start to sink in that he could claim the prize.
"All of a sudden it hit me that I was going to win the tournament. I started tearing up a little bit," Woods said. "I can't believe I pulled this off."
He paused as his voice started to crack.