A wedding to a prince, a move 3,500 miles across the Atlantic and a sparkly new career as a duchess — it's been quite the year for Meghan Markle. Today is her 37th birthday and she's got big plans, but they don't include a party at the palace.
Instead, the Duchess of Sussex will be spending the day at the wedding of one of Harry's oldest friends, Charlie van Straubenzee, who is tying the knot in Churt, Surrey, with long-term girlfriend Daisy Jenks.
Harry is Best Man so he'll be busy fulfilling formal duties, leaving the bithday girl with William, Kate and Harry's schoolfriends, reports Daily Mail.
So just how will former Suits actress Meghan — who shares her birthday with the late Queen Mother — mark the occasion? Here we reveal her secret tradition along with 36 other surprising things you never knew about her...
1. SHE CELEBRATES HER BIRTHDAY WITH CHIPS
A childhood spent hanging around Los Angeles TV studios, where her dad, Thomas, was a lighting director, made Meghan rather fond of canteen food — specifically, chips. Since then, wherever she is in the world, she treats herself to chips and a glass of wine on her birthday.
2. SHE IS A FLUENT SPANISH SPEAKER
The Duchess interned at the U.S. Embassy in Buenos Aires, Argentina, in 2002, immersing herself in the local language, before travelling to Madrid to study Spanish.
She showed off her flawless accent in 2013 when she recorded a tongue-in-cheek Spanish episode of Suits entitled The Killer of Love. Meghan also speaks basic French and Portuguese, and delighted a fan recently by greeting her in her native Filipino.
3. SHE'S EQUALLY GOOD WITH BOTH HANDS
Meghan has the rare attribute of being ambidextrous — meaning she can use both her right and left hands with equal skill.
She waves, writes and holds her handbag in her right hand, but eats, drinks and plays the guitar left-handed.
4. SHE BAKES CAKES FOR WILLS' CHILDREN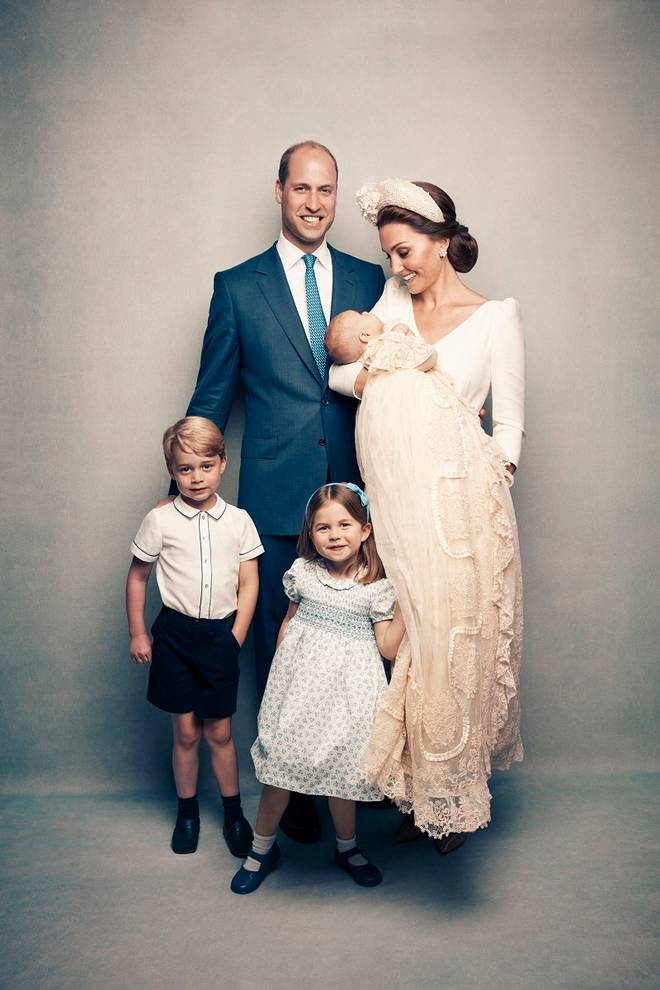 An avid foodie, Meghan regularly cooks up a storm at Nottingham Cottage, her and Harry's cosy marital home in Kensington Palace.
She loves to whip up sweet treats for her niece and nephew. When Kate was pregnant with Louis she took over trays of her signature ginger berry crumble and mini chocolate cakes.
5. SHE USED TO GIVE GIFT-WRAP CLASSES
In 2004, when she was a jobbing actress, the Duchess took a part-time position at Paper Source, a stationery shop in Beverly Hills.
There, she gave two-hour classes to customers on gift-wrapping, book-binding and calligraphy. Her old boss Winnie Park praised her "creativity".
6. SHE ALWAYS CARRIES TEA TREE OIL WITH HER
Meghan swears by tea tree oil, made from the leaves of an indigenous Australian tree, and never goes anywhere without a little bottle in her handbag.
The £2 ($3.80) product is the secret to her dewy, blemish-free complexion. "It's my little cure-all," she says.
7. SHE STILL PAYS TAXES IN AMERICA
Two-and-a-half months have passed since the wedding, but Meghan still isn't officially a British citizen. Not only does she have to pass the 45-minute Life In The UK Test but she must live in this country for three years before submitting her application. For now, the Duchess is technically still American, meaning she has to pay U.S. taxes on her £3.5 million ($6.7million) fortune.
8. HER NOSE SPARKED A PLASTIC SURGERY FAD
Cosmetic surgeons the world over say they're being inundated with requests for The Meghan, a rhinoplasty procedure inspired by the Duchess's nose.
"She's probably one of the top — if not the number one — request I get," said one surgeon. Fans are apparently drawn to its straightness and distinctive curved tip.
9. A SHOE COLLECTION WORTH £20,000
Friends say Meghan is "shoe mad", snapping up designer pairs every time she goes abroad.
Her enviable collection is worth £20,000 ($38,000) and features £630 ($1,200) Christian Louboutin pumps and £650 Jimmy Choo boots.
Unusually, most of her shoes are too big for her size 5 feet — a deliberate choice to ensure she doesn't get blisters while out and about.
10. SHE AND HARRY HAVE NICKNAMES
Before their relationship became public, Meghan's covert name for Harry was H — and she wore a gold necklace with his initial on it in 2016. Royal insiders say the nickname has stuck, while Harry calls his wife Megs.
When she was younger, mum Doria nicknamed her Flower or Bud, while Thomas called his daughter Bean.
11. SHE'S GOT A FILTHY SENSE OF HUMOUR
Friends say Meghan has a wicked sense of humour that would make her in-laws blush.
Out-takes from Suits capture her making off-the-cuff and often filthy jokes with her co-stars. In one clip, she quizzes actress Sarah Rafferty about an on-screen liaison, asking: "How big was he? Was he good? How long did it last?"
12. THE QUEEN SHARES HER TASTE IN BROLLIES
There may be 55 years between them, but Meghan and Her Majesty share an unlikely taste in accessories — namely, transparent umbrellas.
While the Queen has several hundred, made with coloured trims to match her outfits, Meghan posed with one in rainy Toronto during Suits. The design shields the user from the weather without obscuring their face.
13. SHE LOVES BOOKS ABOUT POLITICS
Meghan has a penchant for dense, weighty books on political philosophy and theology.
Her favourite author is political activist Noam Chomsky, and in 2016 she urged her followers to read his anti-capitalist tome Who Rules the World, describing it as a "great read". At school, she read The Seven Storey Mountain, the autobiography of Catholic theologian Tom Merton.
14. SHE'S THE SECOND SHORTEST ROYAL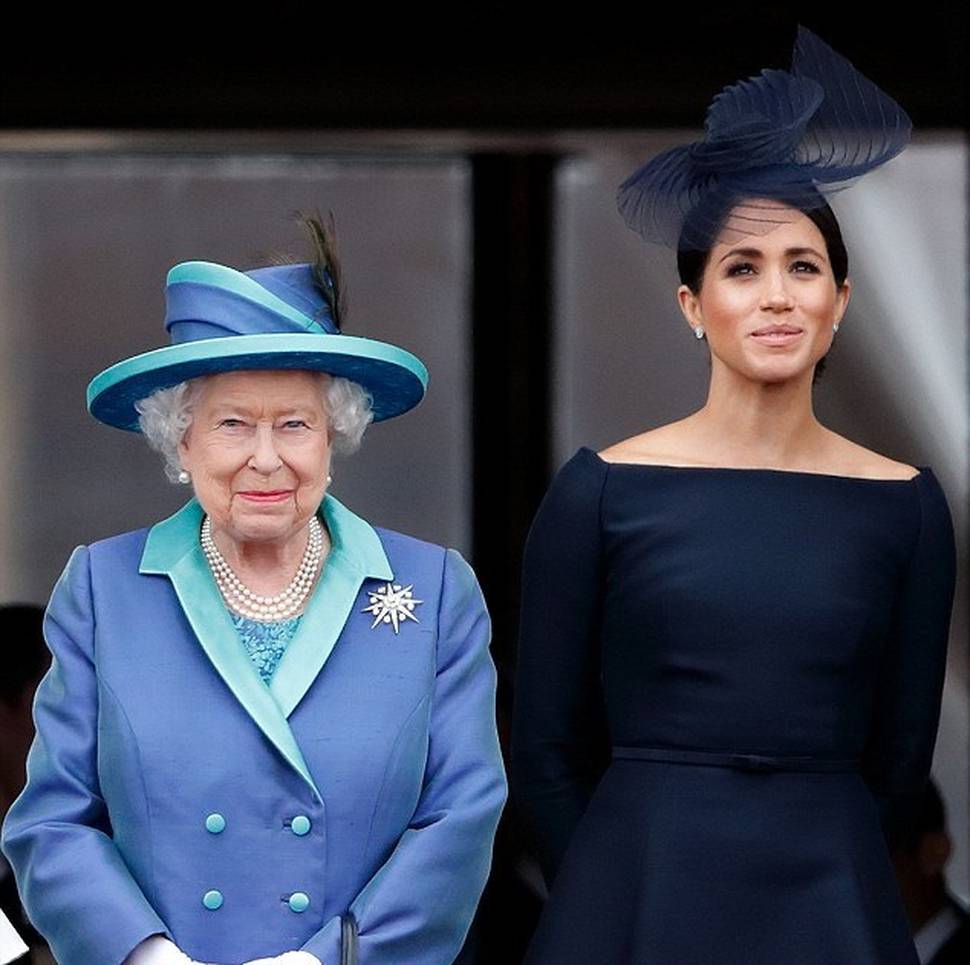 At 5ft 7in, Meghan is the shortest member of Harry's immediate family — which explains her obsession with towering stilettos.
Hubby Harry is 6ft 1in, while William is 6ft 3in and Kate a statuesque 5ft 9in. Only the Queen, who is 5ft 4in, is shorter.
15. SHE STARRED IN A FAMOUS MUSIC VIDEO
After graduating from Immaculate Heart High School in 1999, 17-year-old Meghan appeared in a music video for singer Tori Amos.
She was paid £450 ($860) to put on a low-cut top and stand in a crowd watching Amos writhing around in a glass box to the song 1,000 Oceans. She also auditioned to dance in a video for Shakira, but failed to make the cut.
16. SHE'S THE OLDEST ROYAL BRIDE EVER
Meghan was 36 on her wedding day, making her the oldest bride to wed a non-divorced future king (Camilla was 57 when she married Charles).
Previously Kate — 29 when she married William — was the oldest royal bride since Eleanor of Aquitaine married Henry II in 1152.
Meghan is also the first ever Duchess of Sussex. There was a Duke of Sussex in the 19th century, but his two weddings failed to get royal approval.
17. SHE'S A HUGE FAN OF BOARD GAMES
Meghan has a competitive streak and loves nothing more than a quiet night in playing board games.
Monopoly is a favourite and, on the set of Suits, she stayed up "into the wee hours" playing Apples to Apples, a popular card game, with cast-mates. She also loves jigsaws.
18. SHE'S A RELATIVE OF SHAKESPEARE
According to her family tree, the Duchess has some impressive British ancestors. She's William Shakespeare's fifth-cousin 13 times removed, and sixth-cousin five times removed to Winston Churchill — both through her father.
She's also a (very) distant cousin of Harry's. Genealogists say the pair are related 15 generations back, through an ancestor of the Queen Mother.
19. THREE FAITHS HAVE INFLUENCED HER
Born and raised a Protestant (the same faith as her mother, Doria), Meghan attended a Roman Catholic school and as a teen helped at a homeless shelter run by a Catholic charity.
Prior to her wedding, she adopted yet another faith, electing to be baptised into the Anglican Church of England as a mark of respect to the Queen.
20. SHE WAS AT SCHOOL WITH STAR SCARLETT
From two until 11, Meghan attended the Little Red School House, the educational institution of choice for children of Hollywood's elite.
She had her first starring role in a production of How The Grinch Stole Christmas. In the chorus was a shy girl named Scarlett Johansson, now one of the world's most highly paid actresses.
21. SHE WORKED IN A FROZEN YOGHURT SHOP
Aged 13, Meghan worked at Humphrey Yogart, a frozen yoghurt shop near her mother's home in California. Former boss, Paula Sheftel, remembers a bubbly, enthusiastic employee. 'She earned the minimum wage and was very popular with customers,' she recalled.
22. SHE DRIVES A VERY ORDINARY CAR
She may have ridden in a royal carriage, but when it comes to nipping to the shops, Meghan gets behind the wheel of an ordinary car. She's been spotted whizzing around London in a blue VW Golf, not much of a step up from the 'beat-up' Ford Explorer she used to drive between auditions.
23. FIRST BOYFRIEND IS A PRO BEATBOXER
The Duchess had her first kiss aged 13, when she locked lips with Joshua Silverstein, a boy she met at summer camp. Now married with two children, Joshua works as a professional beatboxer and has appeared on TV with chat show host James Corden.
Another old flame, Luis Segura, went on to become an estate agent, while Giancarlo Boccato, her high school prom date, is a property manager.
24. SHE USED TO BITE HER NAILS
Eagle-eyed fans will note that Meghan has small, rounded fingernails, always immaculately manicured in a neutral shade. This comes after years of biting her nails, a habit she broke only last year, when she made it a New Year's resolution.
25. SHE AND KATE WORE SAME DRESS
In fashion terms, Meghan and her sister-in-law are polar opposites, with the trendy new royal regularly outshining conservative Kate.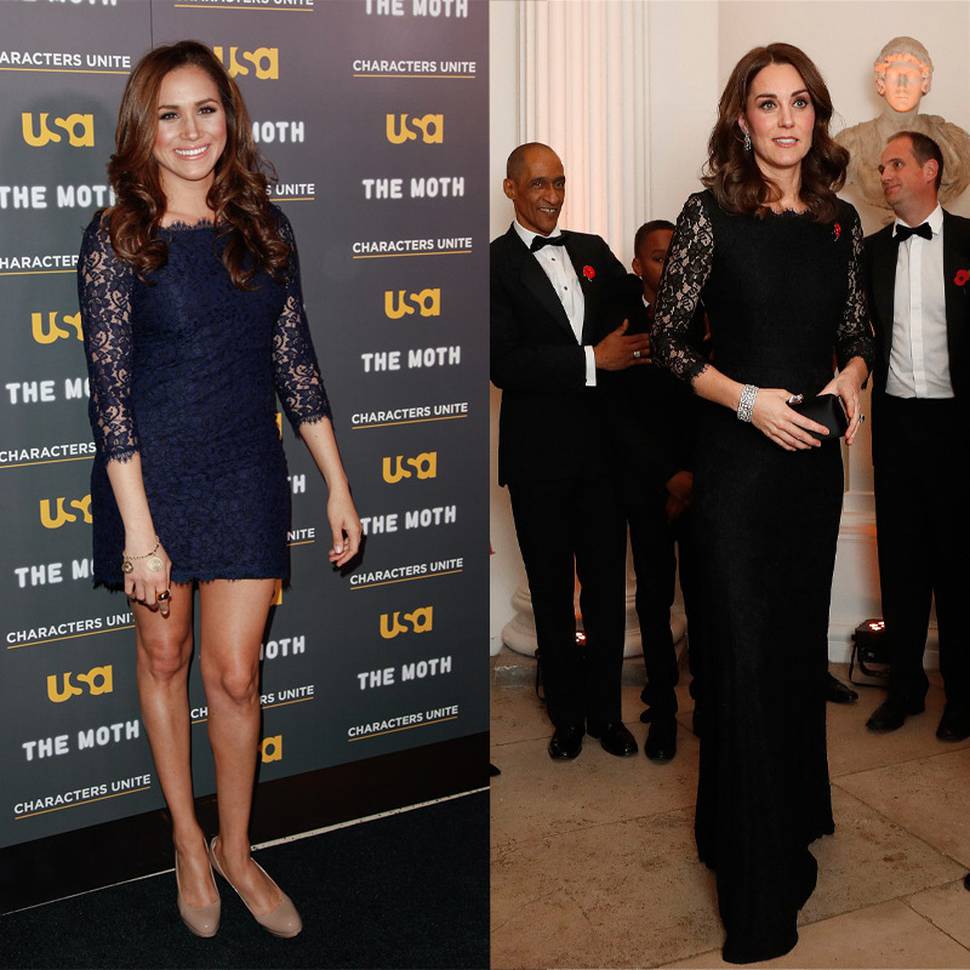 But the pair have stepped out in exactly the same outfit once before.
In 2012, Meghan appeared on the red carpet wearing the Zarita dress by Diane von Furstenberg, a sophisticated lace gown with sheer sleeves. Kate wore a full-length version of the £300 ($578) dress at a gala in 2017.
26. SHE ONLY EATS MEAT AT WEEKENDS
That to-die-for figure is the product of a rather unorthodox diet.
Meghan eats vegan food — no meat, fish, eggs or dairy — during the week, but lets herself indulge at weekends, when she admits to having 'a little bit more flexibility'.
27. SHE WAS COLLEGE SORORITY GIRL
Like many all-American students, Meghan joined a sorority — a social organisation named after Greek letters — while at Northwestern University, where she studied theatre and international relations.
28. SHE'S TRAVELLED TO AFGHANISTAN
In 2014, Meghan visited American military bases as part of a United Service Organisation tour. One of the stops was Bagram, Afghanistan, a remote spot surrounded by barbed wire to keep out the Taliban. While there, she entertained troops and their families with a light-hearted talk about Suits.
29. SHE IS A HUGE FAN OF 1930s FILMS
Meghan credits her father, a film buff, with introducing her to 1930s films. She's particularly passionate about Busby Berkeley, the director behind big-budget musical hits such as 42nd Street and Gold Diggers.
30. FIRST ROLE WAS TV SOAP
Thomas Markle pulled strings to get his daughter a role on the medical drama General Hospital in 2002. Her character, a nurse called Jill, had just five lines.
Meghan's film debut, in 2005 rom-com A Lot Like Love starring Ashton Kutcher, saw her playing a character called simply "Hot Girl". It was another five-line gig.
31. SHE'S GOT A MUSICAL TALENT
In a CV from her acting days, Meghan revealed an amazing array of musical talents — including playing the guitar, drums and "finger cymbals". She's a good singer, too, performing the lead in musicals while at school.
32. SHE WORE HER OWN JEWELLERY IN SUITS
In the days before she was draped in jewels from the royal vault, Meghan insisted on wearing her own jewellery in scenes for Suits. Every piece — such as a Claddagh Ring to represent her father's Irish heritage — had hidden meaning, and was her way of letting her personality shine through.
33. SHE CONQUERED A FEAR OF HEIGHTS
Adventure-loving Meghan has always had a touch of vertigo, but made it her mission to overcome her fear of heights.
In 2015, she posted a picture on Instagram, showing her leaping off a cliff into an aquamarine sea. 'Sometimes you have to do the thing that scares you,' she wrote.
34. SHE FAILED U.S. FOREIGN SERVICE TEST
Meghan once dreamed of being a diplomat and went as far as to take the Foreign Service Officer Test in 2002.
Her contemporaries said she would have been "excellent" in the role. But the three-hour exam —which combined politics, maths and general knowledge — proved too difficult and she failed.
35. SHE INSPIRED A NOVEL CHARACTER
Lindsay Roth, her best friend from university, wrote Meghan into a chick-lit novel, What Pretty Girls Are Made Of, in 2015.
The heroine, Alison, is a thinly veiled portrait of the Duchess: a beautiful but struggling actress, trying to climb the career ladder and find love.
Funnily enough, Lindsay sent a copy of her book to the Duchess of Cambridge.
36. ANNA WINTOUR LENT HER A CARDIGAN
Around the same time that she started dating Harry in 2016, Meghan attended Wimbledon, where she sat in the players' box next to Vogue editor Anna Wintour.
It started to rain and, noticing Meghan shivering, Anna lent her a cardigan to cover up. Few knew who the actress was; one photographic agency placed her under the heading "incidental people".
37. SHE WANTS TO SET UP AN ANIMAL CHARITY
Animal-lover Meghan — who adopted two dogs in Canada and brought one, a beagle named Guy, to London — dreams of setting up a rescue charity to help abandoned pets. Sources say she hopes to work with TV vet Noel Fitzpatrick, who bagged an invitation to the royal wedding.
But all that might have to wait. Royal insiders say her focus now is on starting a family, with Meghan planning to be pregnant by her next birthday.