The Kiwi babies who joined Prince George on his first official Royal engagement — a rambunctious play date at Government House in Wellington during the Duke and Duchess of Cambridge's 2014 Royal Tour — are all grown up and off to school.
The future King, who will turn 5 in two weeks , is already a big school boy after starting at Thomas's Battersea, in London, six weeks after his fourth birthday. His Kiwi playmates, who must be 5 to start school, have had to wait a bit longer.
But the 10 youngsters introduced to the world alongside their famous peer four years ago will have a incomparable story for show and tell.
The Weekend Herald spoke with mums of three of the youngsters, last seen publicly in the company of a bruiser of an 8-month-old boy in blue Rachel Riley dungarees and Peter Pan-collared white shirt.
All had fond memories of the Plunket-organised play date, of which their children — all due to start school this month — were vaguely aware.
At Sheila Tagiilima's home in Porirua a laminated and framed copy of a newspaper showing her son Tagiilima "TJ" Lemalie is on display, and her little boy knows he was part of something special.
"He tells people about it, but he doesn't know anything about it."
TJ's focus is on the future, specifically going to school at Holy Family School, said Tagiilima, who like the Duchess has had two more children since 2014.
"He just can't wait. He's ready. He's very focused with school ... with numbers. He can count to 100 and do addition and subtraction. He knew his ABC before he was 2.
"He's a very smart boy and I'm very proud, but I hide it from him. I don't want to pressure him."
It will be a quiet celebration for TJ's birthday tomorrow ; there'll be a cake and some kind of outing for the family of five and two of TJ's cousins, she said.
"He keeps changing his mind. He wanted to go ice-skating first, now he wants to go car-racing ... the go karts."
Cars are also in the mix for Prince George's 5th birthday party.
Overseas media reported last month the Duchess was organising a lavish $100,000 party in the gardens of Kensington Palace for her eldest child.
Mini-Ferraris will be among the toy cars at the disposal of Prince George and his friends, along with a fairground, bouncy house, 15 entertainers and a "show-stopping" cake.
Kiwi Mum-of-two Ingrid Alve also looks fondly on the memory of her daughter Eden's meeting with the third-in-line to the British throne.
Described by E Online at the time as the Prince's "Little Lady Friend" after the pair babbled at each other and the prince reached for one of her toys, Eden — dressed in a specially-made dress with matching lace headband — shared photos with Prince George that circled the globe.
"We've got a photo on the fridge and she sort of understands, because we've told her. She doesn't understand the magnitude ... she said 'Why doesn't he wear a crown?'
"She wanted to see him again [at one point], but she's moved on."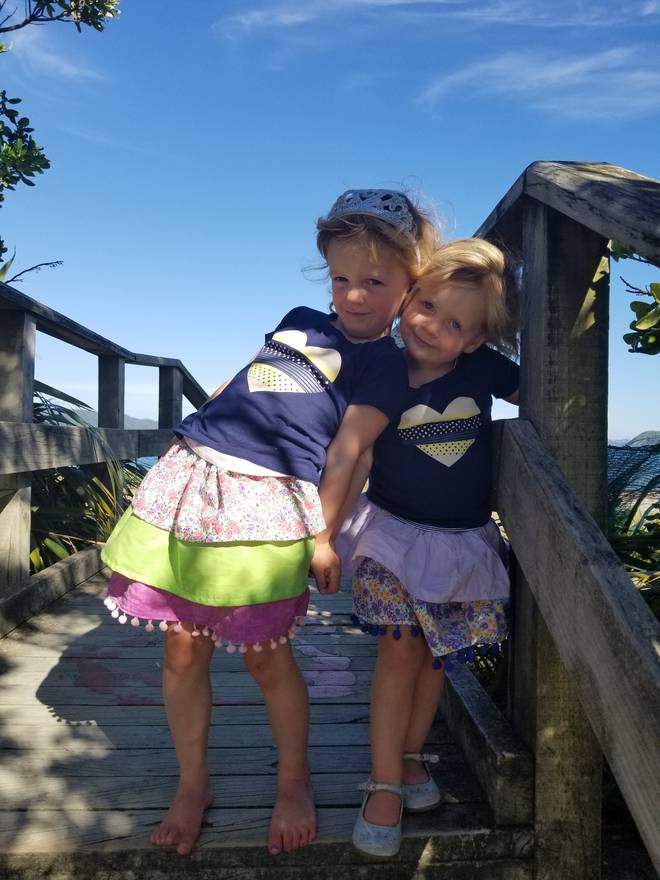 Jenny Stevens daughter, Paige, knows she's met a prince — but it's no big deal.
"I don't think she's aware not everyone's done that."
Her daughter, who is eagerly preparing for her first day at Amesbury School in Churton Park, also featured in many photos published around the world - after she burst into tears while meeting the duchess and her little prince.
When the duchess comforted Paige — born two days after the prince — by touching her head, the cameras "went crazy", Stevens said.
It may have been a lucky escape for the duchess.
After the event Stevens, who is from the United Kingdom, was interviewed by British media, appearing on a breakfast TV show in her homeland.
All went well — just.
"Three minutes after they turned the cameras off for the live cross, Paige projectile vomited."