Hayley McLarin continues our Auckland market series at Hobsonville's Catalina.
Let's meet at Catalina Farmers' Market. Sorry, where? Most refer to it as Hobsonville Point, the reincarnation of the forsaken air force shed at the foot of Greenhithe's Upper Harbour Bridge.
There are major plans to transform the old heritage buildings by the Hobsonville Point ferry terminal that services the Hobsonville Point housing development. So maybe soon we will get used to this part of Hobsonville Point being called Catalina Bay. Or at least they must hope so.
Having found each other, my friend and I quickly did a reconnaissance lap (pun intended) for the best thing to fuel my rumbling tum so we could sit, talk and solve all the problems of the world. It was pouring outside, and we were surprised to find seats at the rustic table in the middle of one of the two hangar halls.
There is a happy marriage of food-for-now stalls and food-for-later providers - and it was hard to decide between a Hey Bagel with salmon, cream cheese and capers, or the Judge Bao Uncle Yan bao with fried chicken, corn mayo and sriracha. The bao won, and I loved the flavours so much I went back to buy their own mix of Silk Road Spice and Pepper Salt to use at home. (Both have quickly become pantry staples.)
Not a fan of shellfish, I cannot attest to how good the mussel fritters were, although they have a good reputation judging by the nods of many as they tucked into them.
Once on the market circuit, you start to see the same stalls popping up - and at Catalina are the ubiquitous Zeki's (which has divine hummus) and Salash Delicatessen - I grabbed a freshly made, dry-cured chorizo that, once home, I removed from its casing, crumbled and dry roasted before adding to a creamy pasta.
The meat, fruit and veg at Catalina are exceptional. Not only are its agria cheaper than in the supermarket, but Hinemoa from Pukekohe has won a Ballance Farm Environment Award for its sustainable farming practices, and there's something more appealing about buying a paper-wrapped lettuce than one that comes in a gas-filled plastic bag.
BEST COFFEE: Mine is always a long black with a cautious dash of cold milk, so Spaceman Coffee was perfect - a smooth, intense filter coffee (plus a takeaway bag of Fair Trade organic batch-roasted beans, please). If you want a milk, soy or almond milk-based caffeine fix, you will need to queue with everyone else at Local Hero Coffee Works for a Matakana Coffee Roasters quality cuppa.
SWEET OR SAVOURY: Whichever your taste buds prefer, you will find something to devour at Gourmet Gannet. The artisan bakers from Kumeu have a wide range of tangy sourdough breads, flaky croissants and demi bagels. But if you have a sweet tooth, you will spend far too long salivating and trying to decide between fluffy doughnuts, custard tarts and pain au chocolat.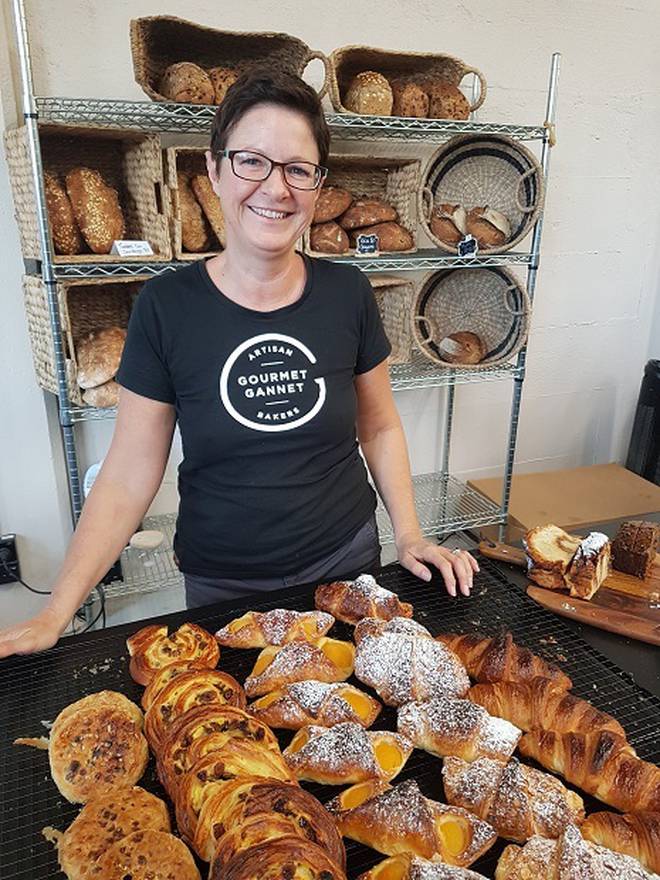 DON'T LEAVE WITHOUT TRYING:
Seed Crackers from Torbay. These handmade morsels combine poppy, sesame, pumpkin and sunflower seeds with linseed oil. Great platforms for the Whitestone cheese sold in the corner - my fave is the Lindis Pass brie.
BLADES OF GLORY: Empty the knife drawer of all your neglected tools and get them sharpened at the entrance.
WHILE YOU'RE THERE: Take the two-minute stroll along the newly built boardwalk. Or head to Catalina Cafe where you can hire an e-bike and cycle around one of New Zealand's newest suburbs to marvel at the high-density housing (maybe taking in a showhome or two), and follow the mini art sculpture trail of nine outdoor works.
PUBLIC TRANSPORT:
It's a shame the commuter ferries don't run on the weekends, it would really put this area on the map. Meanwhile it's a 20-minute drive from the city centre off SH18. There's plenty of parking on the road down to, and down by, the market.
CHILD-FRIENDLY: Indeed, but there's water, water, everywhere, so please keep an eye on them.
DOG-FRIENDLY: Yes, including indoors. A few shoppers' facial expressions couldn't hide their disdain for dogs and the doggy stall by the communal eating area. And, well, barking dogs aren't good for a foggy head.
EFTPOS: There's no formal cash machine, although some stallholders offer this service.
VERDICT: Small but perfectly formed, 20 or so stallholders offer great quality. While there is only one of everything (butcher, fruit and produce, cheesemonger), you can only imagine how this market will flourish as people get to grips with Catalina Bay being part of Hobsonville, and all those multi-storey apartments and wall-to-wall terraced houses fill with new residents.
Lowdown
Catalina Bay Farmers' Market
Saturdays and Sundays, 8.30am-2pm (and 11am to 7pm Fridays)