ASOS created a Prince Harry and Meghan Markle T-shirt in honor of the upcoming Royal Wedding taking place on May 19, but fans are taking to social media to make fun of it because they think it looks like a band tee.
The $21 T-shirt looks like a tacky concert tee and depicts a photo of Prince Harry, 33, looking off into the distance and Meghan, 36, looking into the camera with a British and American flag on top of their heads.
Under the photo of the royal couple which is faded onto a black background are the words: "To commemorate the Marriage of HRH Prince Harry of Wales and Ms. Meghan Markle, 19th May, 2018."
Harry's name is written in big orange letters while Meghan's is written underneath in white script and because of the placement of the British flag above Harry's head, it looks like he's wearing a cowboy hat.
The fact that it looks like Harry is wearing a cowboy hat makes it seem like the tee is a tacky country concert T-shirt and people are bashing it on social media, the MailOnline reported.
A satirical ASOS Instagram account, "asos what were u thinking," posted the photo of the shirt with the caption: "Well they had to let Pippa Middleton design something..."
Since posting photos of the T-shirt people have been taking to the comments section to chime in with one person writing, "Good god this can't be real," while another wrote: "ASOS are selling a royal wedding t-shirt for $21 that looks like a band t-shirt wtaf."
Meanwhile, one woman had no shame as she admitted, "I wish this was more expensive so I wouldn't buy it."
Despite the bizarre band tees, there are even crazier mementos being produced for the Royal Wedding including one-piece swimsuits of Harry or Meghan's face plastered across the front.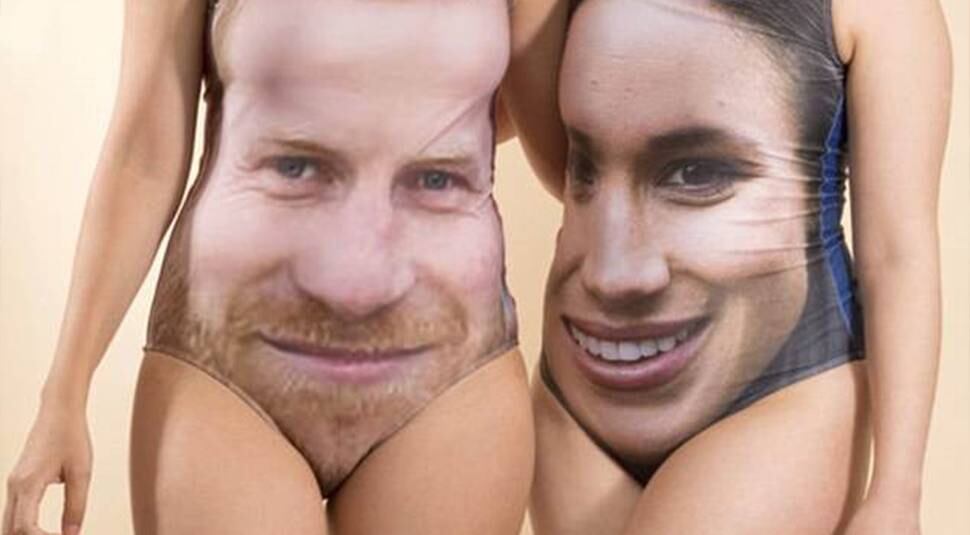 The personalised gift company Bags of Love is selling the swimsuits for $38 each and the only thing pictured on the bathing suit is a super zoomed in photo of each of their faces.
Public relations manager Ekaterina Vankova of Bags of Love told HuffPost, "Customers have been royal wedding mad and frequently print the faces of the royals on their DIY projects.
"Nothing like printing the face of a Prince or Duchess on a swimming costume and rocking it proudly on the beach. We also believe our choice of placement for Harry's beard reflects our thoughts on accepting the body too, on accepting who you are," she said.
While many people may think that the swimsuits are not doing well, they're actually selling out quite fast and Ekaterina continued saying, "The demand for the suits is massive and keeps growing."