The most glamorous night on Hollywood's social calendar has kicked off as the stars take to the red carpet for the 90th Academy Awards.
After the red carpet blackout that dominated the Golden Globes, Hollywood's biggest stars are shining bright at the Oscars, opting for light and bright colours.
Champagne is the order of the day - when it comes to gowns at least. Allison Williams, Giuliana Rancic and Abbie Cornish are just a few of the stars sporting the pale hue, pairing it with delicate embellishments and simple accessories.
Allison Williams
The Get Out actress channelled old school glamour in this champagne beaded gown, paired with simple makeup and a classic 1940s Hollywood wave.
Giuliana Rancic
The E! host is bordering on bridal in her one-shouldered beaded gown, with white floral appliqué and soft curls in her hair.
Kelly Ripa
Kelly Ripa's small frame was overwhelmed by this sweeping black gown, complete with giant pink and green bow and some seriously large pockets.
Allison Janney
The I, Tonya actress commanded the red carpet in a sleek red dress with a plunging neckline and some seriously dramatic sleeves.
Betty Gabriel
Betty Gabriel took plunging necklines to the next level in this head-turning teal gown.
Jane Fonda
Hollywood legend Jane Fonda commanded the red carpet in a fitted white gown with square neckline and dramatic shoulder detailing.
Daniel Kaluuya
Mustard velvet isn't an obvious choice for the Oscars, but Best Actor nominee Daniel Kaluuya took the unique look and made it work on the red carpet.
Salma Hayek
There is no kind way to say it, but this look is a complete miss.
Salma looks like she has come straight from reading fortunes at the fair in this sequined purple ensemble.
Gina Rodriguez
She may not be nominated for an award, but Gina Rodriguez won serious kudos on the red carpet for this striking silhouette that she paired with a sleek ponytail.
Chadwick Boseman
The Black Panther star had an effortlessly cool approach to the red carpet in this longline detailed jacket, with statement zip detail boots.
Whoopi Goldberg
Only Whoopi Goldberg could pair her signature sunglasses with an over the top floral dress and look this incredible.
Andra Day
If you strike this pose on the red carpet you will be one of our most striking looks - no questions asked.
Margot Robbie
The Best Actress nominee looked like she had just stepped out of the salon, sporting a fresh blunt haircut that paired perfectly with her gown's simple silhouette.
Gal Gadot
This fun fringed ensemble was the perfect fit for Gal Gadot and the added necklace was the perfect companion for the highly detailed gown.
Lupita Nyong'o
Lupita Nyong'o has skyrocketed to the top of our best dressed list in this striking gold lamé gown with a black embellished sash.
The actress also wore an traditional Rwandan hairstyle which suited the look to a T.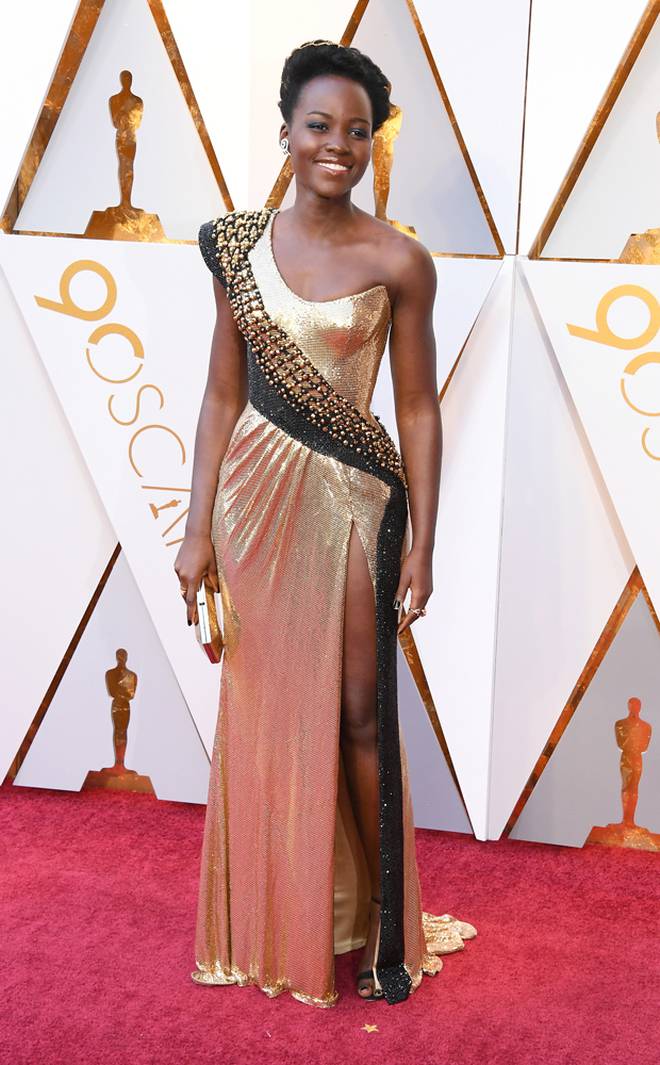 Jennifer Lawrence
Jennifer Lawrence looked simple and elegant on the red carpet, but the looked lacked the punch that we are used to seeing from the outspoken star.