The Herald is this week profiling different beauty treatments in Auckland. Today, Brittany Keogh tries a coconut milk bath and vanilla and coffee bean massage.
The sun is beating down through the slats in the bamboo privacy screen and the scent of coconut wafts through the air.
I'm in Bali, spending my summer break at one of those luxury spas tourists flock to the island to visit - at least I feel like I am until I open my eyes and look out at the view.
Below the rugged hills that map the coastline is a crescent of sand and then, stretching to the horizon, is the Tasman Sea.
Bersantai day spa at Castaways Resort is perched on a clifftop above Kariotahi Beach, about an hour and 10 minutes from central Auckland.
It's Balinese-themed and is 8km from the township of Waiuku.
I've escaped here for an afternoon in the name of journalism to trial a couple of the treatments available.
As far as assignments go this one's choice. I love going to the spa during my holiday (or pretend holiday, unlike most Aucklanders I'm working through).
First up is a coconut milk bath. The brochure promised the essential oils in the water would "soothe busy minds and help induce a healthy restorative sleep", while the coconut milk hydrates my skin "leaving it soft and supple".
I climb into the stone tub, which is about half-full of milky water.
While soaking for an hour I try to let my mind drift - in a few hours I'll be on a late shift in the newsroom and it will be racing again. News never sleeps.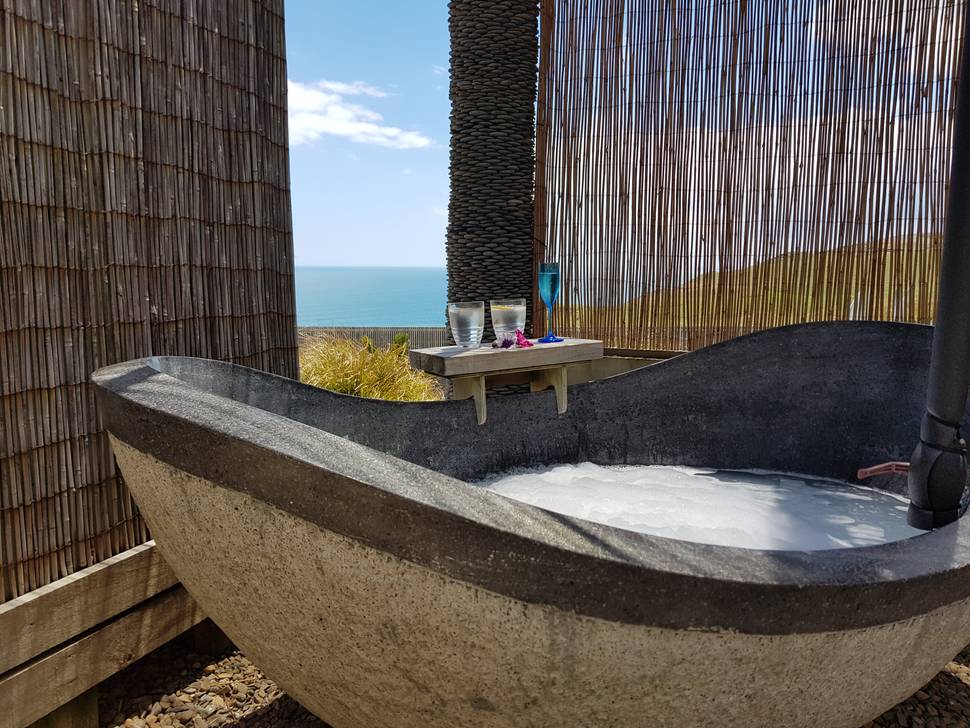 It's so secluded that I feel perfectly comfortable with the fact I'm bathing (though wearing togs, of course) outdoors.
My host Raewyn rings the bell to signal it's time for my vanilla and coffee bean massage.
I slip on the bamboo jandals I've been given to use during my visit and walk down the path to the main part of the spa.
Through the dark wood doors and then to the right is the room, the light down low.

As the therapist kneads out the knots in my neck, my brain starts to relax along with my body.
Pulling out of the gravel carpark I feel both sleepy and refreshed at the same time.
I leave pondering which treatment I'll try on my next visit - hopefully while on a real holiday.