A mother has told of her "total disbelief" when she dashed into A&E with her lifeless baby pleading "help, he's stopped breathing" only to be told to sit down and wait her turn.
Daveanah Cowie, 21, said her 7-week-old son could have died if she had listened to the Derby Royal Hospital receptionist's "ridiculous" response - and instead ran with him cradled in her arms to find a doctor, according to the Daily Mail.
She said: "If I'd heeded her advice my baby could have died. He was really pale and had stopped breathing for two or three minutes. Every second was crucial. There was no way I was going to sit and wait my turn. It was an emergency."
Tiny Tommy-Lee, who suffers from bronchiolitis, an acute viral disease common in infants, was resuscitated by experts at Derby Royal Hospital, north of Birmingham, and put on a life support machine.
Reliving her ordeal, the mother-of-five said: "My emotions were jumping all over the place but I managed to keep calm for my baby's sake.
"When the woman at the reception desk started asking for his name, date of birth and personal details I was in total disbelief. I kept telling her he wasn't breathing and needed urgent help but she simply said: 'Please sit down and wait your turn'.
"She was in her 40s and you'd have thought she'd have known better. It was appalling the way I was treated. She could see I was already distressed."
Speaking exclusively to MailOnline, Cowie told today how she has now lodged a formal complaint against the hospital's unnamed member of staff.
She said: "Blunders like this mustn't be allowed to happen again. Surely a patient with a potentially dying baby is allowed to jump the queue and be given priority treatment.
"Luckily I didn't listen to her and just ignored her and went straight through to the nurses and doctors' desk where I got help for Tommy-Lee."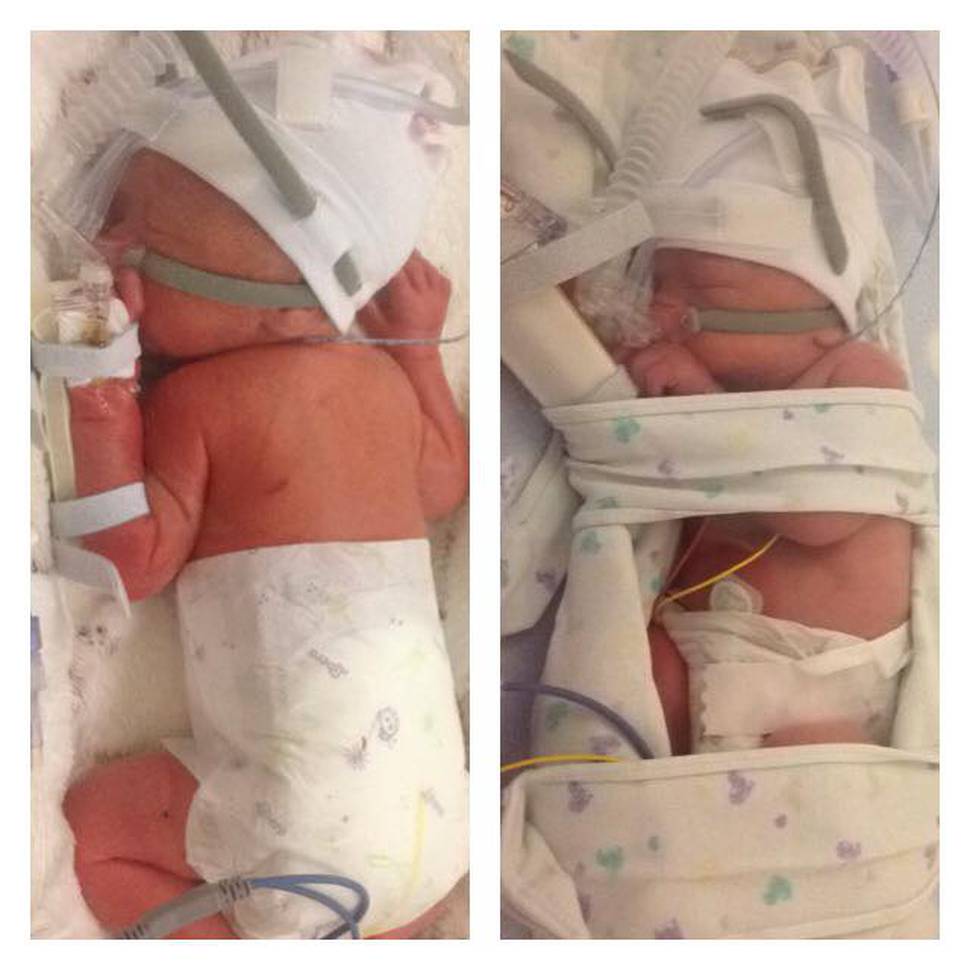 The baby has a twin brother Arlow-Jack, who suffers from the same breathing condition.
They were born at 30 weeks on October 11 - 10 weeks prematurely, weighing 3lb 10 oz (1.3kg) and 3lb 14 oz. Both are now a healthy 5lbs.
Both babies have spent spells in hospital being monitored and treated. On the day of his mother's "nightmare" ordeal 10 days ago, Tommy-Lee, who had been home for a week, was not bottle feeding.
Frantic Cowie and partner Jamie Brewin, 23, a self-employed builder from Derby took him to their local hospital.
The mother explained: "When we got him out of the car seat at the A&E entrance he wasn't breathing and looked really pale. I ran with him in my arms to the reception.
"The way we were treated was outrageous and irresponsible. I couldn't believe it. My baby was not breathing and I was told to wait. I haven't even received an apology and it's not on. My baby's life was at risk."
Tommy-Lee is due home on Monday to join his twin brother, who returned home yesterday.
The twins have three siblings, brothers Layton-McKenzie, 4, Dexter-James, 3, and 11-month-old sister Gracie-Mae.
Cowie smiled and said: "The twins are both doing okay. They're so tiny but absolutely beautiful. We can't wait to have the whole family together for Christmas. Next week will be the second time all seven have been at home together. It'll be amazing and we can't wait but we'll have our hands full."
She added: "We love parenting and we cope well and work as a team. My mum helps so does Jamie's mum and sister."
Brewin, who is now a fulltime father, said: "We're pleased our hospital ordeal is over.
"We were distraught at the time. Now we're just focusing on the twins and it will be great to have them both back home. We're very proud of our family. It's one big happy one."
Cowie, who had her first baby at 17, added: "We're quite young to have five kids but wouldn't change it for the world.'
"I told the doctor what had happened and she said: 'She probably just needs more training'.
"I haven't received an apology and it's not on. My baby's life was at risk."
A spokeswoman for Derby Teaching Hospitals said: "Our first priority is always the safe care of the babies and children brought to our children's emergency department, and thanks to the expertise of our highly skilled emergency team, the baby in this case received appropriate care.
"We were concerned to find that a receptionist failed to immediately recognise the serious nature of this situation, as this is highly unusual for our dedicated team of reception staff.
"We immediately started an investigation and we are now reviewing the training we give to reception staff in the children's emergency department. We are also happy to meet Ms Cowie to explain the steps we have taken."