A northern California middle school has found an unlikely opponent to the school dress code - a dad.
Tony Alarcon is fighting to change the dress code at Fisher Middle School in Los Gatos after his daughter was forced to change twice in one day because her clothing was too distracting to boys.
On August 28, 13-year-old Demetra Alarcon wore a blue romper to school and was pulled aside by a teacher who said it was too short.
So her dad, an independent investment banker, brought her a new outfit to school, a tank top and shorts.
But officials objected to that look too, saying the shorts were shorter than the 4-inch inseam required by the dress code, the MailOnline reported.
"I was told the shorts weren't appropriate," Mr Alarcon told KTVU. "I had to go back into the car, where I luckily had a pair of leggings as a backup."
With temperatures reaching into the triple digits in the first weeks of school, Mr Alarcon thinks the school is asking a lot of its girls to adhere to the dress code.
"I mean, today it's 32C outside and she's wearing leggings because she doesn't want to be dress-coded for wearing shorts," Mr Alarcon told CBS San Francisco. "And it's not OK. It needs to change."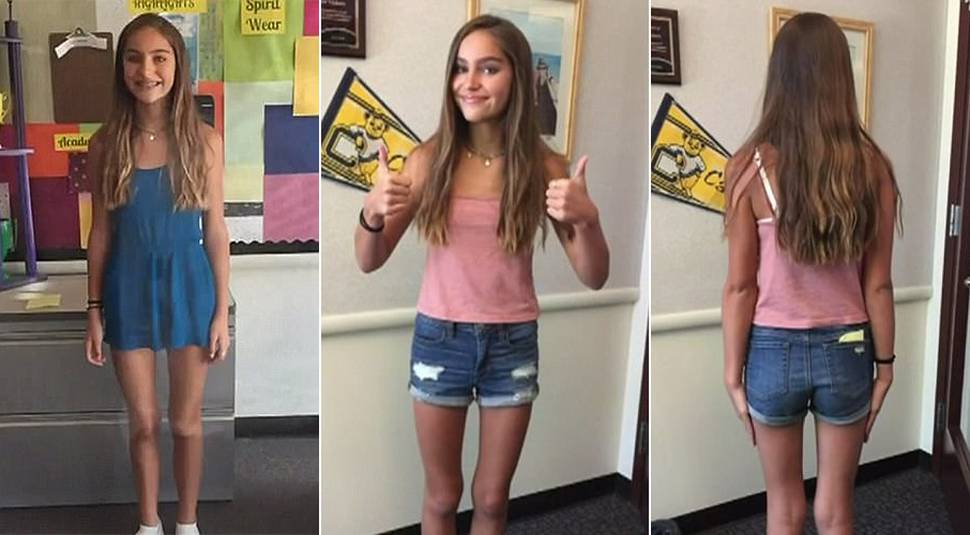 So he took to social media to discuss the issue with other parents, and it was his hilarious ironic response that went viral.
"When I got dress coded one-time last week, they said my bra strap was showing," Demetra told The Mercury News. "Lord forbid I might be wearing a bra."
Now he's trying to force the school to change the dress code, which he thinks unfairly targets girls.
"Fisher has a dress code policy, which is clothing specific. Most of the clothing mentioned are women's clothing like halter tops (and) spaghetti straps," he said.
The dress code also bans items that boys would wear, such as hats, but Demetra says she's never seen boys reprimanded.
Her dad also pointed out that it's almost impossible to find girl's shorts that meet the school's requirements.
"The only stores that sell longer shorts are Sears and Lands End," he told the Mercury News.
He says he and his wife have their own system of checking that their children's clothes are appropriate and that's that they cover their their "front and rear" in "any position-sitting or touching toes."
Mr Alarcon says he's worried that the dress code is having a negative impact on the female student body.