It may be Pippa's big day but all eyes were on Princess Charlotte and Prince George as they toddled down the aisle behind their aunt today.
The brother and sister looked angelic dressed in adorable ensembles from Spanish clothing company Pepa & Co.
However, it seems that after an hour in church the pressure of being a pageboy may have become a bit much for three-year-old George who was seen becoming tearful after leaving the church, the Daily Mail reports.
Charlotte, two, appeared to be quite content as a patient Kate tried her best to calm her son who, after such a big responsibility, may be in need of a rest.
However, when George continued to tantrum he received a rare public telling off from his mother who was eager to prevent anything from disrupting her little sister's big day.
However, the prince appeared to cheer up at the prospect of riding in a vintage wedding car as he made his way to the reception with his mother and sister and could be waving to onlookers.
The niece and nephew of the bride, two and three, were met by plenty of coos from the crowd as they made their way into St Mark's Church in the village of Englefield on Saturday.
The royal siblings take the role of page boy and bridesmaid as Pippa is said to dislike the term 'flower girl' despite that being the tradition for younger members of the wedding party.
For the little girls Pippa had chosen cream coloured dresses with puffed sleeves and a blush coloured sash around the waist complete with a floral crown.
For the boys the new Mrs Matthews opted for golden pantaloons and a double breasted cream shirt with a Peter Pan collar and white stockings.
Like her sister Kate, the bride decided to have only little ones in her bridal party - at 33, many of her friends are married anyway.
Pippa stunned in a high necked white bridal gown designed by Giles Deacon and a classic bridal veil as she prepared to say her nuptials to multi-millionaire fiance James Matthews.
This is Charlotte and George's first ever wedding and the enormity of the occasion is sure to take it out of the tots.
The young royal appeared to be taking his page boy duties very seriously and could be seen helping Charlotte with her blossom wreath as they entered the church.
Aside from Charlotte and George Pippa had a further three page boys Casimir Tatos, Edward Sebire and William Ward and three more bridesmaids Countess Phillipa Hoyos, Lily French and Avia Horner.
Luckily for the youngsters there is a plan for an interval at the wedding - and an outfit change - so it's thought Pippa is stopping proceedings around 3pm, so everyone can nip home for a nap before the black-tie do kicks off around 7.30pm.
Guests have been advised to bring a second set of clothes, though it's understood the issue of where to change is fraught.
Kate, George and Charlotte are in situ at the Middletons' £4.7 million Bucklebury home - and this is completely off-limits to all but family.
George and Charlotte's Spanish nanny, Maria Borrallo, was seen arriving at the church today in full uniform in order to keep an eye on the tots today.
At a the Queen's garden party earlier in the week the Duchess admitted that she was "worried" about how her children would behave at the wedding.
However, the children appeared to be on their very best behaviour on Saturday with the Duchess looking proud as they walked down the aisle.
While the royal cuties seemed were good as gold there was one pageboy who escaped Kate's attention managing to flick a v-sign before the camera on Saturday.
James and Pippa said their vows in a picturesque Berkshire church before a congregation which will include the Duke and Duchess of Cambridge, their children Prince George and Princess Charlotte, Prince Harry and other close family and friends.
The event saw hundreds of royal fans, press and public descend on the quiet village of Englefield, near Reading, which is home to St Mark's Church, where the ceremony took place.
After saying their vows surrounded by their friends and family, the happy couple waved to the crowds as they drove in a Jaguar E-Type from the Englefield estate to the Middleton mansion for the evening reception in the 'portapalace' they've constructed in their garden.
Shortly after Pippa and James left, Kate came by in a grey Range Rover, this time with a personal driver behind the wheel.
Villagers soon began to speculate whether her husband William and little George and Charlotte were hiding behind the car's tinted back windows.
The wedding guests were all leaving the reception at Englefield Town Hall to commence the party at Carol and Michael's home on Pease Hill.
The party is expected to carry on all evening with an estimated 350 high-profile guests.
Details of the wedding service, reception and celebrations have been kept under wraps by organisers but there has been speculation in the press the day will cost Pippa's parents Carole and Michael Middleton hundreds of thousands of pounds.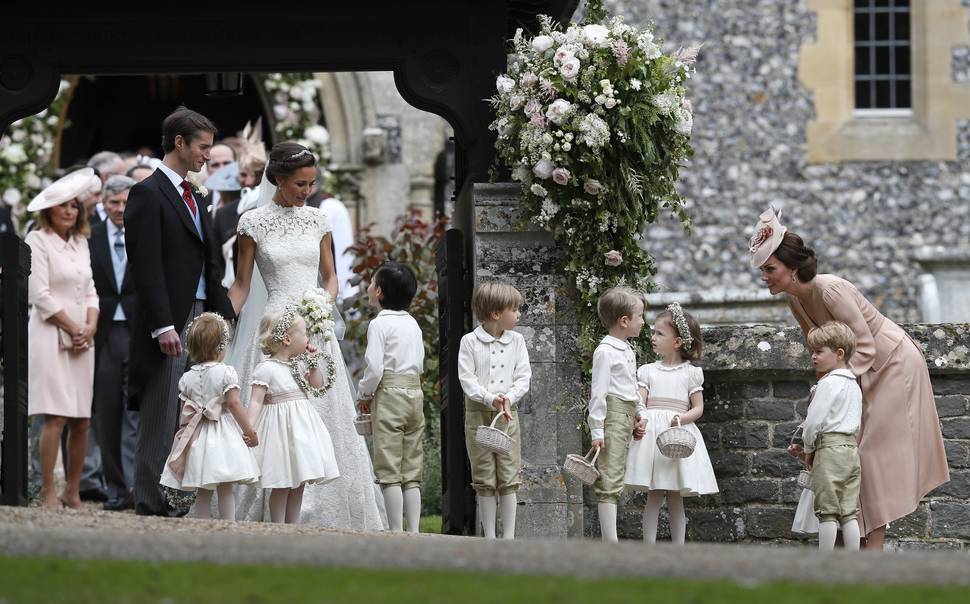 Reports suggest it will be a lavish affair, with a nod to the groom's Scottish connections included in his outfit, entertainment and the food, with haggis on the menu along with Scottish lamb and whisky, while there will also be a piper and a Spitfire flypast.
Kate's controversial uncle, Gary Goldsmith, who was a guest at the Duke and Duchess of Cambridge's 2011 wedding, was also seen attending.
James's brother Spencer Matthews, a reality TV star who was a regular in the show Made In Chelsea, is likely to be best man.