Ilse Fieldsend held her 3-year-old daughter's hand as they lay together on the little girl's bed. Georgia's blonde hair was freshly washed, her tiny frame encased in her favourite pink dress, her feet adorned with her beloved sparkly purple shoes.
"I stroked Georgia's forehead and told her how much I loved her," recalls Fieldsend. "I was a wreck, and often left her room to cry, but I still savoured every moment I had her next to me."
A fortnight earlier, Georgia had suffered a sudden, fatal brain aneurysm. After turning off her life-support machine, Fieldsend and her husband, James, made the highly unusual decision to bring their daughter's body back to their Surrey home, where she remained for 11 days until her funeral.
In that time, Georgia's skin grew colder and her complexion paler. But her presence offered her parents comfort as well as a cruel reminder of their loss.
This made sense to us
"I know some will think what we did was shocking, but to us it made sense," says Fieldsend, 42, a party planner. "Our daughter's body belonged with us, not in a morgue. Having her at home helped us grieve."
In an age of oversharing, death remains taboo; the one subject we would do almost anything to avoid discussing. Yet it has been brought into sharp focus this week with the story of Russell Davison, a heartbroken husband who kept his wife Wendy's body at home for six days after she died of cervical cancer in April.
Russell, 50, described the process as an "emotional decompression chamber", giving family and friends the chance to come to terms with their loss while Wendy, also 50, was still physically present.
We weren't always so squeamish
According to Dying Matters, an organisation set up to help us talk more openly about death and now marking its Awareness Week, it is only in recent decades that we have become so squeamish about dead bodies.
"One hundred years ago, 85 per cent of us died at home and bodies would remain in the house with the family until the funeral," says spokesman Simon Chapman. "But after the growth of the NHS and explosion in medical technology, people started to die in hospital and death was no longer part of the community."
A time to heal
Yet bringing a loved one's body home can prove cathartic, he says: "Being able to spend time with a loved one's physical remains can help. To be able to spend time with their body and say goodbye is important."
A lively, loving and seemingly healthy little girl, Georgia had collapsed in her mother's arms on the beach in December 2013, on a family holiday in Egypt, with her younger brother Joshua, then 2. She was rushed to the local hospital before being airlifted to King's College Hospital, London.
"We knew in our hearts she was gone, but we still hoped there was a chance," says Ilse Fieldsend.
In the early hours of the following morning, December 27, however, Georgia was pronounced dead. Tests would later show an aneurysm, a rare, blood-filled bulge in a blood vessel that usually shows no symptoms until it bursts, had ruptured in her brain.
The decision to donate
In the five hours they had before her life-support machine was turned off, Ilse and James made the brave decision to donate their daughter's liver, kidney, heart valves and eyes, which have subsequently saved four lives and saved the sight of two young men.
"It was awful, but we knew that if something happened to Joshua we would want him to be offered donated organs," says Ilse Fieldsend.
"Before she went into theatre for their removal we cuddled Georgia and said 'you go do your bit'. She would have wanted to help."
After the operation, Georgia's body was taken to the hospital morgue.
"I was frightened of seeing her there," says Ilse. "I thought it would be upsetting. But she'd had artificial eyeballs placed under her eyelids, so the only sign of her surgery was a line from her chest to her belly button. She looked beautiful."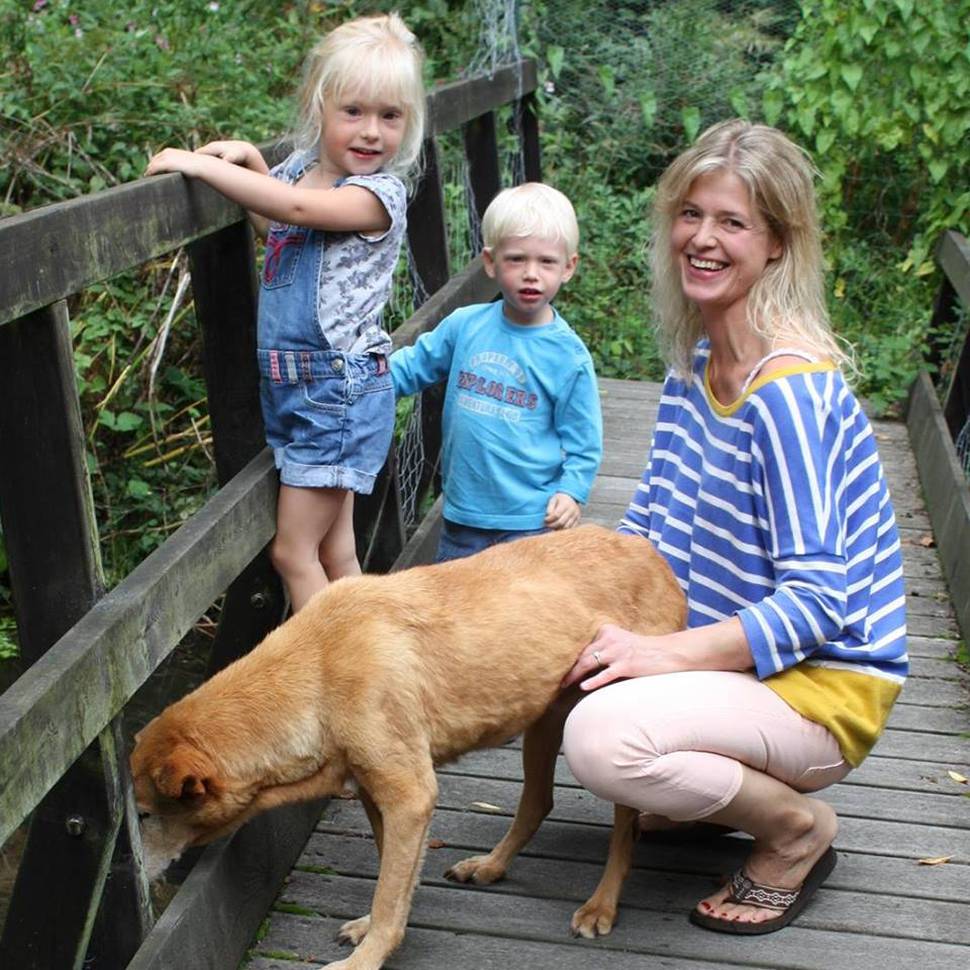 We didn't think it was an option
It was a hospital mortician who asked, the following day, if they wanted to take her body home.
"I hadn't realised that was an option but James and I knew instinctively we wanted to do so," says Fieldsend. "It still hadn't sunk in that she was gone. I simply wanted to bring Georgia home where she belonged."
Many are unaware that there is no legal requirement to keep a body in a morgue between death and a funeral, provided the death is registered and a funeral arranged. Although many wouldn't wish to remember their loved ones as a corpse, others believe bringing the body home can help the grieving process.
"Having a loved one's body hurried away by hospital staff can be incredibly disturbing," says Rosie Inman-Cook, manager at the Natural Death Centre.
"Sitting next to a body and watching the natural changes take place can help people accept their loved one is gone."
To release Georgia's body, the Fieldsends had to sign a transfer of care form, which they handed to their funeral director. A funeral car then transported Georgia to the family's home in Bramley in a portable hospital bed, on New Year's Day.
She looked and felt like my little girl
"The funeral directors checked the temperature of her room. They said it needed to be freezing to best preserve her body," says Ilse Fieldsend.
"I was worried I was doing something dangerous or unhealthy but it was winter, and with her bedroom door shut and her window kept open, they said she would be fine. Her body was cold but she looked and felt like my little girl."
Still in shock, she and James arranged Georgia's funeral for January 11.
"I was conscious of not holding her hand or cuddling too much in case I warmed her body," says Fieldsend, adding, through tears, "in hindsight, I wish I had hugged her more."
Most nights she lay alone with her daughter.
"James spent a lot of time with her during the day. I couldn't sleep and instead spent hours telling her how much I loved her. I told her about her funeral arrangements and spoke to her as if she were still alive."
At first, Fieldsend decided not to let Joshua see his sister's body, and told her son simply that Georgia was poorly and sleeping.
"But he started banging on her door and I realised it would be more upsetting if he couldn't see her. So after a day we brought him in to read bedtime stories and have morning cuddles, just as we always had done. As far as he was concerned, she was asleep."
Mixed reactions
Reaction from family and friends was varied.
"Some came to see Georgia, others wanted to remember her how she was," says Fieldsend. "Nobody criticised me but some people looked at me as if to say 'How could you?'. But you can't judge until you have been in this situation."
As days passed there were only minor changes to Georgia's appearance: "Her fingertips and face became dry, but there was no odour. James helped me wash her hair and I massaged hand lotion into her hands."
According to Inman-Cook, every body will last for different lengths of time.
On the last night before the funeral, Fieldsend carried Georgia's body into her own bed so she could lie between her and James.
"He held her left hand, I held her right and we both cried," she says.
The following morning, the couple carried her coffin into her bedroom.
"I took mine and Georgia's clothes off before cradling her naked body," says Fieldsend. "I wanted to feel her skin on mine one more time. I cut her hair so I could keep it. Her body was still floppy [rigor mortis is often imperceptible in little children] as we placed her in her coffin."
After driving their daughter to the crematorium, Ilse and James gave Georgia one last kiss before closing the coffin lid.
"I wanted to keep her forever, but I knew for Joshua's sake it wasn't possible," says Fieldsend. "After the funeral I told him she had died, and would live forever in our hearts."
Now Georgia would have been 7 years old and Fieldsend's grief has yet to fade. But she cherishes the extra days she spent with her daughter's body.
"Taking her home gave us more time. It felt as if we were protecting Georgia until the very end. It was our way of saying goodbye and a beautiful thing to be able to do."