The new photograph of Princess Charlotte was taken last month by the Duchess of Cambridge at their home in Norfolk.
The Duke and Duchess said they were "delighted" to share the picture to mark their daughter's second birthday today.
Its appearance ends weeks of speculation on what the Duchess would choose to dress the Princess in for the milestone photograph, the Daily Telegraph reports.
The answer? A pastel-coloured Fair Isle knit cardigan from John Lewis.
The choice would always be a significant one as whatever the young Princess wears has an enormous impact on sales for any brands involved.
It is estimated that Princess Charlotte's influence will generate £3.2 billion for the UK economy during her lifetime and, at 2, she already causes the same sell-out effect for fashion brands as her mother.
The John Lewis Baby Luxury Sheep Cardigan has completely sold out on the retailer's website and the coordinating dress is only available in some sizes.
Having your merchandise featured in a royal birthday portrait offers a more valuable boost than on any other occasion, as these milestone pictures are the ones that people refer back to for years to come.
"All birthday portraits are important, and for a royal baby it's even nicer to have that first one where we're seeing her as a little girl rather than a baby," says Rachel Riley, the children's-wear designer who has dressed Prince George on several occasions including for his birthday portraits.
"It's important that the Duchess chose something timeless for the portrait; something that will never date when we look back on it. No one wants their child to look back and say 'oh my goodness, why did my mother dress me in that?' and the Duchess is well aware that classic children's clothes never go out of fashion."
Emma Davison, co-founder of Olivier Baby & Kids, experienced the "Princess Charlotte effect" last year when the young royal was pictured wearing her Rose Stitch Cardigan on her official first birthday pictures.
She said: "As a young British brand we were honoured that the Duchess of Cambridge chose to dress her daughter in our clothes. She has such fabulous style it is a huge compliment.
"The effects have been hugely positive for a growing company like ours and have helped establish our customer base all over the world. Following the photographs, we saw our international orders increase significantly, particularly from America and China and the Rose Stitch Cardigan remains our best-selling cardigan."
Several of the traditional styles of children's-wear that we see Princess Charlotte and her brother wearing have been staples in the wardrobes of royal children for almost a century.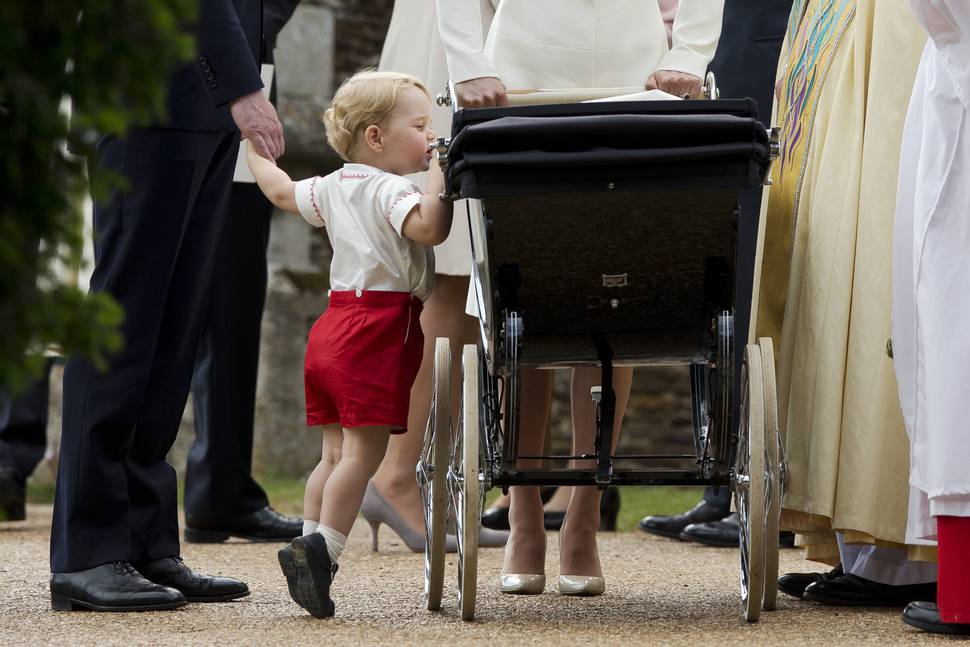 Riley notes that smocked dresses and rompers for Princess Anne and Prince Charles, were a constant fixture when they were young.
She added: "If you look back at Princesses Elizabeth and Margaret in the 1930s they both wore lots of florals, lots of pastels and Peter Pan collars. They usually matched, too, and that's always been a thing for royal siblings in the past; Princesses Beatrice and Eugenie, Prince William and Harry, and Prince Anne and Prince Charles did boy-girl matching too."
So perhaps the only royal children's-wear tradition that we haven't seen Prince George and Princess Charlotte honour yet is one of the most divisive ones - matching.
Could it be the Duchess of Cambridge still harbours memories of matching with her own sister that she'd rather not revisit just yet?