A Spam-mad couple from Liverpool have made luncheon meat history as the first people to get hitched at the Spam Museum in Austin, Minnesota.
Barmy Mark Benson, 42, who in 2015 changed his middle name by deed poll to ''I Love Spam'' has tied the knot to Anne Mousley, 33, who'll now be legally known as Anne I Love Spam Benson.
The bizarre, one-of-a-kind ceremony was presided over by Spam's senior brand manager and ''official Spaminister'' Jaynee Sherman.
The ceremony was watched by a crowd of 50 bemused onlookers, including Spam-loving locals, Hormel Foods staff and a group of passing Mormon missionaries, along with nearly 12,000 viewers on Facebook Live.
Dressed in a suit and custom-made Spam dickie bow, Benson beamed as Mousley walked down the makeshift aisle in the museum foyer, clutching a flower bouquet coloured like a tin of Spam, with their daughters Milly, 5, and Evie, 4, in tow.
After reading their vows, exchanging rings and signing the marriage certificate, the newlywed couple dined on a meaty feast of ''Spamatisers'' including doughnuts, cheesy pastry bites and sushi, all of which contained their beloved canned meat.
"I couldn't have ever thought this would happen," said Benson, who eats three or four cans of Spam each week, and cites Spam fritters as his favourite dinner.
"I mean, to be married here, in a special place, means a lot to me. Hormel have been so good, and the way they sprung it on me in February was like a dream come true."
Jaynee Sherman, Spam's senior brand manager, said: "The Spam brand has been in people's lives for 80 years. In times of peace, and war, and celebration. And today is a great day for celebration.
"Spam is definitely not just a brand that sits on the shelf. It is a brand that people connect with, that they love to interact with, and we actually are seeing this really for the first time, that someone has changed their name officially, and that just takes it to a whole new level."
The pair's quirky wedding day became a reality when Mousley contacted Spam UK to enquire about a service at the museum, after they had been introduced to the public relations team at the brand's promotional Spam Can Tour in Liverpool last March.
Once the brand heard about Benson's name change, which he did out of love for the luncheon meat, but also to honour his grandfather who once worked at the Spam factory in Liverpool, it decided to foot the bill, and invited the pair to have the world's first wedding at the Spam Museum.
Mousley broke the news to Benson on Valentine's Day, over lunch in a Liverpool restaurant, with the 42-year-old care worker suitably gobsmacked.
Benson rose to fame last year when, during a conversation about retro foods on Loose Women, he tweeted the show about changing his name as a symbol of love for Spam.
"I tweeted in and 10-minutes later my face was on the screen. It all just snowballed from there, really," Benson said.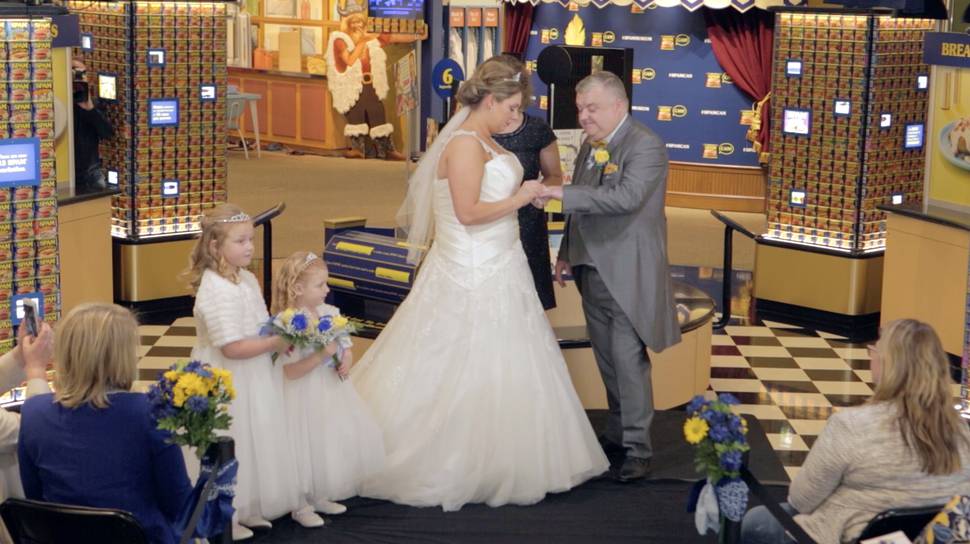 The freshly hitched couple and their two daughters will now be whisked off on honeymoon to Waikiki, Hawaii, for the 15th annual Spam Jam food festival on 29 April.
The event celebrates the Pacific island's own adoration of Spam, with live music, Spam merchandise and food stalls cooking up innovative recipes, and the ''I Love Spam'' Bensons will be presented to thousands of hungry Hawaiians as Spam Jam's guests of honour.