When a cold, half-hatched swan egg was taken to the SPCA last week, there wasn't much hope for its survival.
But the cygnet named Hatch has defied the odds.
He was found in a deserted nest at Westlake Reserve in Halswell after vandals terrorised his family. His parents and two siblings managed to escape, but Hatch was left behind until a passerby found him and rushed him into the SPCA.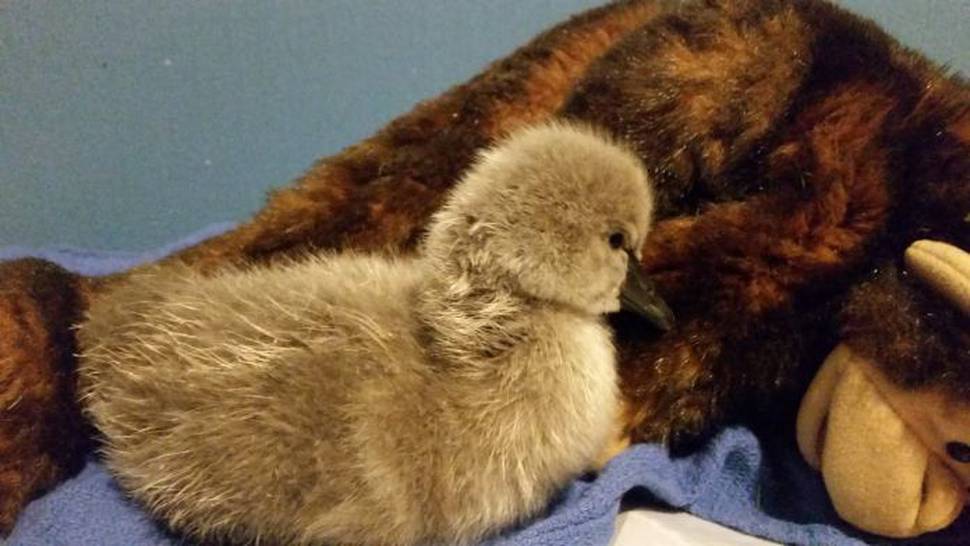 "Only Hatch's beak was peeking out of the egg and [the person who found him] was very concerned," SPCA Canterbury spokesperson Anna King said.
"We did our best to keep the egg warm and took it in our animal ambulance to our friends at the Wildlife Hospital to hatch."
Once Hatch came out of his egg, staff at the South Island Wildlife Hospital tried to reunite him with his family - but the attempt was unsuccessful.
Veterinarian Pauline Howard says Hatch was stomped when he tried to join his family, so he would have to be hand-raised before it was decided what to do with him.
"Ideally, we would release him, but there is a female swan at Willowbank and he could go in as a mate for her," she said.
Howard said Hatch would be moved around different foster homes so he didn't get too used to being in one place.
"The big thing is we don't want him to bond too much with people, because then he thinks he's a person rather than a swan.
"We do things like have mirrors around so he can see himself, and have fluffy toys to cuddle into."
Hatch also had to be taught how to eat, as usually that was the job of the parents to teach their cygnets - but his first foster carer did a "great job" of teaching him to feed himself.
Hatch would spend the next few months in foster homes until the South Island Wildlife Hospital found a permanent place for him to live.