Fans of violinist Nicola Benedetti are used to dramatic moments in her virtuoso performances.
But few were expecting one as the British star answered questions about her romance with cellist Leonard Elschenbroich - until she revealed it was all over.
The excruciating moment came in a live broadcast after the pair had played a duet in New York.
Miss Benedetti was taking questions from fans which were being relayed by a screen.
The 29-year-old read aloud the question: "What is it like playing and touring together when you are in a relationship?"
While German-born Elschenbroich looked stony-faced, a flushed Miss Bendetti explained: "Er, well we are no longer in a relationship, but as you can see very good friends, and very close still and do a lot of concerts together."
The pair had met as pupils at the Yehudi Menuhin School for music in Surrey.
They lost touch after leaving school, but got back together when, aged 19, the violinist contacted her former classmate to see if he wanted to play music with her, and soon after they began a relationship.
Miss Benedetti found fame after winning the BBC's Young Musician of the Year contest in 2004, signing a multi-million-pound recording deal.
The two musicians are still performing together and are currently on an international tour.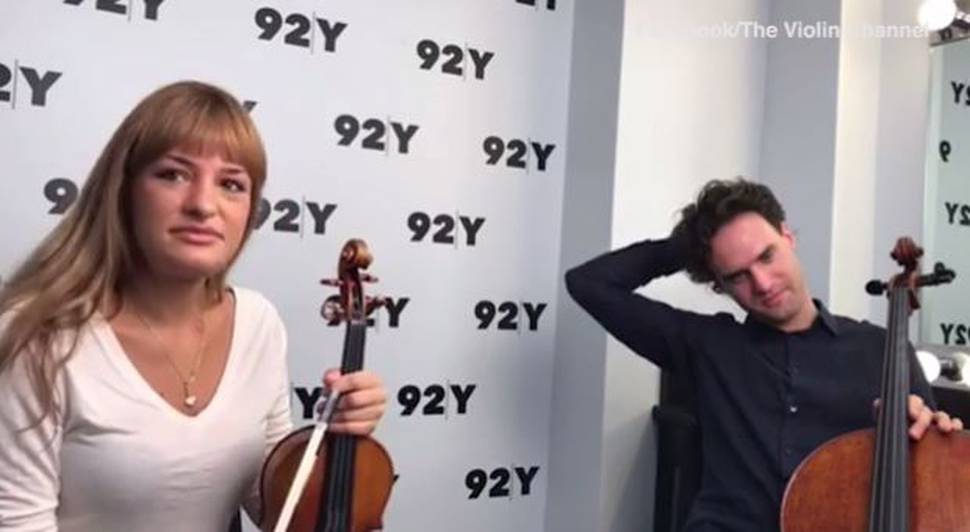 But after a series of tempestuous rows, Elschenbroich, 32, has moved out of the London home they shared for a new life in Berlin.
Miss Benedetti told The Violin Channel that arguments often spilled over into practice sessions with pianist Alexei Grynyuk, with whom they frequently play.