Address: 141-151 Westhaven Drive, Westhaven
Phone: (09) 378 6667
Open: Mon-Thurs 7am to 4pm. Fri-Sun 7am to 9pm
Cost: $42.50 for two people

SET UP & SITE
It's all about the location for this cafe. Near the roundabout as you leave Curran St for Westhaven Marina, Buoy enjoys pride of place near plenty of parking and an outdoor deck area with tables right alongside yachts and more yachts. There's plenty of seating inside too, which was lucky for us as we arrived on a Sunday that was not quite living up to its name.
SUSTENANCE & SWILL
The brunch - or breakfast - offerings were fairly standard, but judging from our meals, good quality. We chose the wholemeal buttermilk crepes ($15.50) with baked apples, vanilla creme, caramel sauce and toasted walnuts, a tasty dish - except the walnuts turned out to be almonds; and the potato rosti and house smoked salmon ($19) with watercress and fresh tomato salsa.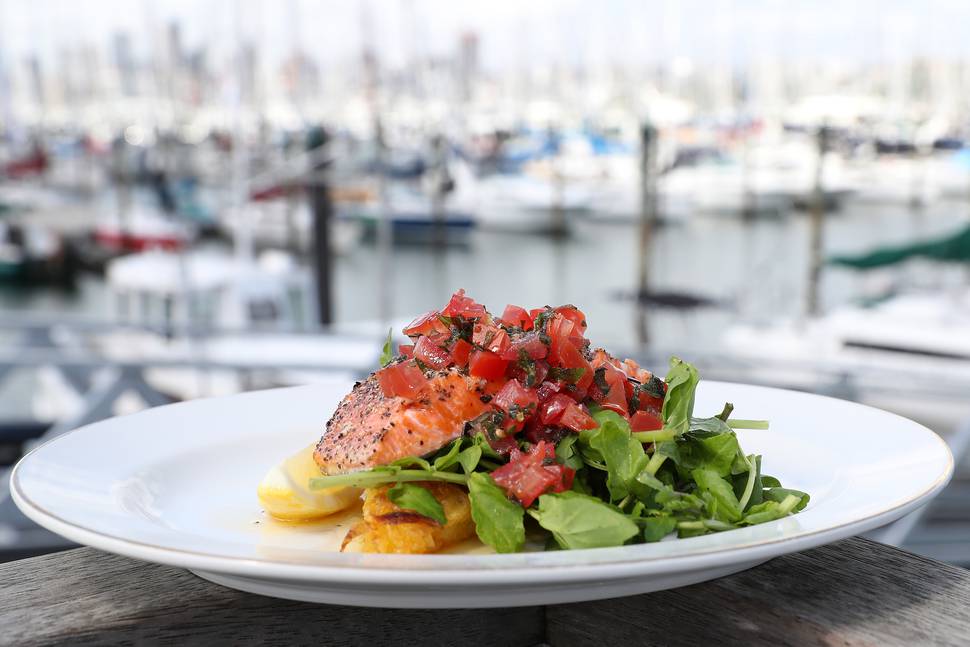 This was done to near-perfection, with the rosti crisp but not overdone and the salmon a nicely proportioned rectangle of brainfood. The lunch menu is tantalising, with several options to entice us back (although the location alone would suffice), particularly as Buoy is licensed, so a lunchtime or afternoon wine or beer would go down a treat.
SERVICE & OTHER STUFF
The cafe was busy on the morning of our visit, despite the uncertain weather, but the waitstaff did an admirable job of keeping everyone happy, as far as we could tell, right from the delivery of brown beer bottles of water for the table to topping up dog bowls in the outdoor area for the canine customers. However, while plastic water tumblers might give a beach picnic vibe, they are a bit disappointing to find in a cafe. In all, a great place to stop off either before or after a walk along the marina's boardwalk to dream about your next yacht.