It started out like any other working day for one Uber driver until she picked up a passenger who happened to be headed in a highly familiar direction - the apartment complex where her boyfriend lived.
The Uber driver revealed her story on her Twitter account, where she goes under the handle @Msixelaa. Her tweets went viral.
What seemed like a perfectly normal fare from the airport soon turned into quite an ordeal.
She tweeted: "fast forward to an hour ago I pick a girl up at the airport she puts the apartment complex in the gps she said she's here to visit."
It turns out, @Msixelaa's boyfriend went to great lengths to weave a web of lies to throw his girlfriend off the scent of his deceit. Making up excuses about his sick mother and even packing a bag, getting in his car and heading off towards the airport to make his lie believable.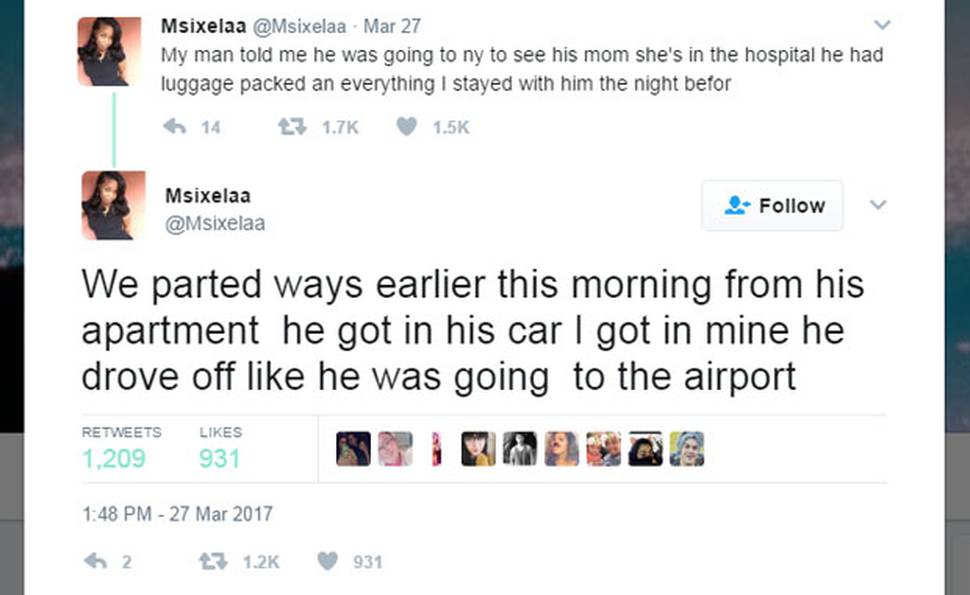 Things started to get interesting when during the ride, @Msixelaa made polite conversation with her passenger.
Endeavouring to make sure this wasn't some far-fetched tale in a bid for attention, some Twitter followers sought to clarify how this was all happening.
To which @Msixelaa firmly put them back in their place.
And @Msixelaa was more than generous with her passenger.
But the nail biting series of events soon came to a crescendo...
The car eventually gave away the game.
He had the audacity to show his face and at that point, all bets were off as @Msixelaa so eloquently expresses.
Thankfully @Msixelaa was able to see the good in a bad situation.