Rachel Irvin has been woken countless times by a phone call from the hospital, telling her she needed to rush to her baby boy's side before he died.
Each time little Kohan has beaten death, despite being born with a severe heart condition that doctors never thought he could fight.
But the Brisbane single mum-of-two has received the devastating news that Kohan, nearly 2, only has 12 months to live.
Now Irvin is determined to fit 100 years into one.
Irvin, 28, was 16 weeks' pregnant when doctors discovered that Kohan had only formed half his heart, and that his organs were on the wrong side of his body after mirroring those of his twin Chet.
The boys were rare monoamniotic twins, meaning they shared the same amniotic sac and the same placenta.
Irvin was given three options: terminate one of the twins, put Kohan in palliative care immediately after the delivery, or wait and see if he could reach 3kg after birth and be eligible for open-heart surgery.
The resilient mum immediately knew she wanted to fight for her little boy's life.
"Palliative care was never an option for me, I could never leave my child to pass away without actually trying to give him a life," she told Daily Mail Australia.
"I always knew I wanted to continue on with the pregnancy and give Kohan every opportunity to fight."
"And I've always known, from that day I found out, that Kohan would ultimately let me know when he couldn't fight anymore."
Irvin had to deliver at 30 weeks after it was discovered the boys had developed twin-to-twin transfusion syndrome.
Chet was near death after doctors found that he was sending all his blood to his twin because Kohan was so weak.
The boys both weighed just over 1kg when they were born on May 12, 2015, and four days later Kohan was rushed into emergency surgery for a twisted stomach.
Four weeks later he was back on the operating room table for obstructed bowel surgery, and was placed in intensive care for three months.
"In that time I received countless calls in the middle of the night to come by his side, because doctors believed he'd pass through the night," Irvin said.
"But each time he continued to prove doctors wrong, and he kept fighting really, really hard."
Kohan hit the 3kg milestone at 3 months old and was able to receive his first open-heart surgery.
After a month of recovery, and for the first time since his birth, little Kohan finally got to reunite with his twin brother at home.
It was a magical time for Irvin and her boys as she watched Kohan finally thrive.
"He was hitting all of his development goals," she said. "And the boys loved being together and they created a really special bond between them."

But then, in November 2015, Kohan's heart started to decline once again and he had to be scheduled for a second heart operation.
After the February 2016 operation, Irvin immediately felt that something wasn't well.
"There was something not right in himself," she said. "We were still in the hospital and I just knew that something had gone wrong."
Her mother's intuition proved correct as it was revealed that Kohan's second surgery had been a failure.
Kohan had to have a third open-heart surgery just a month later, and afterwards it was just "complication after complication", Irvin said.
What was supposed to be a two-week stay turned into nine long months.
The only time Irvin returned home was to pick up the boys' presents, celebrating their first birthday in the intensive care unit of a Brisbane hospital.
Irvin was also forced to split her time between Kohan and Chet, who was healthy, happy and thriving at home.
"I needed to be with Kohan," she said. "He needed my strength."
"I needed to be there to make sure that Ko was getting the very best care," she added.
"And that I was fighting to make sure he experienced the least cruel experience possible, letting him know that I was there and by his side."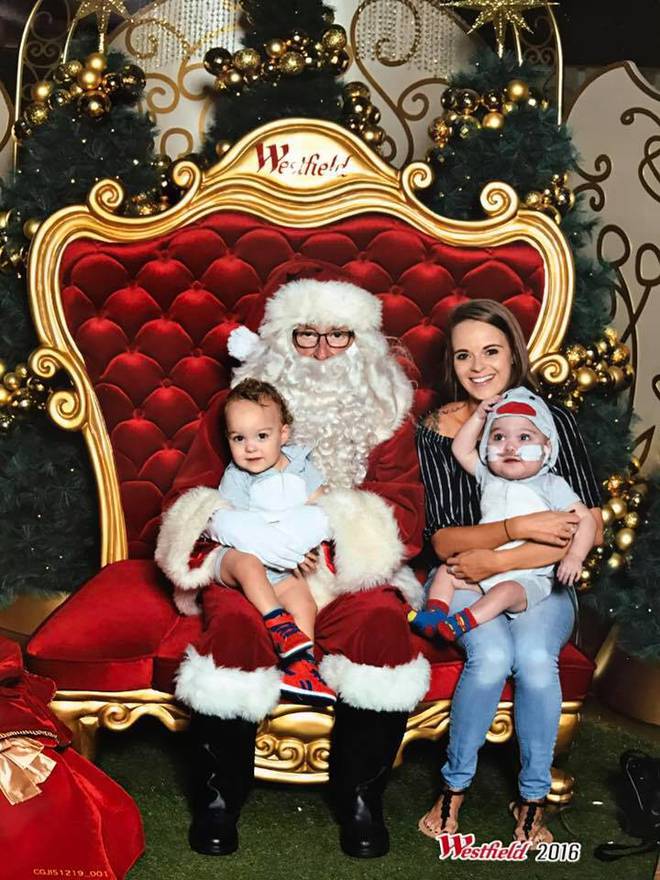 Although those nine months were the hardest of her life, Irvin said she never let little Kohan see her cry.
"It's important for me that Kohan feels nothing but love and strength," she said.

"I've never let him see that side because I only want him to know strength. He's a very strong little boy, he never cries unless he's facing something really really terrible."
Irvin feared she was going to lose Kohan, and fought hard to bring him home so he would not spend his last moments of life in the hospital.
"At home is where he's happy, and I don't want him in his final moments to be scared, surrounded by medical equipment, with the fear of someone hurting him," she said.
"I wanted whatever time I had left with him to be out spent creating special memories, away from the hospital where he can be a normal little boy."
Kohan was extremely happy to be home with his twin brother, and the boys even got to spend Christmas together.
But, just five weeks after leaving, Kohan was back in the doctor's office for tests because he had begun to vomit uncontrollably every day for hours.
Doctors determined Kohan would need major stomach surgery to stop the vomiting. He had that operation three weeks ago.
The operation was a success and Kohan recovered quickly, but then came the news that Irvin always knew she would one day have to hear.
While at a meeting with a number of medical teams who have been involved in Kohan's care, the mum was informed that Kohan had up to 12 months to live.
Irvin immediately ran out of the meeting when she heard those devastating words.
"I couldn't sit there and listen to how my son was going to pass away because it just broke me," she said. "It completely shattered my soul."
Irvin got Kohan out of the hospital "as quickly as possible", bringing him home to her and Chet last Friday.
Now the mum-of-two has started a GoFundMe campaign to help raise funds for trips and activities where she hopes to create as many special memories as possible with her boys in the time they all have left together.
She is planning a huge party for their upcoming 2nd birthday with a superhero-themed carnival, and hopes to take them to Movie World on the Gold Coast.
And Rachel was given the chance to take her boys to pet the dolphins at Sea World thanks to the kindness of another mum who knew loss all too well.
She bonded with Melissa Lovf when they realised their young boys were suffering from the same condition, and tried to support each other through their hardships.
Sea World gave Lovf and her son Mikey the dolphin experience after she took him home under palliative care, but he tragically died before he could enjoy it.
So Lovf then gave the experience to Rachel, who took her boys on Monday.
"It was the most perfect day I've ever experienced," she said. "Kohan had a really great day, which was really special, and both boys had so much fun."

"It absolutely meant the world to me."
Rachel said Kohan is now "extremely happy" at home, where he is spending his days watching his favourite movies, playing with his toys and bonding with his brother.
The mum said Kohan has taught her how much of a blessing each day is, even when it just involves going outside, something he couldn't do for months while hospitalised.
"As long as he's feeling well enough, we'll go out and make more experiences, even if it's just a walk around the beach or little things like that," Irvin said.
"I didn't get to take Ko outside for six months last year. Once I finally got to take him out, you've never seen so much joy on a child's face, getting him in the sunlight.
"Even that as an experience is amazing for him. So I'll take everything day by day, week by week, just to make sure the boys have really special memories together."
Irvin also wants to make sure she can provide plenty of experiences with Kohan that Chet can "hold onto for the rest of his life".

Although the mum has felt "heartache every single day" as she's watched her little boy struggle, Irvin said Kohan has taught her not to take anything in life for granted.
"Having Ko in my life has taught me so much about cherishing every moment and every person in my life," she said.
"He is the most beautiful little soul that I have ever met. He has just taught me so much and made me grow so much as a person.
"I know, at the end of the day, when I do lose him, I will always be proud of the strength we've had as a team, and the fight we put up together."
But that hasn't made coming to terms with his eventual passing any easier for Irvin, who admits that knowing she's going to lose Kohan has broken "her soul".

"I've known for so long, and tried to prepare as much as I can for that day," she said.
"But I'm not ready for that day, I'll never be ready for that day. I fear that day with everything."