It is meant to be one of the most emotional moments of any man's life - watching his bride walk down the aisle - but what is really going through their head?
A new thread on Reddit has revealed the amusing and very unexpected thoughts they've had while standing at the altar, according to Daily Mail.
Redditor flexingtonsteele asked fellow users: "Married men of reddit, what were you honestly thinking when your wife was walking down the aisle towards you during your wedding?"
It wasn't long before husbands came forward to share their stories from their big day.
From questioning their bride's taste in outfit to praying that she doesn't trip many of their admissions aren't the romantic sentiments many women would hope for.
However, not all were so distracted with several men revealing they were left highly emotional after seeing their bride.
Those who did reveal strong emotional responses to seeing their future wives revealed that they are enjoying long and happy marriages.
One man wrote: "It felt like a constant euphoric rush, and one of the few times in my life that I profoundly felt that I was doing something right. We'll be married 20 years this summer."
Another revealed, "I bawled my eyes out. It was embarrassing. Not nice silent little tears, full on ugly crying when I was trying to read aloud my vows. She laughed at me. I love her."
One man remembers saying to himself, "Keep your s*** together", but admits that in the end he couldn't.
"I failed, by the way - totally bawled through the vows. Tears of happiness, of course - still going strong 14 years later."
One groom revealed that he was treated to a very special surprise from his bride-to-be.
"...is that the Imperial March? (She surprised me with a string ensemble of the imperial march for her walk down the aisle.)"
Other men said that the surprise they received wasn't quite as welcome as the Imperial March.
"Wow she actually wasn't joking about not wearing shoes", one groom wrote.
One man in particular was shocked at his father's last words to him before he tied the knot.
"My Dad used to tell me all the time that I should try and ask out girls I thought out of my league as I might surprise myself. So I did, and then asked her to marry me, and she said yes to that as well," he wrote.
"I was thinking of this as she came in. While she was walking down the aisle, my Dad leaned in and said 'You know how this happened?' I smiled, and nodded, thinking he was pleased with his advice. He then said 'Cos I don't, you lucky bastard.'"
For other husbands it was not what their bride was wearing that they were concerned about but how she was walking.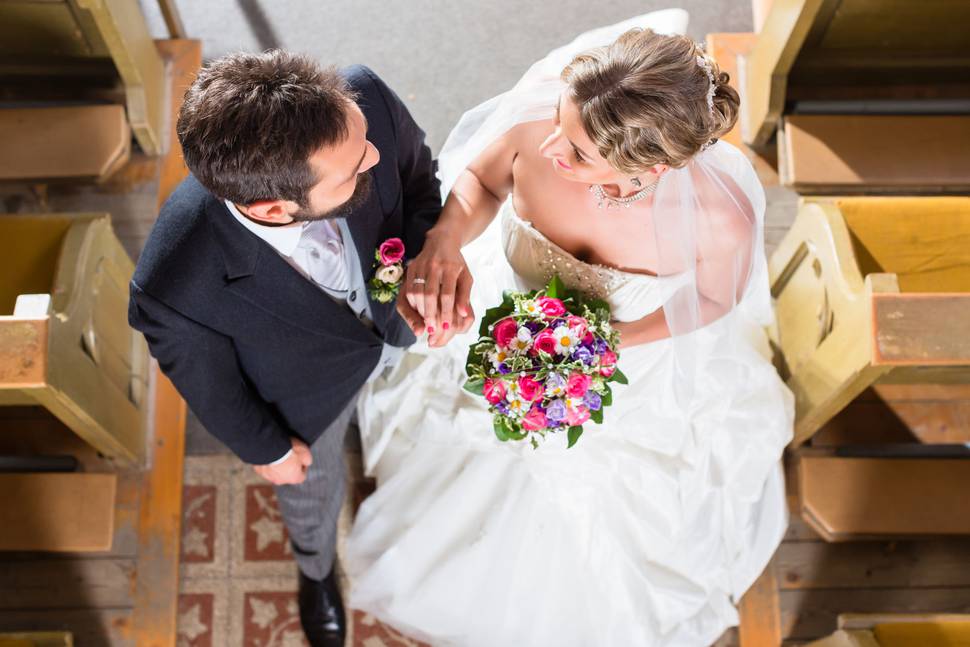 One groom wrote: "What in the world are she and her parents doing coming around the side instead of down the aisle? We got married outdoors, where maybe the lack of walls created confusion. In any case, we thought it was pretty funny afterwards."
Another groom was so worried he though to himself, "Please don't trip!"
As was expected several grooms said that they felt an enormous sense of relief upon spotting their spouse.
One groom admitted he was relived she turned up: "We eloped, so my first thought was 'oh good, she made it.'"
Another was relieved for a different reason. "So, we both waited for marriage to have sex. I kept thinking 'I'm getting laid tonight!'"
Another wrote: "I was pretty upset about how much we had spent on the wedding. ( I dont believe in fancy weddings, but it was her dream so I went with it..plus...happy wife happy life, right?)
"As soon as I saw her walking down the isle I thought 'I could have paid 30 times over the amount to live this moment over and over again.'"
One groom was just pleased the weather was good. "Thank goodness the sun came out 5 minutes ago or she gonna be MAD."
Some of the grooms are sure to have made their brides proud revealing their very touching last thoughts before marriage.
"Why did we even wait this long?," one groom wondered.
"We'd known each other for eight years before we started dating. And we'd always liked one another."
Where this emotional groom revealed: "She was really close to her dad and he passed away two weeks before our wedding. As she walked down the aisle I couldn't help but think how beautiful her dad would have thought she looked and how proud of her he would be."