Hopefully on this Valentine's Day you did a bit better than this poor woman.
Instead of a beautiful bouquet of flowers, her husband gave her two packets of Homebrand Plain Wholemeal Flour along with an ace of hearts card.
"I'm guessing the bro will be sleeping on the couch tonight," wrote Ku Takiwa on Facebook.
Meanwhile, Reddit users were asked "What is the worst possible gift for a significant other on Valentine's Day?"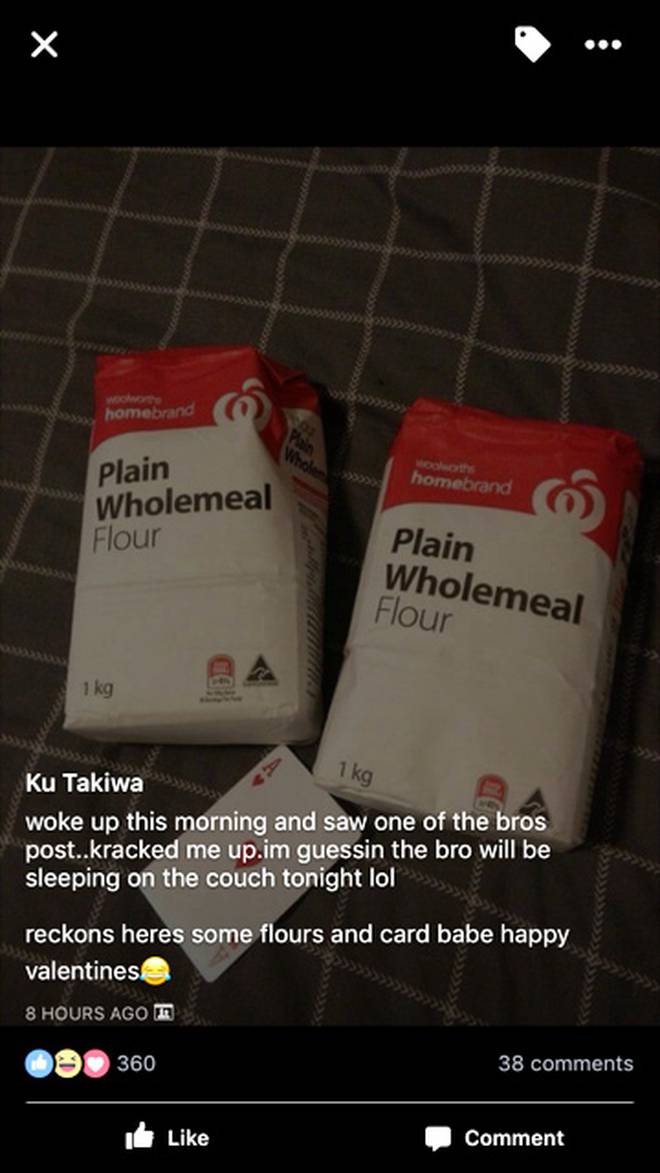 Here are just a few of the responses from people around the world:
RabidPancakes: Found out my girlfriend of almost 5 years was cheating on me today (the day before vday), so probably that?
JAJAY797: Herpes, in a five-year marriage, where neither party had it before.
penelope_pig: A positive pregnancy test.
Pondgirl77: Last year I got a gas station Muffin, that had a bite taken out of it.
makingmc: My dad gave my step mom a toilet seat once for Valentine's Day. He genuinely thought he had the best gift ever.
Superdude100000: 200+ pieces of undercooked bacon, made to look like hearts. The greasiest gift I've ever been given. And we ate every single piece between the two of us...
BosqueBravo: A scrapbook containing "all your happiest memories together," that when you open it turns out to be blank.
samohkt: My girlfriend gave me a pack of cigarettes because I was trying to quit smoking, and she thought it would help me relax.