A woman was left in horror after discovering what she claims is faeces on a garment she ordered from e-tailer Missguided.
Sorcha Murphy, 23, from Oxford in the UK, was horrified to find the £11.25 (NZ$20) cream bodysuit appeared to be stained with faecal matter.
Taking to Twitter to share her dismay, Sorcha wrote: "So I have received this item from @Missguided this morning and to my disgust when I opened the package I find that there is POO on it..."
In messages exchanged on Facebook with Missguided, the brand asked her to send the bodysuit back to be "checked out ASAP."
Sorcha replied: "I don't think you understand the seriousness of this. This is horrendous. Can you imagine if I hadn't noticed and put this on and later found there is someone else's faeces on me?!?!? I want to take this higher and expect to be contacted by your management team immediately."
The e-tailer replied assuring her they appreciated how shocking this must be for her and asked for her number so that a manager could call her.
"That's not good enough," replied Sorcha. The brand then told her they needed the garment back before they could process a refund.
Following a phonecall from a manager, Sorcha received a follow-up email emphasising how sorry the brand were; they explained that an internal investigation was taking place at the warehouse.
As well as refunding her the £11.25 (NZ$20) and sending her a brand new bodysuit, they offered her a £20 (NZ$35) credit note.
"I really do hope that this helps and I cannot apologise enough for what has happened," the manager signed off, before urging her to get back in touch with anything else she may need.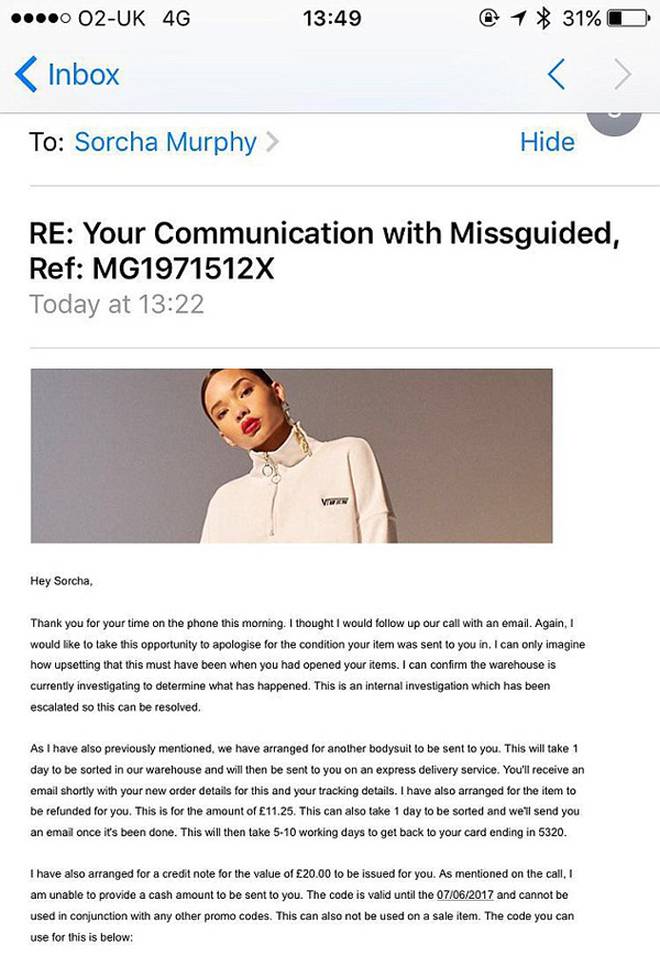 Speaking to MailOnline, Sorcha said: "When I opened the package it really stank of smoke, which is why I looked for marks and then found the stains... I was disgusted, did not expect to find faeces on what I thought was a brand new item I am just so glad that I didn't try it on.
"I was outraged. I certainly didn't expect to discover faeces on my brand new item. I'm just glad I noticed before trying it on. I'm not going to accept the £20 voucher as I would never shop on the website again."
MailOnline has contacted Missguided and is awaiting a response.