Now the kids are back at school many parents are probably pondering how to deliver a healthy, budget-friendly daily lunchbox that doesn't take an eternity to prepare.
It's not easy, and many fall back on giving kids coins for the tuckshop.
Herald reporter Sarah Harris took on celebrity chef Michael van de Elzen at Countdown to see if they could buy enough healthy food for the lunch boxes of two children, for five days for under $50.
Feel Fresh Nutrition owner Abbie O'Rourke then judged the results.
Michael van de Elzen
The shopping list
Watermelon 1.065g - 3.18
Green kiwifruit - 3.01
Homebrand wrap - 2.90
Brown rice 500g - 1.45
Sweetcorn 2 - 2.78
Pop corn 500g - 3.00
Tinned black beans - 1.80
Tinned beetroot - 2.19
Pumpkin - 3.00
Avocado - 1.50
Shredded chicken - 2.84
Cucumber - 2.49
Carrot 0.827kg - 3.30
Iceberg lettuce - 1.99
Farmer Brown 10 eggs - 4.99
TOTAL - $38.63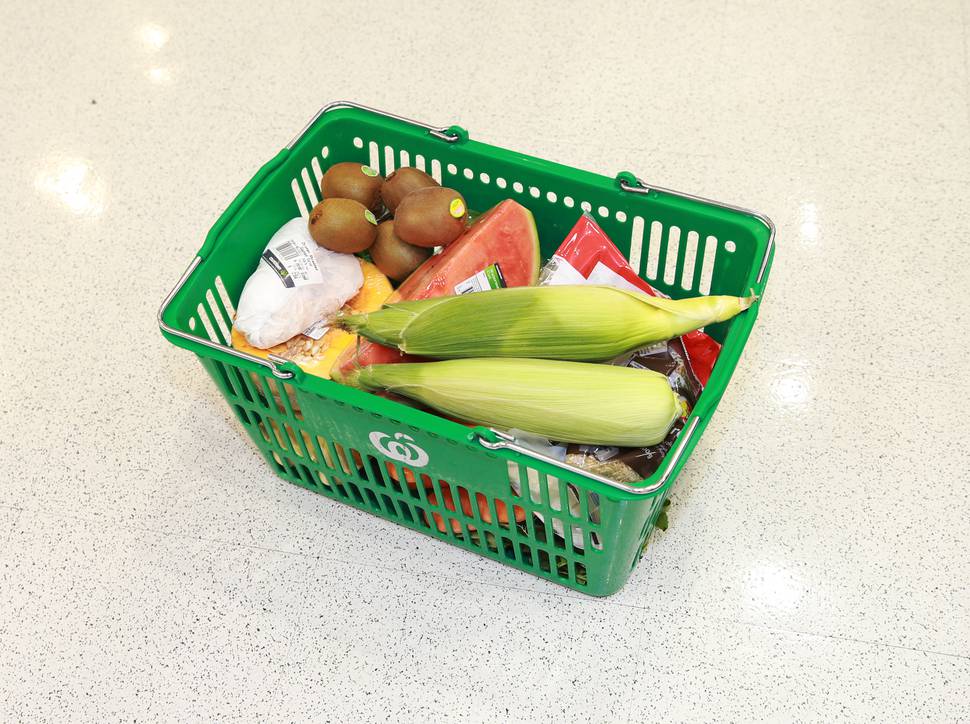 The lunch plan
I was planning to make wraps for three days, pumpkin soup for one day and vegetable rolls for the last day. All the vegetables can be sliced up and wrapped in a piece of lettuce for the vegetable rolls. I would make a dip out of a can of beetroot and can of black beans to go through the wraps. A boiled egg, chicken rice rolls, chopped watermelon and Kiwi fruit would be there for snacks. All up my shop came to $38.63 or $3.86 per lunch.
I would take it up to $50 and spend the rest on nuts and celery for snacks and salami for the wraps.
Both my daughter Hazel, 6, and Ivy, 4, get lunch boxes. And they always have a separate 'brain food' box full of snackable healthy, clean foods like nuts, tomatoes, celery and carrots. Carrots are always cheap and kids love them.
We're moving away from sandwiches and more towards wraps and sushi to broaden their food experiences. I had a sandwich every single day when I went to school. I got bored with it so I ended up buying crap from the tuck shop. I don't want my kids to get bored. I want them to open up their lunch boxes and go 'wow'.
We don't let the kids influence us too much, if you give them too much choice you create a rod for your own back. If you've got three kids wanting three different types of food in their lunch box you're creating a whole world of pain. But we watch what comes back. If they're always leaving something then they obviously don't like it.
My top tips would be to buy seasonal, on special, always write a list and avoid packaged food. Cook extra dinner that's easy to add to lunchboxes and do most of your food prep the night before. That just speeds it up in the morning so it's just a matter of cutting up some brain food and adding in a banana and they're away.
Also get the right containers that won't leak or crush food. I love using zip lock bags to keep things fresh and avoid using lots of clingfilm.
How you start kids off will determine how they carry on. There's study upon study that if you give your kids good food they're going to concentrate. If you fill them up on carbs they're going to want to sleep.
Nutritionist comments
This deserves a standing ovation!
Michael has created lunchbox meals that are predominantly veggie based which is undoubtedly nutrient dense and provides the kids with plenty of fibre. From a nutritional perspective, the Home Brand wraps offer very little in the form of nourishment, so I would swap them for homemade egg wraps. Due to our kiddies being more interested in playing than spending time eating, it is important to increase the satiating power of the diet by including protein, so that they feel full even if they do not finish their meals. Here Michael has included incredibly nutrient dense forms of protein; black beans, chicken, eggs and nuts which will do the trick! From an ethical standpoint I'd dedicate $2-4 extra dollars for free range eggs.
Reporter Sarah Harris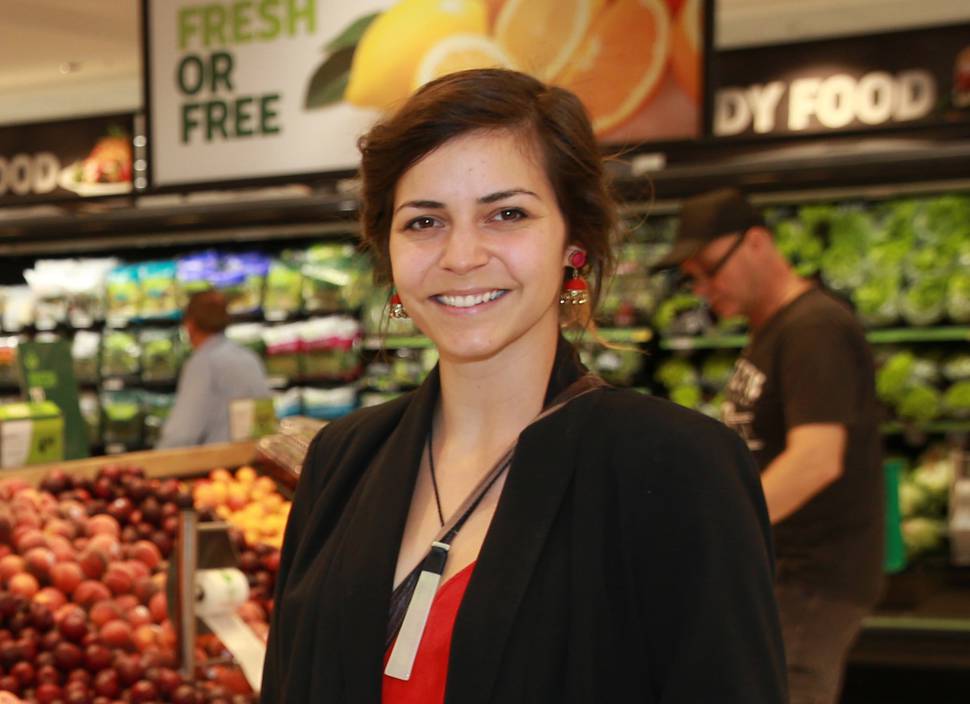 The list
Freerange eggs 12 - 7.00
Soy/linseed bread 2 - 7.00
Mayonnaise - 5.00
Colby cheese 250g - 5.00
Shaved ham 200g 2 - 5.00
Iceberg lettuce - 1.99
Nectarine 1.169kg - 7.00
Carrot 532g - 2.12
CalciYum chocolate yogurt - 6.00
TOTAL - $46.11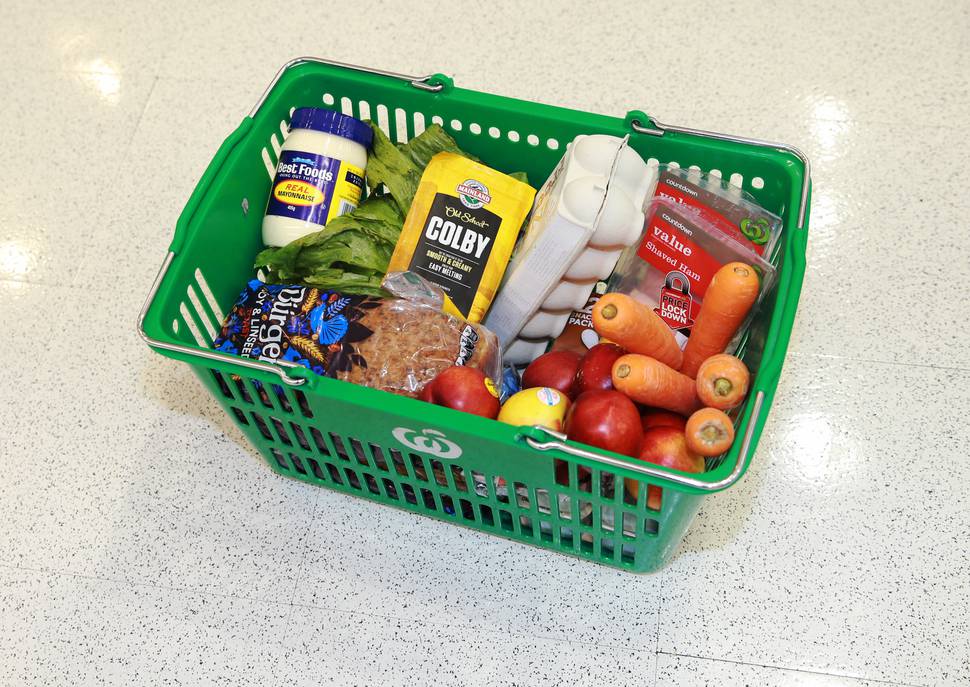 The lunch plan
My lunch basket would provide a ham, mayonnaise and lettuce sandwich, a boiled egg, carrot and cheese sticks, a nectarine and a CalciYum yogurt for each lunch. All up this cost $46.11 or $4.60 per lunch.
Because I don't have any children I hadn't ever thought about what to make for a kid's lunch. When I was at school I just tried to eat as many soft white buns with pink icing as possible.
Fortunately, I have matured and am an avid lunch maker for myself - it's healthy and saves you pennies. In the six months I've been at the Herald I still have never bought lunch.
Children have short attention spans so I liked the idea of having lots of little things to nibble on. The sandwich should fill up an empty tummy and I chose nice grainy bread as it's low GI. The boiled egg and cheese sticks are a protein hit full of vitamins and minerals, they're both pretty quick to prepare too. The nectarine and yogurt are sweet treats to look forward to.
Nutritionist comments
Fantastic intentions, this lunchbox would be the envy of many with the CalicYum yoghurt. That must be considered a form of currency in the school yard! Nutritionally speaking, lettuce, nectarine and carrot are representing the entire fruit and vege food group. This could easily be increased by including some colourful cherry tomatoes, strawberries or some pre-roasted kumara or potato.
Each pottle of yoghurt contains nearly 2.5 teaspoons of sugar. For an additional $1.79, you could replace the pack of yoghurt with an equally convenient food product - 180 degrees oat crackers. These have a comparatively stronger nutritional profile, made predominantly of oats, butter, tapioca and walnuts plus has less than ½ teaspoon of sugar per 5 crackers.
Bread, shaved ham, yoghurt and mayo are all processed foods, so best keep them to a minimum to avoid any additives that can interfere with little tums. Hummus is a great alternative to mayo, and bread can be a convenient filler but consider it more of an occasional rather than 'every day' lunch - egg wraps or lettuce leaves are a fantastic alternative to wrapping up sandwich ingredients.