A pair of 10-year-old Chinese twin sisters have met for the first time in person - and shed tears of joy as they gave each other a long-awaited hug.
Gracie Rainsberry and Audrey Doering grew up hundreds of miles away from each other after being adopted shortly after birth by two different families. Their families didn't know that the girls had a sibling until December, when Audrey's mother found a photo of both of them together as babies, posing with their Chinese foster mother.
Audrey's mother managed to locate her daughter's twin sister, and the two girls first spoke to each other via FaceTime. Their reunion yesterday, which happened live on Good Morning America, gave them a chance to bond even further, according to the Daily Mail.
Gracie, who lives in Richland, Washington, and Audrey, who grew up almost 2500km away in Wausau, Wisconsin, fell into each other's arms. The two sisters, who both wear glasses, had even arranged to wear identical outfits.
Audrey said that before meeting her twin sister, "'it felt like there was somebody missing." "Now, it's complete," she added.
Gracie said not long after the reunion that she felt excited and happy - even though the event was "very overwhelming".
The girls' parents, who sat with them as they spoke to the anchors, also got emotional. Audrey's mother put her hands around Gracie's face, asking: "Can I just touch you?"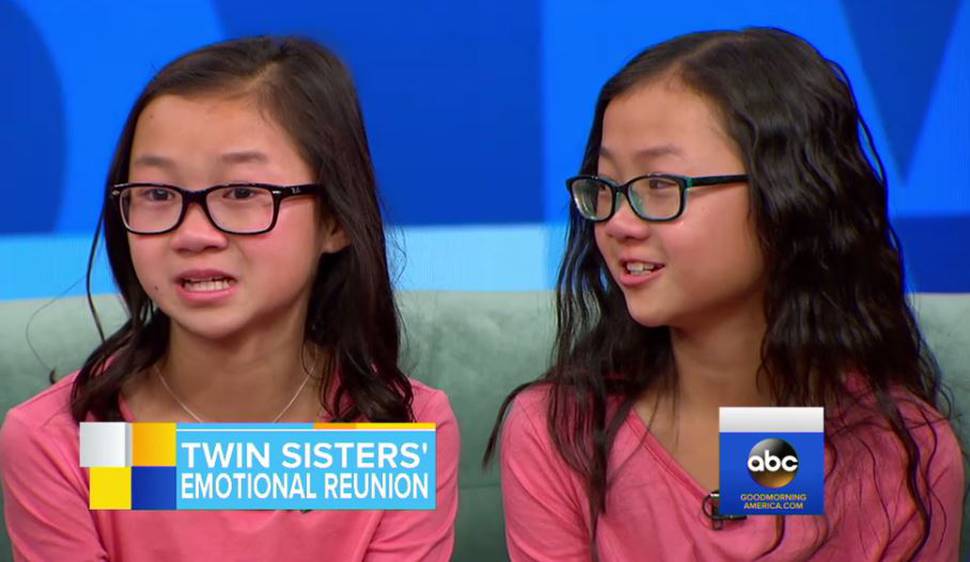 It was Jennifer Doering, Audrey's mother, who found out her daughter had a sibling. Audrey had asked for a sister for Christmas this year, but Jennifer had a different idea: she wanted to give her daughter a copy of her 'finding ad', which is a photo that gets published in Chinese newspapers when a baby is placed in an orphanage.
Jennifer tracked down a copy of the ad and was shocked to find out it was a picture of not just one, but two babies.
Audrey and Gracie both appear next to each other, balanced on the knees of their Chinese foster mom.
The Doerings dug further and found that the other baby in the picture had a birth date close to Audrey's and shared her congenital heart condition. They reached out to the Rainsberrys and broke the news to their daughter.
Audrey, who grew up with three older brothers, thought her parents were joking when they first told her she had a sister, but the two later chatted via FaceTime, with Audrey saying of Gracie: "She's me." Gracie also has three siblings - two brothers and a sister.
The twins have gotten to know each other and have found out they both love chicken Alfredo as well as mac 'n' cheese.