This is the heartbreaking moment a pet horse was overcome with grief as his late owner and ''best friend'' was buried.
Cow herder Wagner Figueiredo de Lima, 34, and 8-year-old grey stallion Sereno were ''inseparable'' and spent up to 12 hours a day together.
The Paraguayan cowboy struck up an ''incredible bond'' with the beast, which he had owned since birth, as they grazed cattle on the remote farm land.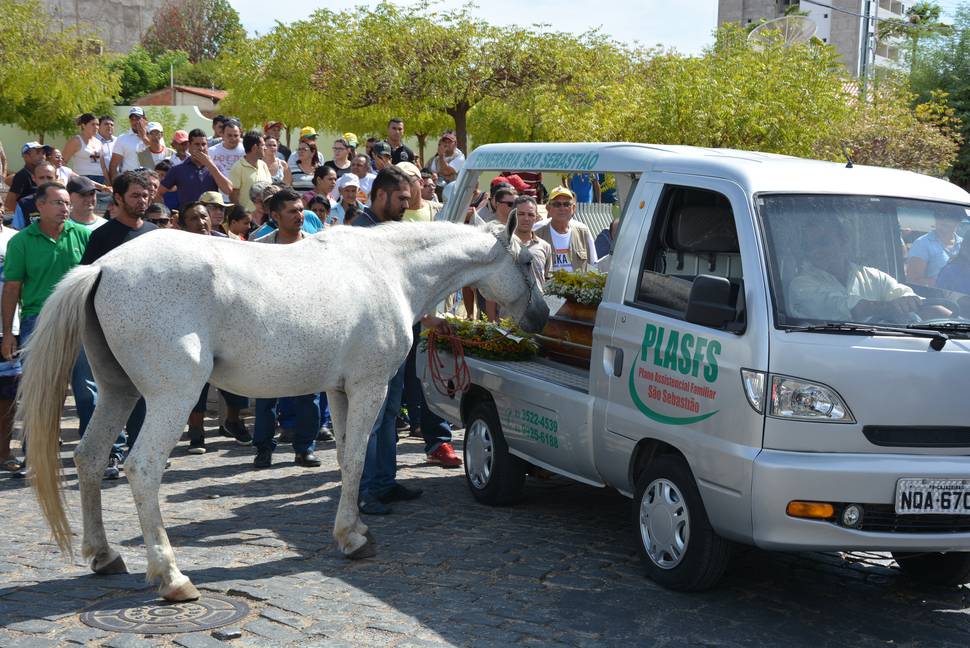 But Wagner was killed in a motorcycle crash in the early hours of the morning on January 1 in Rio Grande do Norte, Brazil, near his home in neighbouring state Paraiba.
In a touching gesture, Wagner's brother Wando led Sereno to his funeral on Tuesday afternoon.
Incredible pictures show how Sereno could sense he had lost his friend - anxiously pacing round the hearse, sniffing the coffin, and lowering his head against the casket.
The horse was even stomping his hooves and whimpering as he walked to the cemetery - before letting out a gut-wrenching neigh that sent mourners into floods of tears.
Wando said: ''This horse was everything to him, it was as if the horse knew what was happening and wanted to say goodbye.
''All the way to the cemetery he would whimper and beat with his paws on the ground.''
Photorgapher Kyioshi Abreu, who captured the moving scenes, said: ''The funeral was very sad. The horse knew what was happening, he knew his best friend had gone.''
Sereno will now be looked after by Wando who said that the horse will ''stay in the family forever'' as a tribute to his late brother.
- Australscope