A Qantas pilot has wowed a Los Angeles bound flight by proposing to his girlfriend very publicly over the PA system.
Captain Dooley Ellis and his girlfriend Ana were flying from Melbourne to Los Angeles on Saturday when Dooley took to the public announcement system to pop the big question.
Following the standard flight announcement, Dooley tells the flight there is a "very special passenger" aboard the plane, before launching into the proposal.
"We also have a very special passenger on board today folks, her name is Ana," he said.
"She's travelling back to South America now to see her family, and I want to make sure she comes back to me in Australia."
After his short introduction, Dooley doesn't waste any more time before taking the plunge.
"So now that I have her complete attention, Ana, will you marry me?" he said.
Straight after popping the question, Dooley emerges from the flight deck carrying a bunch of flowers and a jewellery box.
He then bends down on one knee in front of his very emotional girlfriend.
Visibly surprised and shaken by what has just unfolded, Ana leans in to kiss Dooley but is reminded that she hasn't yet answered the question.
Pausing for a split second to say "yes yes", the couple embrace each other as they celebrate the special occasion.
Flying from Melbourne to Los Angeles, it wasn't the first time the couple travelled far distances together.
The happy couple met on the first day of the Camino de Santiago pilgrimage in Spain in 2012.
"We walked together, over 1000kms," Dooley said.
"The next thing I know I was in Colombia visiting her."
Soon enough Ana was living with Dooley in Australia, continuing their expeditions.
"We travelled Australia camping and only as recently as last month we drove from Sydney to Cape York for six weeks camping with the crocodiles."
A Qantas pilot for 30 years, Dooley said the in-flight proposal was a very special moment.
"I wanted to bring my life - as a pilot of 30 years with Qantas and whose father was also a Qantas Captain - and Ana's life together in that special moment," he said.
"I wanted everyone not only on board the aircraft, but spanning the world to know how I feel about Ana."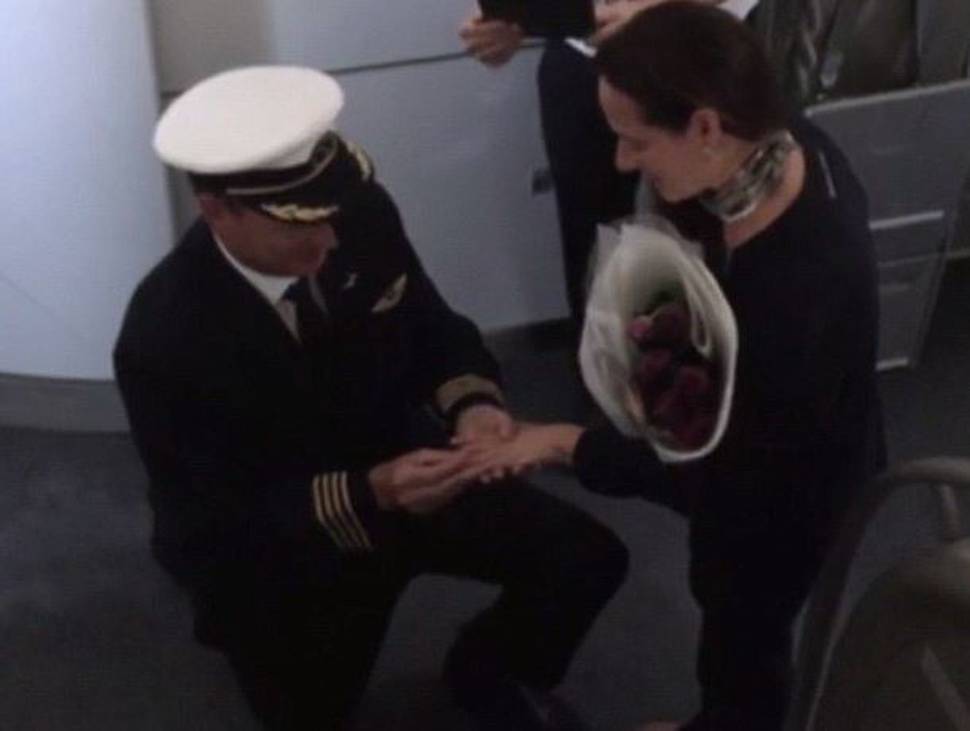 And with Ana leaving his side to visit family in Colombia for two months, Dooley said there was no better time.
"I will be a sad bachelor for the next two months. A prospect I'm not looking forward to," he said.
"There were a few things that made it important on this particular flight ... but the most important reason is that it was time for both of us."
Dooley said the proposal went off exactly as planned, but he admitted it was difficult to keep it a surprise from his lovely bride-to-be.
"I cannot keep a secret," he said.
"I have only ever kept one secret from Ana before and it was when I returned from Colombia and made a photo PowerPoint presentation of our travels.
"I am amazed I did it."