Pippa Middleton famously stole the show from her older sister on her wedding day in 2011, as she sashayed down the aisle at Westminster Abbey in a figure-hugging dress that earned her the title "her royal hotness".
But while some might be tempted to get their own back, it's said that Kate is anxious not to upstage Pippa on her big day next year.
And that's why the Duchess of Cambridge, 34, will not be acting as bridesmaid or maid of honour when she ties the knot with financier James Matthews, 41, in 2017.
According to royal author Judy Wade, it's natural that all eyes would be on the future Queen, taking some of the attention away from the bride.
"Kate would upstage her sister. It's a tricky situation for Pippa. She would want her sister by her side, as who else would she trust to make things go well?" she told People magazine.
"But if your sister is a future Queen, she is going to upstage the bride and draw attention. Kate would want to be in the background as much as possible."
READ MORE: • Prince Harry's new girlfriend: What you need to know • A royal battle of the brothers: Who does the Queen back?
According to tradition, Pippa would have to make Kate the maid of honour rather than a bridesmaid, who is supposed to be an unmarried family member.
One possible low-key role for the Duchess would be to do a reading, a duty her brother James performed at the royal wedding.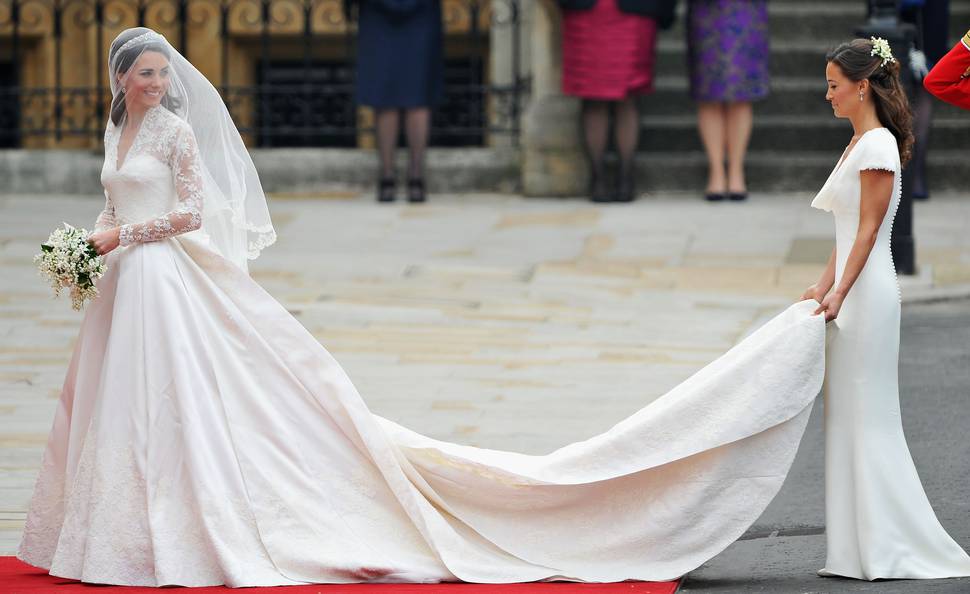 Or she may be content to be represented by her children Prince George and Princess Charlotte, who are set to take on roles as page boy and flower girl respectively.
Pippa is set to tie the knot with James next summer in a ceremony at her village church of St Mark's in Englefield, Berkshire, before moving onto a reception in her parents' back garden with just 150 guests.
While the do is not likely to be low-budget - parents Carole and Michael's home in nearby Bucklebury is worth £6million - it is a far cry from the 1,900-strong Westminster Abbey ceremony in 2011 between Kate and Prince William.
A friend told the Sun: "There's been a lot of speculation that Pippa would get married at her fiancé's hunting lodge in Scotland or have a ­massive bash in London. But she's a traditional girl and just wanted to get married at home.
"Her mum has been very involved in all the wedding planning and she wants to show off their house to all their friends.
"Plus, how can you compete with Kate who got married at Westminster Abbey and Buckingham Palace? This way, Pippa can keep it private and very personal."
James' Made in Chelsea star brother, Spencer, is set to be the best man while - aside from Prince William, Harry and Kate - Ben Fogle and Roger Federer are among the other celebrities expected to attend.
Pippa and hedge fund manager James had been dating for less than a year when he proposed during a country walk in July, in a move that was said to completely surprise his 33-year-old beau.
She is now proudly sporting a ring with a sumptuous three-carat diamond surrounded by 12 smaller stones.
Pippa is having some luxurious "Save The Date" invitations made, which will be sent to loved ones inside their festive cards.
And she is determined her gown overshadows the dress that she stole the show in at sister Kate's wedding.
Sources say Pippa has been touring high society bridal boutiques, including Suzanne Neville's Knightsbridge shop - where dresses can cost £10,000.