Having to deal with tricky in-laws is not all that uncommon - with plenty of people willing to admit that they aren't too fond of their partner's family.
However, the majority of us will be lucky enough to avoid the mother-in-law horror stories shared by these traumatised brides.
In a new thread on the secret sharing app Whisper, married women have revealed the most shocking and bizarre things their husband's mother said to them before they married.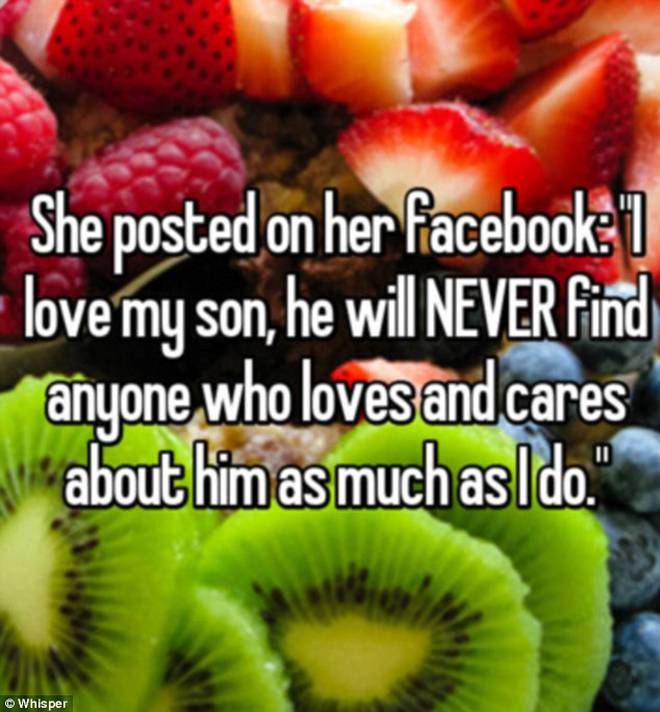 Making use of the app's anonymity the women have spared no details of their unpleasant experiences with their so-called monsters-in-law.
For many of the wives, their partner's parent was eager to let them know that they weren't good enough for their son.
One user said she was told: "That I was temporary and him and I wouldn't last if she had anything to do with it".
Another user disclosed: "She posted on her Facebook: 'I love my son, he will never find anyone who loves and cares about him as much as I do."'
In another admission the user wrote: "'I can be your best friend or your worst enemy'. I told her to shove it. We don't like each other."
Rather bizarrely another woman recalled the fact that her mother-in-law had told her that she was too good for her son.
She wrote: "She told me that 'honestly you can do better hun"'.
In a similar story another in-law suggested that marrying her son might not be wise for the bride.
The mother told her daughter-in-law: "I'm sure this is rushed. It won't last. Do you know who he really is?"
Other admissions saw the mothers offer rather strange advice to the women marrying their sons.
One told the bride-to-be: "All men cheat and just to accept it and pretend it isn't happening. You cheat and your ass is out."
Another woman recalled her best friend's experience with their rather open mother-in-law.
She posted: "I'm not married. But my best friend's future mother-in-law warned her that her son had an "abnormally large" penis before they got married. (they had no been intimate yet)."
In a few cases a spat between the mother and daughter in-law had seen the mother skipping the wedding completely.
One woman was told: "That my kids from a previous relationship don't count bc they aren't really family. 'She didn't attend our wedding. He's adopted the kids and we haven't told her. They're her only grandchildren."
Another bride recalled a rather bizarre experience: "'I'm not attending your wedding because we haven't been introduced.'
"We'd met on several occasions but never been 'formally introduced'. No problem. Had the wedding without her."