People and their increasingly extreme dietary requirements are often ridiculed. But it seems nobody does it better than Paul Stenson, owner of The White Moose Cafe in Dublin.
Stenson posted the following statement on the cafe's Facebook page on Saturday and it's since been liked 24k times.
But not everyone appreciated the sentiment. The author of the post received a torrent of abuse in the comments section.
After the deluge of comments, Stenson decided to clarify his position with a follow-up post:
Quite a number of you are saying that yesterday's post "must be a joke" and that I couldn't possibly be serious about asking people for doctor's notes. Let me assure you that it was not a joke and I am deadly serious. Just as serious as I was when I said I'd charge a corkage fee for breastfeeding mothers, or when I threatened to give Valium to screaming babies, or even when I promised to shoot vegans dead at point blank range. In case you haven't noticed, all posts on this page are deadly serious and it is imperative that you take them literally. So, whether you're a genuine coeliac or you simply suffer from the psychological disorder known as gluten intolerance AKA lets-make-it-up-as-we-go-along syndrome, please remember that I'd never joke on this page. Never ever.Paulie P.S. You're all welcome to call into our café the next time you're here in New Zealand.

SHARE THIS QUOTE:
It's not the first time a controversial Facebook post has garnered free media coverage for the cafe. In October 2015 they upset a legion of vegans when Stenson asked vegans to give him 24 hours notice to cater for their "idiosyncratic dietary requirements".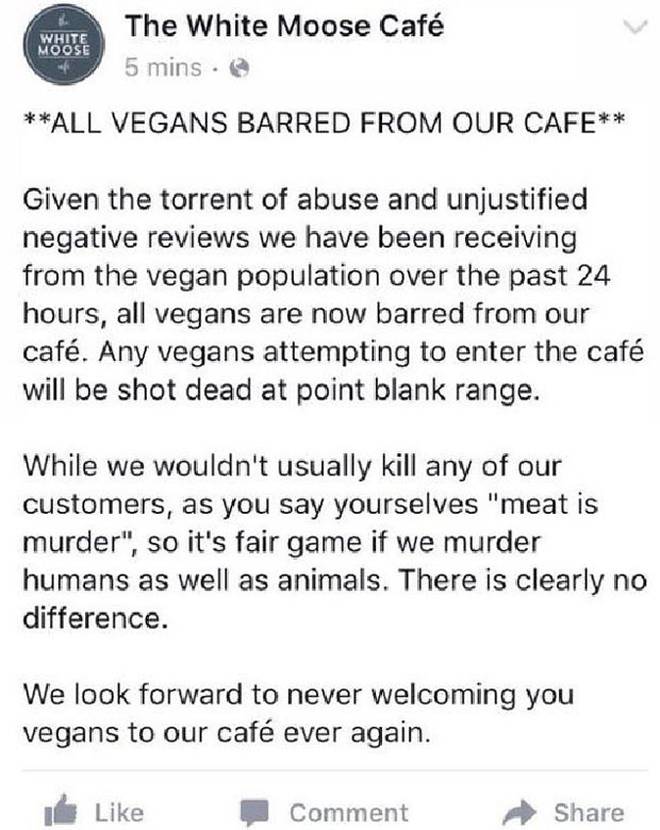 Following that particular post in October last year a Facebook group called People Against the White Moose Café sprung up, with the sole purpose of bringing down the Dublin cafe.
The group's description read: "We The People are united in our stand against The White Moose Cafe and its owner Paul Stenson."
The Facebook page has since been deleted.
Given the free coverage that the latest social media post has garnered it would seem that the scoreboard currently reads:
• Vegans: 0
• People who are sensitive to gluten: 0
• The White Moose Cafe: 2