After a period of family deliberation, it looks like the Olivers have settled on a name for their fifth child.
Jools appeared to confirm the name of the tot in a post on her Instagram page which read "Dream Big River" and included the caption of a rocket and a blue heart.
It has been reported that baby River's full name is River Rocket Oliver.
Jamie and Jools - who already have daughters Poppy Honey Rosie, 14, Daisy Boo Pamela, 12, Petal Blossom Rainbow, six, and five-year-old son Buddy Bear Maurice - welcomed their fifth child two weeks ago.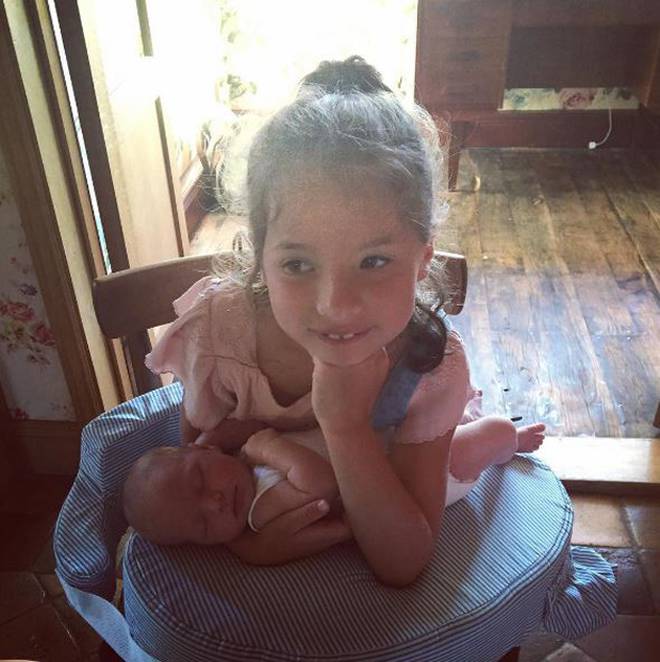 To announce the birth, Jamie shared a picture of the baby and wrote: "And then this just happened guys !! IT'S A BABY BOY !! Everyone in the Oliver family is very surprised and beyond happy.
"He arrived safely, mum @joolsoliver was really really amazing, unbelievably composed, natural birth and my two eldest girls got to come in at the very end as the baby was born which was amazing to witness very very emotional.
"8 lbs ( that's 16 packs of butter for you bakers out there) anyway were all hitting the hay it's been a long day big love... bless a little baby boy Woop Woop !!!! And love to all you mums out there how amazing you are it blows my mind .... Big love jamie o p.s no baby names yet (sic)."
Jools also took to Instagram to share a picture of herself breastfeeding the baby and wrote: "Little baby boy Oliver has arrived we are so very happy, blessed, grateful and totally in love all over again and so very proud of our two eldest daughters who cut the cord Jamie was my hero (no name yet)!!! XXXX (sic)."
Jamie, 41, recently revealed that he was hoping for another son.
He said: "I thought we'd have a couple of kids but that's about it.
Basically, I do what I'm told, but she's an amazing family maker and I just go with it. A bit more testosterone would probably be a good thing, but do you know what, I'm just grateful for whatever I get if it's healthy."
The Oliver's join a long list of celebrities who have chosen alternative monikers for their children.
Some of the most unusual names include:
• Singer Gwen Stefani is mum to sons Kingston, Zuma Nesta Rock, and Apollo Bowie Flynn.
• New parents Ashton Kutcher and Mila Kunis chose Wyatt Isabelle for their baby daughter.
• Actress Shannyn Sossamon, from A Knights Tale, reportedly called her son Audio Science Clayton.
• Rapper Lil Kim chose Royal Reign for her daughter's name.
• Like Jamie and Jools Oliver, several stars have chosen the name 'Bear' for their son. Red Hot Chilli Peppers frontman Anthony Kiedis has a boy called Everly Bear, Kate Winslet's son is Bear Blaze, and actress Alicia Silverstone has a son named is Bear Blu Jarecki.
• Director Steven Spielberg has a daughter named Destry.
• Actor Sylvester Stallone added an unusual twist to his son's name, calling him Sage Moonblood Stallone.