Graffiti artist Lushsux has struck again in Melbourne with huge murals of Melania Trump and Hillary Clinton amid rival party conventions in the US.
The "I'm with her" portrait of Melania covers a huge wall at Perry Street in Collingwood and features a topless representation of the Republican nominee's wife with the slogan from Hillary Clinton's campaign.
It follows the Republican Convention in Ohio last week where the potential First Lady made headlines for all the wrong reasons following her speech that was found to have plagerised large excerpts of Michelle Obama's one delivered in 2008.
Another giant representation of Hillary Clinton was painted on a wall entitled "Stupid Sexy Hillary" on Instagram.
It features the former Secretary of State and presumed Democratic contender for the Presidency in a stars and stripes one-piece with a plunging neckline. Clinton will appear at the Democratic convention in Philadelphia this week.
The images have already received thousands of likes and attracted locals to view them in person.
It's the second time in a week the anonymous artist has made headlines following a mural of Taylor Swift which appeared on Hosier Lane.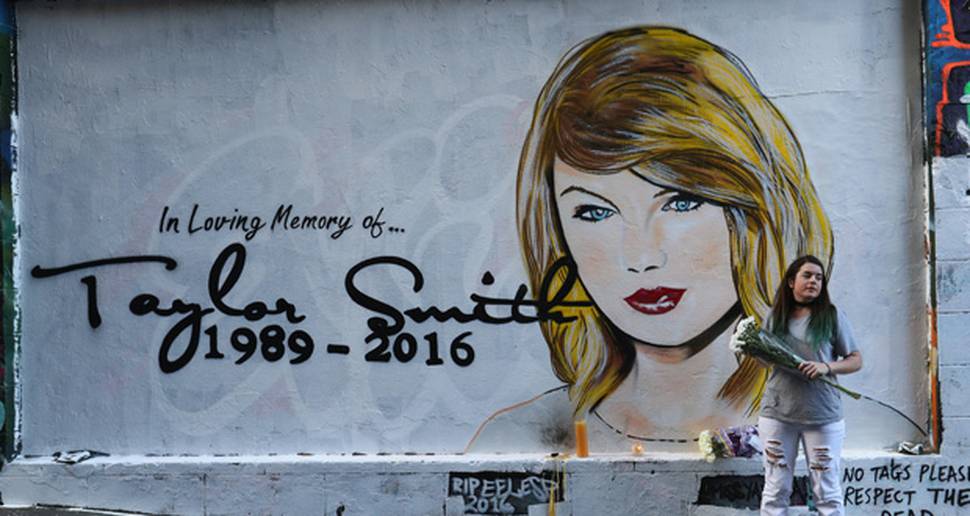 It was entitled 'In Loving Memory" of "Taylor Smith" who was "taken from us too soon" and came after she was slayed on social media by Kim Kardashian who released a recording of her husband Kanye West speaking with the popstar before releasing his song Famous.
It included the lyrics "I feel like me and Taylor might still have sex/ Why? I made that b***h famous" and was the subject of an outcry from Swift and her fans.
Following the international attention the mural attracted the artist claims to have been threatened with legal action by Swift's team.
It was later changed to a memorial for gorilla Harambe who was shot in a zoo and then to feature the face of Kanye West.