Gut health is all the buzz these days, as we learn more and more about its importance to our wellbeing. I was lucky enough to attend an interesting talk on the issue by Professor Mike Berridge, as part of the Aspiring Conversations event in Wanaka recently. Before you yawn, stop just for a second to take in the extraordinary fact that in our bodies microbial cells outnumber human cells. So basically we're just walking, talking bug colonies. The microbes in our guts are now known to have a direct influence on our brains, moods and behaviour, as well as our resistance to disease.
Prof Berridge explained that so much of our modern diet does not make for happy gut bacteria in our bodies, and if you haven't got the right bugs to digest what you're eating then there will likely be problems. As an example he got his son to eat a diet of solely fast-food for 10 days, recording the number of microbes in his gut at the start and again at the end. Over this short period of time - just 10 days - he lost 40 per cent of his gut microbes. Bang, gone, along with all their health benefits. So balance is key.
We hear lots about probiotic foods that improve gut health, including fermented foods such as sauerkraut, kimchi, kefir, miso, sourdough, yoghurt, cultured cheeses and sour cream. But there is another really useful category of foods known as prebiotics. Unlike probiotics, which introduce beneficial bug strains into the gut, prebiotics promote the growth of good bacteria that are already in the gut, by increasing their food supply. Apples are really useful prebiotics, as their natural pectin fibre feeds the good gut bacteria. And unlike jerusalem artichokes, another prebiotic, apples won't make you fart!
Apples are one of my winter go-tos as they store well. Grated raw into chia puddings or yoghurt, stuffed with dried fruit and baked for a winter warming dessert, popped into cakes and muffins and pies they always taste good. You can even grate them into meatloaf and meatballs and fold apple purée into mixtures for terrines as a means to lighten them whilst still achieving a creamy, smooth texture.
One-Pot Spiced Apple Cake
I just love cakes that you can mix up in a pot without any tricky methods or fancy equipment. Each time you make this cake chances are it will come out a little differently - a tribute to nature and the difference between one apple and another. This cake also makes a good winter dessert warmed up and served with hot custard.
This moist cake is so easy to make and keeps well, travels well and freezes well.
Ready in 1½ hours
Serves 8-10
250g butter
3-4 apples, peeled, cored and thinly sliced
2 cups sugar
2 eggs, beaten
2½ cups flour
1 tsp baking powder
2 tsp baking soda
3 tsp cinnamon
1 cup sultanas or raisins
½ cup walnut pieces (optional)
To garnish (optional):
¼ cup walnut pieces
Icing sugar, to dust
Preheat oven to 150C. Grease the sides of a 26cm-diameter cake tin and line the base with baking paper. Melt butter in a large pot. Remove from heat and mix in apples and sugar, then eggs. Stir in flour, baking powder, baking soda, cinnamon, sultanas or raisins, and walnuts, if using, stirring just enough to blend evenly. The batter will be quite runny. Spread into prepared tin and bake until it is risen and golden and the top bounces back when pressed (about 1 hour, 20 minutes).
Allow to cool for 15 minutes before turning out of the tin. If desired, top with extra walnut pieces and dust with icing sugar before serving. This cake keeps well in the fridge for 3-4 days and is also delicious heated and served with cream or custard.
Overnight Chia Nut Pudding
This bircher type breakfast will set you up for the day. Grated apple makes a terrific addition to chia puddings. If you are on the run, just grate fresh apple into yoghurt and you'll get the double benefit of prebiotics and probiotics in one.
Ready in 10 mins + standing
Serves 4
½ cup raw cashews
¼ cup raw hazelnuts
3 cups milk or nut milk
¼ cup LSA (ground linseed, sunflower seed and almond mix)
3 tbsp honey
1½ tsp ground cinnamon
1 tsp vanilla extract
2 cored apples, skin on, grated
¼ cup chia seeds
To serve:
Natural or coconut yoghurt
Kiwifruit, peeled and sliced
Oranges, peeled and sliced
Cinnamon, to dust (optional)
Whizz the nuts in a blender to a fine powder. Combine with the rest of the ingredients in a large jar or bowl. Cover and chill overnight or up to 5 days until needed. Serve topped with yoghurt, kiwifruit and oranges. Dust with cinnamon before serving, if desired.
Tangy Spiced Apple Butter
My friend Amy in San Francisco introduced me to the idea of apple butter - simply cooking apples long and slow with cider vinegar, sugar and spices produces a richly smooth, buttery-tasting spread that's actually got no fat in it at all. It's perfect slathered on toast, or on a cracker with some blue vein cheese or brie, or layered between crepes for a spectacular dessert.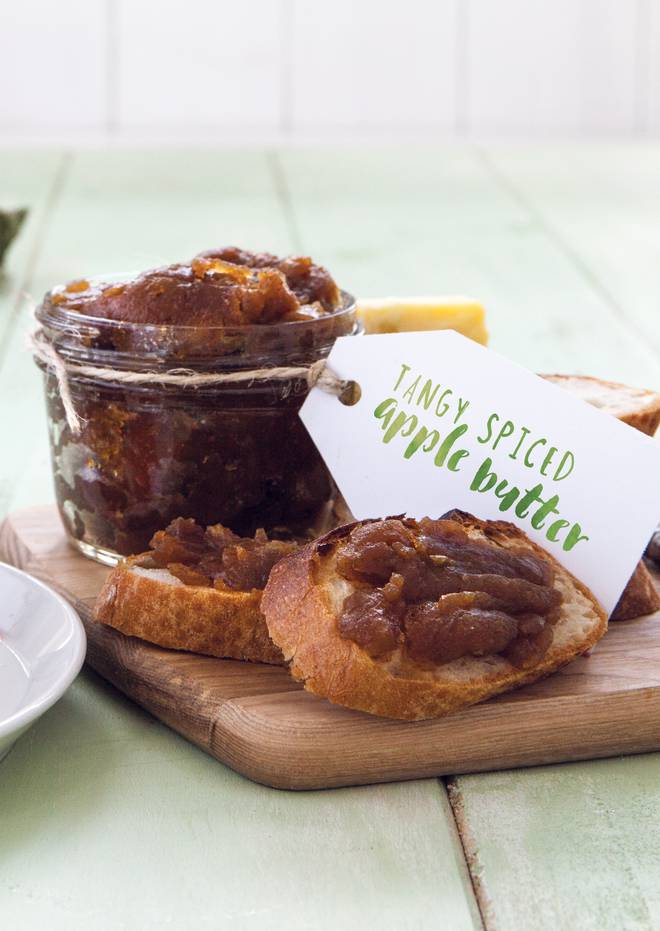 Ready in 3¼ hours
Makes 2 medium jars
½ cup each cider vinegar and water
Approx 12 (1.7kg) large tart apples, such as braeburn, sturmer or granny smith
1½ cups sugar
1 tsp cinnamon
½ tsp each ground cloves and allspice
¼ tsp salt
Combine cider vinegar and water in a large pot. Peel and core apples and thinly slice into the pot. Cover and simmer until very soft (45 minutes). Stir in sugar, spices and salt. Reduce heat to very low and cook, uncovered, stirring often so it does not catch, until very thick and a deep, rich brown colour (about 2 hours). Store in a jar in the fridge for up to 3 weeks or for longer storage transfer to sterilised jars and seal with sterilised lids. Store in a cool place and chill after opening.
For more great Annabel Langein recipes see her new winter annual, Annabel Langbein A Free Range Life: Share The Love (Annabel Langbein Media $24.95).