Weight loss stories are gobbled up by the internet.
It seems every day there's a new inspirational tale of someone who decided to turn their life around, and now has the jaw-dropping before and after pics to show for it.
One such story that resonated with the online community was that of 25-year-old Simone Anderson. In 2014 the Auckland-based makeup artist decided it was time to trim down, after tipping the scales at 169kg.
Taking that first step towards a long weight loss journey was terrifying, she told The Herald. "I had to stand on commercial scales. I was huge. I got to the point where I just couldn't hide from it anymore."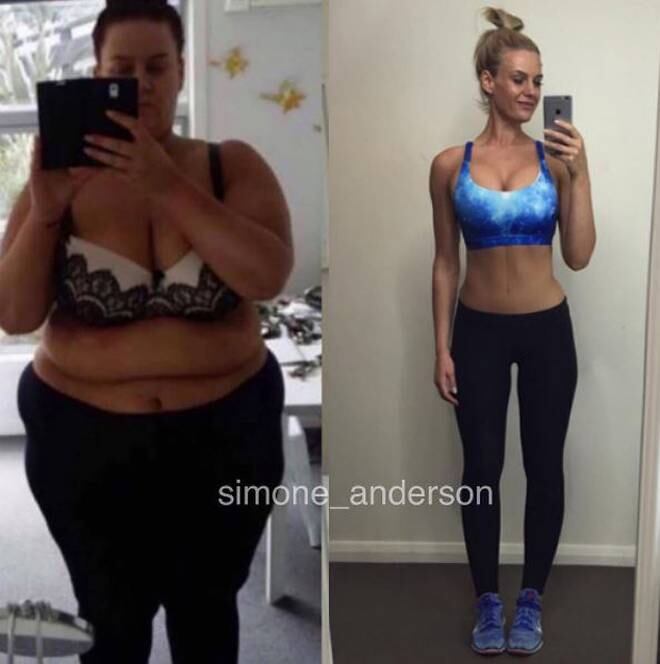 "I had no pressing health issues, but it was getting harder and harder to do day-to-day things," she told news.com.au.
"Even bringing in the garbage bin up our very steep driveway was difficult and that's when it hit me that something needed to change."
Despite having incredibly supportive family and friends, Anderson says some of their well-meaning advice about weight loss would get her down.
"People would push it, but in a nice way, like offering to go with me to a nutritionist," she says. "But the more they pushed it the more embarrassed I got. It hurt me, so I would just do the opposite. Nothing changed until I made the decision that I was ready for it."
In October 2014 she underwent Gastric Sleeve surgery and in less than a year she managed to lose 92kg. Her weight loss journey was documented with a weekly selfie on her Instagram account.
"I knew I couldn't back out, and that's why I decided to go public [with the weight loss journey]," she says.
Supportive feedback, often from strangers, is part of what keeps her going, and its normal for Anderson to receive 100 emails per day from people who have been moved by her story.

Since she created the Instagram account, Anderson has gathered more than 136,000 followers and regularly shares inspiring words of advice, her workout regimen and her diet choices with them.
While she gained an enthusiastic slew of supporters, she was also accused by some of "faking" her weight loss. Detractors claimed she couldn't have lost all the weight because she didn't seem to have any excess skin in her early pictures.
When dealing with the haters, Anderson says she tries to offer a new perspective in a positive way, but sometimes, people have their minds made up about her.
"The depth and the level they [the haters] go to - it's mind-blowing," she told Daily Mail Australia.
"I wouldn't even think to write that to my worst enemy," she said.
But that soon changed. As the kilos continued to fall off she was left with excess skin that surrounded her newly trim frame.
"It was not something I was ashamed or embarrassed of or anything like that," she said.
"But when I was sports training I would need to wear compression pants under sports tights to keep it all in place and stop it from bouncing up and down. It would rub and cause bleeding under the skin and I would get belly button infections, it was just incredibly uncomfortable."
So late in 2015 when she hit her goal weight she decided to undergo surgery to remove the skin.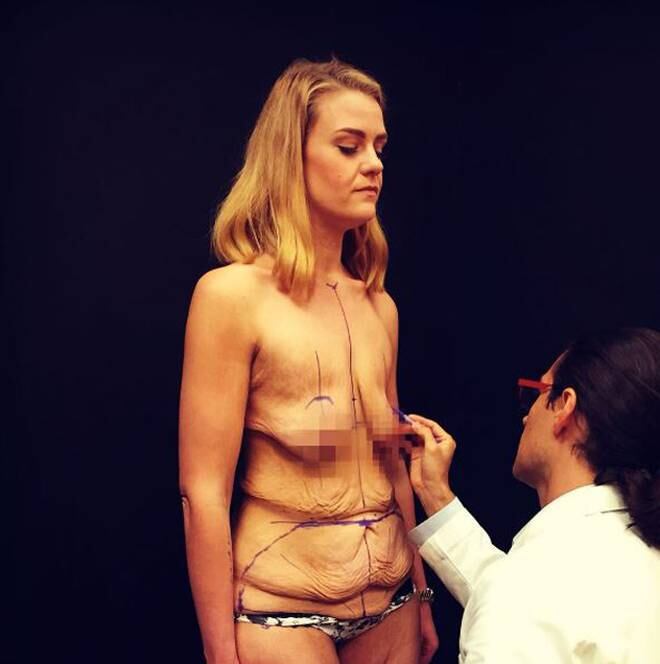 Dr Remus Rapta, a doctor in Arizona, offered to perform the surgery, which would take nine hours.
"No amount of diet or exercise is going to get rid of that loose skin," Dr. Rapta told People before the procedure.
Six days after her surgery she appeared on Tyra Banks' lifestyle TV show FABLife to talk about her transformation.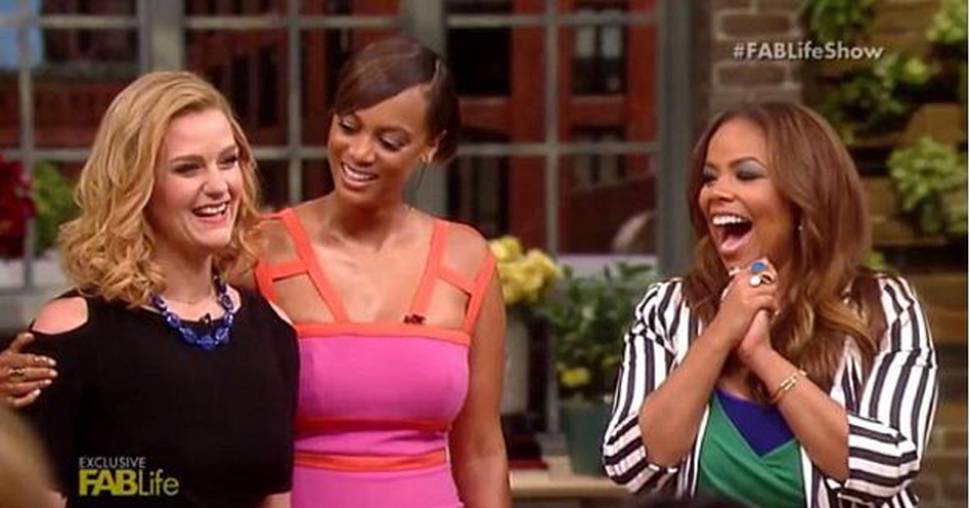 "I had just had the skin removal surgery, and I was still high on pain medication, when I saw all of these missed calls on my phone," she told The Herald. "It was the producers from Tyra's show trying to get me to fly to L.A!."
Despite it not being recommended to fly so soon after major surgery, Anderson's surgeon believed it would be a great opportunity for her, so he accompanied her on the flight to Los Angeles, so she could take part in the show.
"It feels like a dream, watching the video of the show now," Anderson says. "Tyra was so down-to-earth, she was amazing. She was genuinely interested in my story, and she even helped me get dressed before the show."
despite feeling "a bit tender" following the surgery, she was thrilled with the results.
"My body is so, so amazing, I couldn't be happier," she said.
"I cannot wait for summer ... I'll be fully recovered and definitely be in a bikini."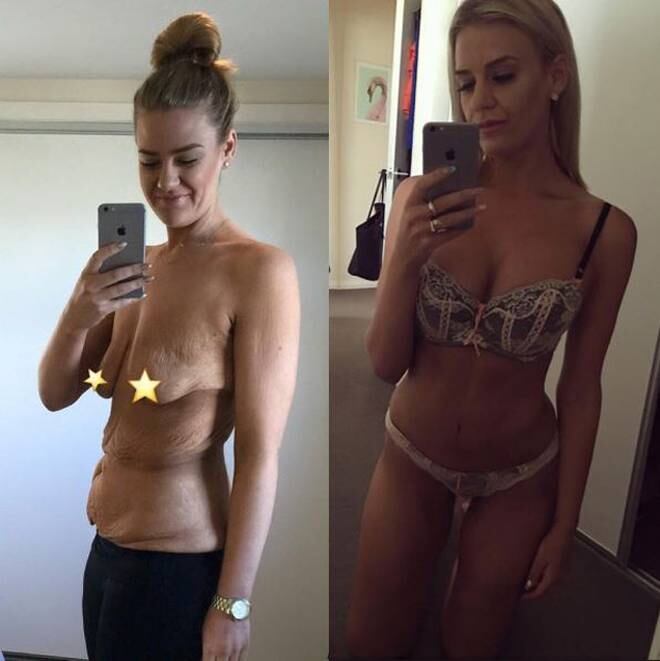 At the 88-week mark she posted a photo to show off the results from the surgery.
"I have completely changed my lifestyle, diet and exercise. I am 33 weeks post-op abdominoplasty, bra line back lift, breast lift & augmentation," she wrote on Instagram.
"Basically most of my lose skin has been removed apart from that on my upper thighs and bottom."
"The human body is incredible that's for sure ... how much it continues to change still blows my mind," she wrote next to a comparison snap of herself.
However, undergoing such a transformation has made her realise the level of discrimination towards her when she was larger.
"I could be in a clothes shop (as a bigger person), and staff wouldn't acknowledge me. I wasn't given the time of day," she says. "Now I go in and have all these people wanting to talk to me."
Nowadays, Anderson still carefully monitors her diet and exercise, but doesn't get hung up with trying to live the perfect 'clean' lifestyle.
"I'll be monitoring what I eat for the rest of my life, it's never going to be normal for me," she says. "But now that I've reached my goal weight, I do have treats every now and then. I'm not really strict, there has to be that balance. You have to enjoy life."
Her diet is built around wholefoods, and exercise is a big part of life - Anderson keeps busy with a range of sports, three to four gym classes per week, and a weekly session with a personal trainer. Plus, she's added training for the Auckland half marathon to her list.
It's busy, but she has her partner, Trent Forsyth, by her side for encouragement. The couple met after after Anderson's surgeries, but "over time I've told him everything," she says. "He's leads an incredibly healthy and active lifestyle, and really supports me through it."