Steve Braunias is on a mission to eat (and drink) at each one of the 55 food joints on Lincoln Rd in West Auckland. • Episode 13: Lincoln Green Garden, Hatsu, Hollywood Bakery
The man who ate Lincoln Rd is all good with franchises - so bright, so manufactured, so identical and therefore comfortably mind-numbing - but on Wednesday I decided to fill my face at what passes on Lincoln Rd for the neighbourhood shops.
The neighbourhood shops on Lincoln Rd are like the neighbourhood shops in Manurewa or GI or Mt Roskill South or those ones on Don Buck Rd. They're kind of shabby, just hanging on and the dairies always have taro and green bananas.
Lincoln Rd's neighbourhood shopping block is near the motorway, and really only used by locals living down the hill towards Massey and Ranui. It's got a couple of $2 Shops - one of them has an awesome Jackie Chan poster. It's got that other institution of poverty - a laundromat.
It's also got some very good food, as I discovered at the excellent Lincoln Green Garden Takeaway. It's a Fijian joint, run by Narain and Grace Sami, who work 12-hour days, six days a week, and yet were a cheerful, happy couple. "We appreciate every moment in New Zealand," said Grace, who was very glamorous in her lipstick and her satin blouse. "The Kiwi culture is so accepting. You take the shopkeepers in this block. They're Maoris, Koreans, Indians, it doesn't matter. We all get on well."
The lease is a stiff $28,000 per annum, plus GST. "We can't afford to pay anyone a minimum wage. It's just us two," said Narain, who sported a devilish moustache. He makes the chop suey dishes, she makes the curries. The menu also featured "top quality kava", Fiji-style iceblocks, bags of peanuts, tamarind chutney, something called a "drumbstick", and a family bucket of 20 chicken nibbles and eight potatoes for $18.
I had bhajia (three for $1), a bara (50 cents), and a chicken samosa ($2.50). All were as spicy and as peppery as a day in Bangalore; Narain and Grace specialise in South Indian food. All were delicious. Rating: 9/10.
Rating a few doors down at Hatsu, a sushi joint: I don't know. Maybe 5/10. I can hardly be bothered. You could have cut the ennui in there with a chopstick.
READ MORE:
• Episode 10: Bad times at Burger Fuel
• Episode 11: Mr Burger
• Episode 12: Saaj
There were a couple of tables and no music and a photo on the wall of some pukekos. "No cash out. No credit cards." No vibe, and there was a range of six drinks in the fridge. The dude behind the counter looked bored out of his tree. He jabbed at his phone the whole time I was there, which wasn't very long.
I got two $2 prawn things. The first one tasted like rubber and I biffed the second one. But the bottle of Pump water was good, very good. It took away the rubber.
Also in its favour: the place was clean as a whistle. There's a Carl's Jnr franchise across the road. Its hygiene rating is there for everyone to see on the front window. So much for the comfort and brightness of franchises. The dread letter was D.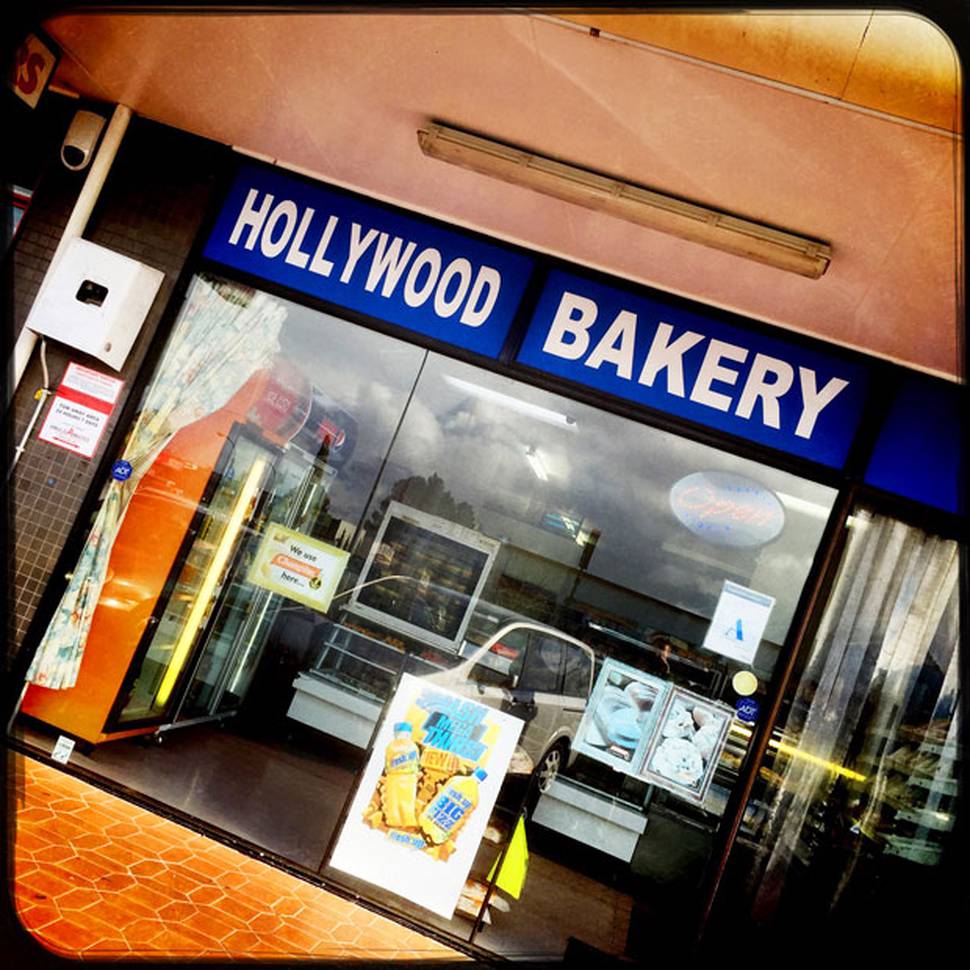 You're better off sticking with the neighbourhood shops. Like Hatsu, Lincoln Green Garden was spotless, and so was Hollywood Bakery, which is not to be confused with Hollywood Bakery. That is, it shares the same name as the franchise bakeries, but is just a nice, small neighbourhood bakery, which does things like coconut buns and fruit mince tarts. I got a $2 chocolate lamington and five little shortbread biscuits for $1. Value for money: 10/10.
As for the rating, I'll leave that to Minka, Zahra, Lucy and Kaitlin of Te Atatu. I gave them the biscuits for an after-school treat. They oohed at the shortbread. They ahhed at the icing. They scoffed the M & M on top, and said in girlish unison: "10/10."
STEVE'S EARLIER ADVENTURES ON LINCOLN ROAD:
• Episode 1: Entering heart attack alley
• Episode 2: Moto sushi
• Episode 3: Sierra
• Episode 4: Sal's Pizza
• Episode 5: Langtons On Lincoln
• Episode 6: Nando's Chicken
• Episode 7: The man who ate Lincoln Rd's doughnut dilemma
• Episode 8: The man who ate Lincoln Rd rates Eves Pantry
• Episode 9: The man who ate Lincoln Rd rates Burger King
•All views expressed are the author's.